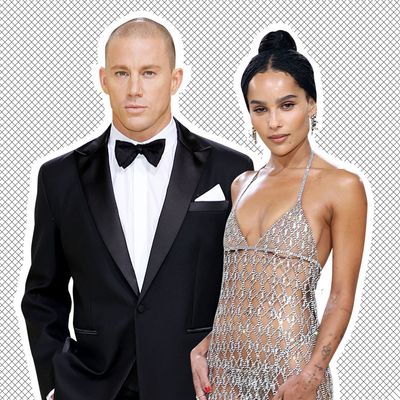 Photo-Illustration: The Cut. Photos: Getty Images
As previously established, Zoë Kravitz has been informally guiding Channing Tatum through a beautiful style metamorphosis involving copious amounts of graphic tees and Carhartt apparel. This week, it became a little more formal. On Monday night, Tatum walked the Met Gala carpet in a tux selected for him by none other than Andrew Mukamal, also known as Zoë Kravitz's stylist. Coincidence? Absolutely not.
Mukamal, who also concocted Kravitz's diamond-covered butt (not to be confused with Megan Fox's sequined butt), posted a photo of Tatum in a Versace tuxedo the day after the event, followed by a shot of Kravitz. To those accusing Tatum of reverting to his old ways by not wearing three layers of gold armor, I say this: Part of defining your style is knowing how to stay in your lane, which happens to be one of the first lessons Kravitz taught him.
Anyway, here is Zoë telling her dear friend Tessa Thompson about how she convinced Channing Tatum to wear a wide-legged suit:
This shared-stylist arrangement appears to be working very well for these two: According to People, they left the event together and got extremely handsy at Alicia Keys's tequila-sponsored after-party, as one does. Kravitz's post-party suit, which she threw on over more sparkly lingerie, also looks suspiciously like Tatum's own tuxedo, making this the high-fashion equivalent of a couple's Halloween costume.
This is setting a major precedent for relationships everywhere. Had I known I could trap my boyfriend into a contractual obligation to dress the way I and my professional Hollywood stylist advised, things would be very different indeed. Imagine never having to suffer at the hands of a scoop-neck T-shirt again!