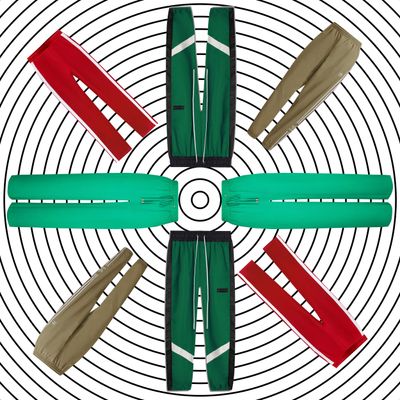 Photo-Illustration: by The Cut; Photos: Retailers
Netflix's recent series sensation Squid Game is a Korean thriller. But one thing that stood out beyond the savage nature of the episodes was the uniforms of both the Squid Game players and the masked-men soldiers. The players wore green tracksuits labeled with their number and white stripes, and soldiers wore red jumpsuits. As gory as the show may have been, there was nothing brutal about the uniforms; in fact, tracksuits have always been a cute and leisurely option for an outfit.
Halloween is coming, and I'm sure we'll be seeing tons of Squid Game costumes, but it doesn't have to be a dress-up holiday to wear a tracksuit. They can be dressed up with heels, dressed down with sneakers, or worn at home for Zoom meetings.
From the OG Adidas tracksuit to wide-legged dressier options, here are a few pieces that are eerily similar to the Squid Game player uniforms.
For the Wide-Leg Lover
Pair it with a blazer for a date night or a denim jacket for a casual outing.
The OG Tracksuit
You can never go wrong with classic Adidas. These olive pants have a nice twist on the original track pants from the brand.
A Parachute-Fit Option
Track pants have a super-relaxed fit, but these add a little extra pizzazz to the look. It's the streetwear track-pant holy grail; a bit pricey, but worth it.
If Squid Games Went Y2K
I can't remember how many velour sweatsuits I had in my closet in the 2000s, but it was definitely a lot of them. A Y2K game would definitely call for velour track pants.
You Can Never Go Wrong With Red
They're not green like the players' pants, but they're pretty much identical, and Zara's track pants are beyond comfortable.
The Identical Pair
If you're looking for your Halloween costume, here you go — and it can double as your Saturday errands-run outfit after. They're almost 100 percent identical to the players' suits, down to the shade of green.
If Mint Green Is More Your Thing
Daily Paper track pants are some of the most comfortable ones I've ever owned; they're on a weekly rotation in my closet. These aren't quite the Squid Game green, but the mint hue is a pretty option for a track set.