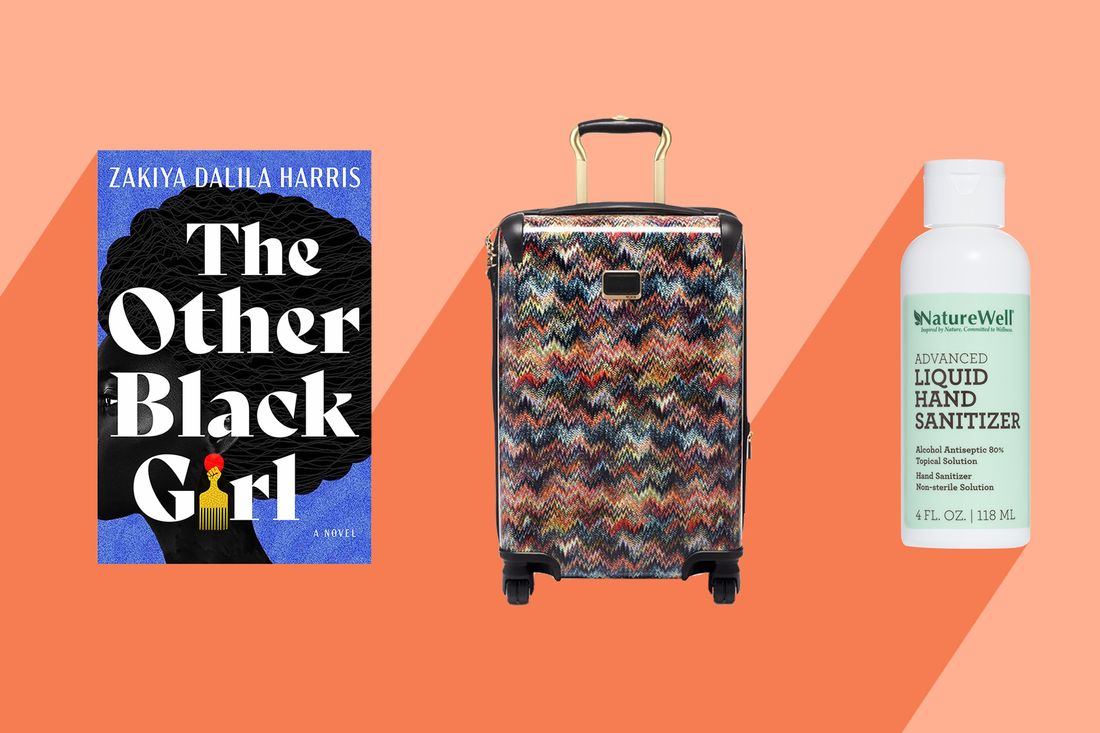 Photo-Illustration: Ashlie Juarbe
Marjon Carlos is used to giving advice. Whether it's in her self-produced IGTV show, "Your Favorite Auntie", or through the lens of her work as a writer, editor, and public speaker, she's made a name for herself in all things fashion, arts, and culture. So, naturally, we turned to Carlos — someone who knows a thing or two about packing for a quick trip — for her expertise on traveling without compromising on style.
When it comes to traveling, Carlos says she tends to overpack a little. "When you [travel], it's all about creating looks," she explains to me over the phone. "I like to kind of go big and bring my best stuff with me." (She says she's trying to condense a bit, though.) And regardless of if she's packing for business, pleasure, or a little bit of both, one thing is certain: She wants a fashionable carry-on that she can rely on.
TUMI's newest carry-on, part of the brand's recent collaboration with Missoni, is exactly that. "When you're in an airport, you're just hustling," says Carlos, who's planning a trip to Los Angeles. "You've got to get to the gate, to the taxi, to this, that, or the other. So with TUMI — [the reliability of] their wheels, handles, the compartments — it just makes your life a lot easier."
As many people cautiously return to domestic or international travel, getting back into the swing of strategically packing a bag can feel like a lost art. "Travel now is so full of surprises, you never know what to expect," Carlos says. "So it's great to have a piece of luggage that can keep up with whatever life throws at you while on the road." Read on for one very stylish person's guide to packing her TUMI | Missoni carry-on suitcase, featuring the few items she never wants to travel without.
TUMI | Missoni International Expandable 4 Wheeled Carry-On
"It's definitely a statement. I love having a piece of luggage that isn't generic, but has a personality. When I travel, I like to dress up and try different looks, so this helps me get in that fashion escapism mode. Everything down to my luggage is going to be turning a lewk."
Tekla throw
"Given the new changes with COVID precautions, blankets are [no longer given] out, but I get so cold on planes. So I wrap myself up in this throw and get cozy for the ride."
TUMI passport cover
"There's nothing more anxiety-inducing than misplacing your passport when traveling — even if for a second! So I like being able to keep everything together with the TUMI passport cover."
Laneige lip mask
"I feel naked without this stuff! Wearing your mask for such a long length of time can leave your lips feeling so chapped, so just a few swipes of this and I'm feeling much more polished."
TUMI | Missoni Marina Cosmetic Case
Looking for a way to pack the Laneige lip mask? The Marina Cosmetic Case is a compact and chic option for carrying skincare, makeup, and more.
Naturewell hand sanitizer
"This is a godsend. Because it's liquid, it's super-lightweight and moisturizing. It never leaves my side these days as I'm moving through the airport and plane."
TUMI Clean Key
Whether it's grabbing door handles, pressing elevator buttons, or even flipping on a sink, the Clean Key helps you reduce unnecessary contact with surfaces mid-travels.
"The Clean Key is kind of the perfect new travel accessory for traveling right now…it's also so subtle."
A good book
"I took The Other Black Girl to Jamaica with me recently and loved diving into it on the plane and the beach."
Bose QuietComfort Earbuds
"Sleeping on planes is so hard for me, but with these noise-canceling headphones I can literally zone out and get some z's before landing."
This advertising content was produced in collaboration between Vox Creative and our sponsor, without involvement from Vox Media editorial staff.