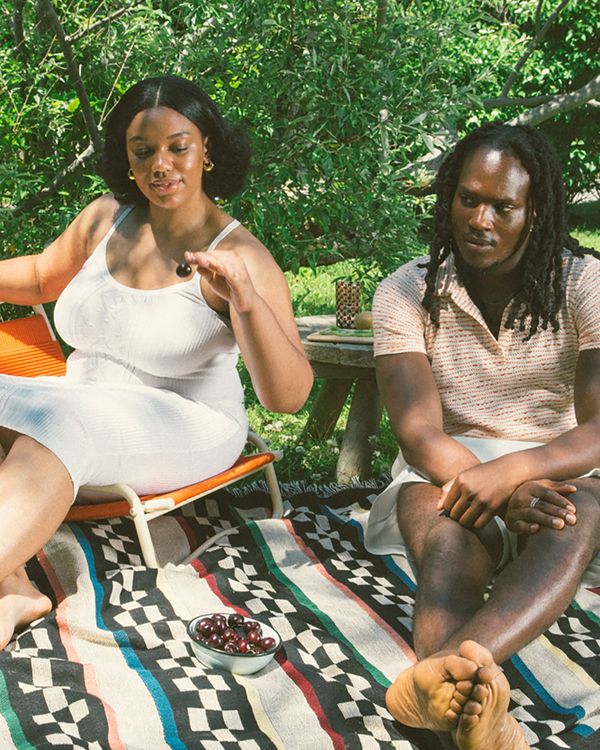 Photo: Courtesy of ITA Leasure
Jade Akintola is by no means an expert on the outdoors. Growing up in London and living in New York for the last seven years, she says that her lifestyle has always been focused on her career, hustling, and achieving her work-related goals. But that changed in 2020 when she and her partner spent more time outdoors to maintain sanity, including trips to Bear Mountain to hike and San Diego to relax on the beach.
While stepping away from the grind, Akintola, a Nigerian-British marketing exec, had an idea to start her own self-funded label called ITA, meaning "outside" in Yoruba. While shopping for the appropriate gear for their COVID-friendly getaways, she noticed that the aesthetics and marketing of outdoor gear singularly spoke to a white experience. It seems obvious: Nature belongs to everybody. But she felt like it wasn't being shown that way.
This pursuit resulted in a line of colorful assortment of outdoor products: tote bags, towels, blankets, a lounge chair, and a table, with accessible prices ranging from $60 to $175. Each item was created with a purposeful intention.
"We always say that ITA is for everybody, but the intention is to invite people of color to engage in leisure in this definitive way," she said.
Akintola also noticed that most outdoor brands speak to a lifestyle that's "Bohemian," "nautical," or "highly technical." She wondered, What if we tapped into my culture and nuanced identity as inspiration? For her, that looks like re-interpreting the gear that allows people to spend more time outdoors, by designing and producing them in Mexico City and using fabrics inspired by traditional Ghanaian kente cloths.
She wanted to created products for a new generation of leisure seekers: "There weren't any brands that were founded or led by people of color, let alone Black women," she told the Cut. "They all felt very one-sided, and I was very compelled to offer a different perspective."
Akintola launched ITA in July with a campaign, called Radical Acts of Leisure, featuring BIPOC simply enjoying nature — Akintola's call to action for her community to reclaim the outdoors as their sanctuary, too.
"I started with spaces that are pretty accessible, like the beach and the park, where there's no need for intimidating gear," she said. "These are spaces that most people, whether you're in a city or not, can access. That's how the blanket, towel, chair, and table came into play — products that you can take anywhere and just be able to take up space outdoors."