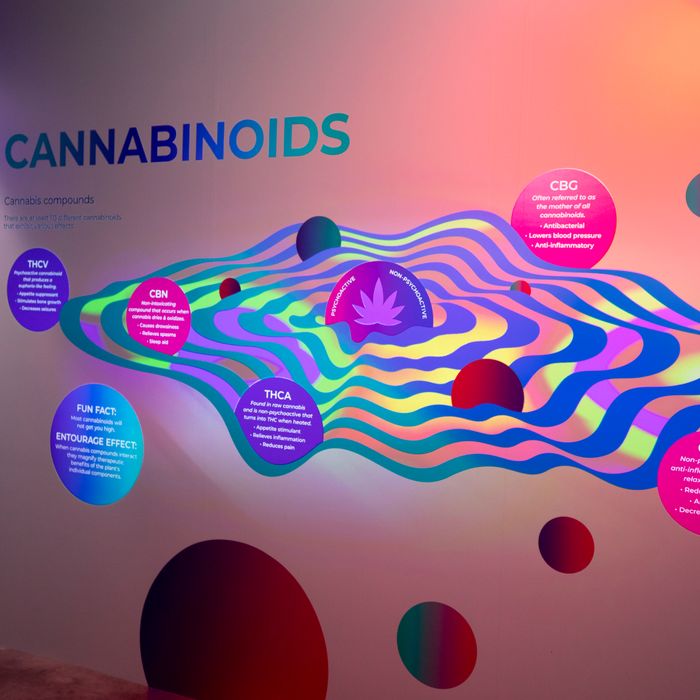 Welcome to the Stone Age: a 9,000-square-foot space filled with black-light murals, interactive art, and installations that fuse the worlds of "NYC street art" and "cannabis culture." It opened in New York City earlier this month to inspire "personal expansion" through a "heightening of your senses" that will lead you to "self-awareness."
Like other museums that seem to be made for Instagram — the Museum of Ice Cream and the Egg House — it's an "experience." Tickets start at $39 for hour-long experiences and can go up to $59 for two-hour-long sessions. And no, you can't smoke or vape on the premises — but there are no state laws prohibiting adults from showing up properly medicated.
Created by two powerhouses in the world of experiential marketing, Sasha Perelman and Liz Santana — Perelman is known to have thrown "the best pot party in California," and Santana was part of the team that brought you Rosé Mansion — the Stone Age aims to educate guests with the long-term goal of destigmatizing and legalizing cannabis.
Which has already happened in New York City — sort of. Earlier this year, former governor Andrew Cuomo signed a bill into law that legalized the possession of up to three ounces of marijuana for recreational use for New Yorkers age 21 and up. Once regulations are in place, the sale of recreational marijuana would also be legal as soon as 2022. New Yorkers are now free to smoke marijuana wherever tobacco smoking is allowed. The effort to legalize recreational weed in New York State has been in the works for years. While New York is only the 15th state to legalize recreational weed, according to a 2019 survey, 91 percent of Americans already think medicinal and recreational marijuana should be legal.
That includes, of course, Perelman and Santana, who already have big plans to expand. They want the Stone Age to become a household name. As a brand, Perelman explained, the Stone Age has the potential to be spunoff into all kinds of projects — from dispensaries to consumption lounges. "This is our brand introduction, and there's a lot more to come," Santana says.
The space feels distinctly millennial: plants hanging overhead, a paint splattered stack of boxes with the words "outside of the box" spelled out. Of course, there is a selfie station. (Even though I visited a few days before the grand opening, and there were stepladders and errant wires everywhere, I was repeatedly encouraged to take pictures to share on social media.)
The exhibition's series of dimly lit rooms is organized according to seven "states of being:" enlightenment, arousal, creativity, euphoria, pain, mindfulness, awareness. Arousal draws one-to-one comparisons between getting high and having an orgasm, with an installation of a massive pendulum grazing the eager tips of a bunch of matches. Euphoria is the brand's attempt at sharing the high of redefining the narrative around cannabis and give rise to "conscious consumerism," according to the guidebook. Pain focuses on the opioid epidemic and calls Big Pharma "a drag." They're eager to tell you that cannabis can be good for you. That it can help with sexual wellness, creativity, mental health, and pain management.
"The most important thing we need to celebrate is that the plant is female," Perelman says, her voice raspy and assertive over Zoom, when I ask if the Stone Age is an attempt to girlboss weed. (The emphasis on "women in weed" is most noticeable in the gift shop, where women-led weed businesses will be on regular rotation, starting with Her Highness, which was founded by two single moms that were neighbors in the Hamptons.) "The future is female, and cannabis is too," Santana adds. "And we should celebrate it!" "The present is female!" Perelman concludes.
If only. In fact, both the number of both female and minority executives in cannabis has dropped in recent years (only 13 percent of cannabis businesses are led by executives of color and only 22.1 percent by women). Not to mention the harmful, long-lasting impacts that cannabis criminalization has had on Black and brown communities.
Which is how we've arrived at awareness, the seventh stage and last section of the experience. It features … a "prison experience." As in, it recreates a prison cell, a visitation booth, and a yard. There is a bed, a toilet, and a mirror in one corner. (I was told they were waiting on notebooks, posters, and diaries from formerly incarcerated people to add into the space). There is a wall with a projection of animated tally marks, to signify counting the days inside. There is also art made by formerly incarcerated people — both on display and for sale — and a mural of a Black man next to a poem about being inside, "so we ask you to look into his eyes and walk in his shoes," Santana explains.
"In order to encourage empathy, we believe that you have to experience it, so we have an actual replication of the prison experience," Santana says. The space is solemn, if not totally jarring. But visitors are expected to have their phones out, as the walls are collaged with QR codes with links to donation sites and petitions linked to the Last Prisoner Project, the Stone Age's official partner, a national nonprofit fighting for cannabis criminal-justice reform.
The organization also connected the Stone Age organizers with an advocate who connected them with system-impacted artists and storytellers. Perelman and Santana explained that by giving these people a space to sell their art, by working with LPP and being open to hiring formerly incarcerated artists or staff, they're doing their part of paying reparations to the communities most impacted by the war on drugs.
Sure, there is a comically outdated urgency to the Stone Age's message — Americans already consume cannabis and state laws are catching up. And anyone that's taken AP U.S. History knows about the War on Drugs. But if anything, Pereleman and Santana are passionate. As we stood at the entrance of the space's prison experience, Perelman pointed to a timeline for the war on drugs displayed on the wall. "Unless you're in the industry," she said, "no one has any idea this exists."