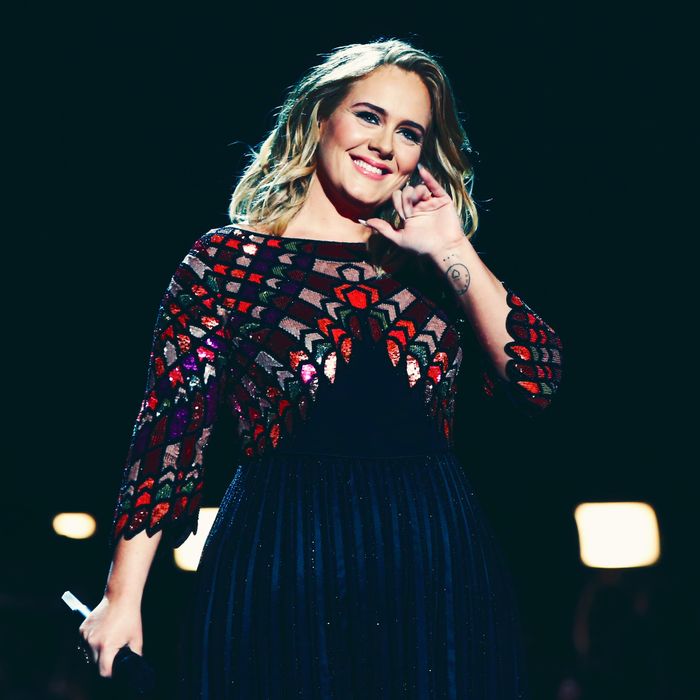 Adele
Photo: CBS Photo Archive/CBS via Getty Images
After weeks of teasing and hinting and interviewing, Adele has finally announced a date for her new album: 30 will drop November 19, almost exactly six years after her last one came out. That's according to Adele herself. You're welcome!
Now to the questions: One, why is it called 30? Because — per a charming statement she released on Wednesday — she started working on this opus three years ago, when she was 30, and her albums classically correlate to her age at time of writing. (25, for example, came out in 2015, when she was 27.) Two, what can we expect from 30? To quote her statement, a lot of "blistering home truths" gleaned from her decision to "willingly" chuck herself "into a maze of absolute mess and inner turmoil." But don't worry! Through this process, Adele assures you that she "feel[s] like [she's] finally found her feeling again" and actually has "never felt more peaceful." Which brings us to question three: What does this album mean to Adele? So glad you asked:
It was my ride or die throughout the most turbulent period of my life. When I was writing it, it was my friend who came over with a bottle of wine and a takeaway to cheer me up. My wise friend who always gives the best advice. Not to forget the one who's wild and says, "It's your saturn return babes fuck it, you only live once." The friend who'd stay up all night and just hold my hand while I'd sob relentlessly not knowing why. The get up and go friend who would pick me up and take me somewhere I said I didn't want to go but just wanted to get me out of the house for some vitamin D. That friend who snuck in and left a magazine with a face mask and some bath salts to make me feel loved while inadvertently reminding me what month it actually was but that I should probably exercise some self care!




And then the friend who no matter what, checked in on me even though I'd stopped checking in with them because I'd become so consumed by my own grief. I've painstakingly rebuilt my house and my heart since then and this album narrates it.
As you may recall, it's been an eventful few years for Adele. Although she has a chill new boyfriend, she also got divorced shortly before the onset of a global pandemic — blistering home truths, indeed. Anyway, all the above tracks with the teaser she recently released for 30's big single, "Easy on Me," featuring a cat-eyed Adele driving down an empty road in a truck, hand out the window while sheet paper streams out the back window. The film? Black-and-white for max nostalgia. The soundtrack? Moody piano, bitch. Can't wait to cry to this album in public; it's my saturn return, babes, fuck it!!