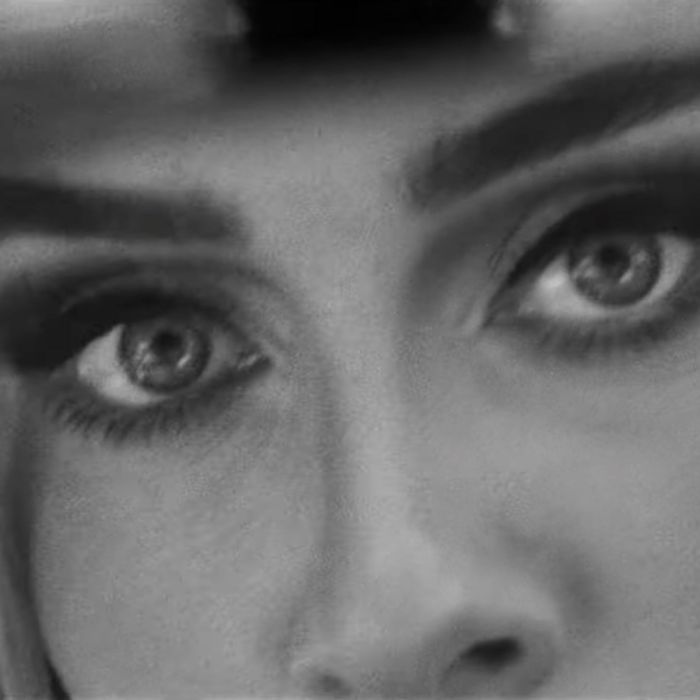 Prepare thine tear ducts — new Adele is here. Today, the singer dropped her first single in six years, "Easy On Me," as well as its accompanying music video. Go easy on me, Adele. I need time to hydrate.
The video, which begins in black-and-white, is reminiscent of previous Sad Girl ballads like "Hello" and Angry (But Still Sad) Girl anthems like "Rolling in the Deep." The song begins with a soft, slow-ish piano, and oh, my God, I'm already welling up. Then, there is Adele herself, adorned with her signature winged eyeliner, sitting in the middle of this very haunted-looking manor. But now, she is done trying to make this spooky house a home, has packed her things, and heading out on the road. Where are you going, Adele? Can I come too??
Her hands are the breakout stars of the video, gorgeously manicured as per usual. As she drives, sheet music flying out of the car, she does the wavy-hand-motion-out-the-window thing, something that we all know means, "Shh, I'm reflecting and/or pretending I'm starring in a dramatic movie right now." Eventually, the video goes from black-and-white to color, causing me to transcend from my earthly body into an orb of light. Did you know even orbs of light can cry?
A lot has happened since Adele's last album, 25, which was released in 2015. She got divorced. She started dating Lebron James's agent. There's been a whole entire pandemic. There have been pleas far and wide for Adele to please, for the love of God, drop the album. Needless to say, the heartbreak is just ripe for the picking.
And Adele has been hinting at new music for some time now. In 2019, she gave us a little Instagram photo dump in honor of her 31st birthday, concluding her post with a prescient, "Bunch of fucking savages, 30 will be a drum n bass record to spite you." Fortunately, we won't have to wait too long until the full album — which is, of course, titled 30 — comes out on November 19. Until then, I will be listening to "Easy On Me" on repeat.
This post has been updated.