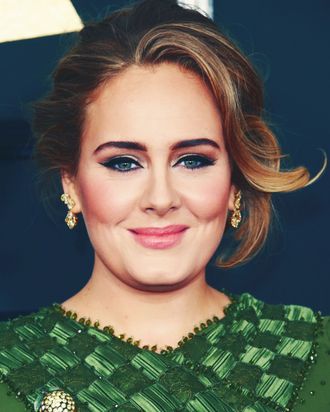 Photo: Dan MacMedan/WireImage
This week, Vogue and British Vogue blessed our weary psyches with not one but two interviews with Adele, one of which involved her yelling "Suck my dick!" into the caverns of an emptied-out art museum. This was sublime, as was her revelation about falling into "K-holes" on the internet, spending "five hours looking at dogs running around."
More importantly, though, Adele discussed her new sports-agent boyfriend, whom she seems to love very much. In the rankings of unlikely celebrity couples, Adele and Rich Paul rank high, because the Venn diagram between "people invested in Adele's love life" and "people who know LeBron James's agent's name" is quite small. But now those camps are finally uniting, which is good, because Paul's constant proximity to fame appears to have made him well-equipped to date the world's most beloved Spice Girls fan.
Adele and her husband Simon Konecki finalized their divorce earlier this year, and in July, she showed up courtside at an NBA Finals game with Paul, all but confirming they were together. She says the outing was her idea, thanks to Paul's comfort with being adjacent to people much more famous than himself. "I did date before Rich," she said, but "they'd find it stressful being out or seen with me. It never evolved because we were never experiencing things together." Apparently, her exes found it "emasculating" to go out in public with her, which is frankly embarrassing for them.
Paul, though, seems like he is perfectly comfortable standing next to someone who gets all the attention, probably because he spends most of his time with people quite literally twice his height. For a basketball agent of normal human stature, confidence comes from within, so Paul is apparently "not frazzled by it at all."
Great! So it sounds like Adele is in a very healthy, mutually respectful relationship. My concern that we will never get another fuming power ballad addressed to a sad insecure man aside, I am happy she has a chill and confident boyfriend. Also, I deeply respect her for attempting to understand her sports boyfriend's job, which is by no means a prerequisite for these relationships. When she falls, she falls hard!