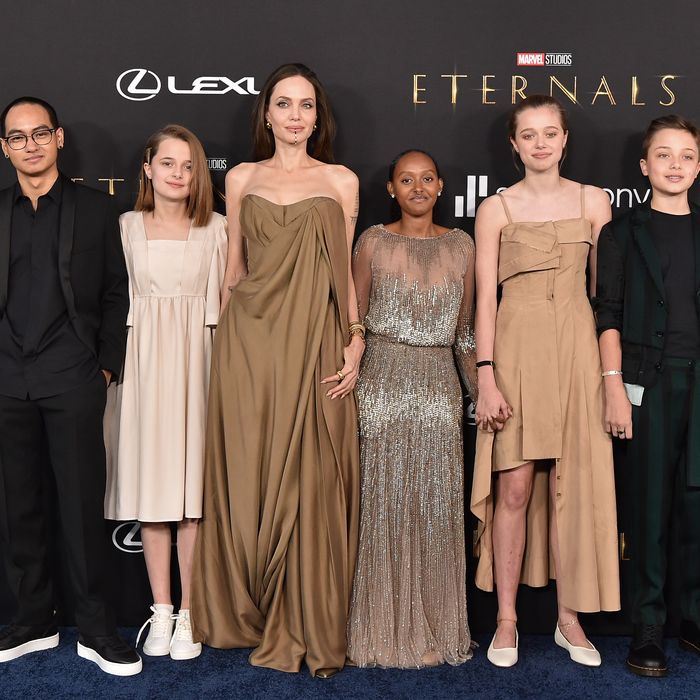 Photo: Axelle/Bauer-Griffin/FilmMagic
Being the child of a celebrity often comes with drawbacks, like everyone in the world debating whether they like your name (pure hell), but it no doubt also has its perks. Namely, access to a closet of couture you can borrow at your own discretion. That's certainly the case for Angelina Jolie's 16-year-old daughter, Zahara Jolie-Pitt, who managed to rustle up the dress her mother wore to the 2014 Oscars for the premiere of Jolie's new Marvel movie, Eternals.
I can just picture it: Zahara is dashing around her room, discarding outfit options on the floor and starting to panic when her mother kindly asks if she'd like to take a gander through her own closet. After rejecting a Saint Laurent suit from the BAFTAs and a silk Versace gown she wore to the Golden Globes, she settles on the perfect fit: a sparkly long-sleeved Elie Saab number. I guess this is the celebrity-child equivalent of borrowing your mother's leather pants from the '80s.
Jolie, who showed up to the movie premiere with Zahara and four of her other children, told Entertainment Tonight that the whole family was in "vintage and upcycled" ensembles. Her 15-year-old, Shiloh, was in what looks like a refashioned version of a dress Jolie wore to a charity event in September.
The Jolie-Pitt brood are surely not the first celebrity kids to raid their parents' closets for couture. But not all famous moms are as generous, it seems: In a recent Interview piece, Madonna's daughter Lourdes revealed that her mother locks her own closets when she isn't home because Lourdes takes "everything I feel that I'm entitled to." If I were Lourdes, I would also feel entitled to Madonna's clothes, and while I understand Madonna's concern about spills, I would expect her to have a much more enlightened attitude about the impermanent nature of material possessions. Angelina Jolie certainly does!
In any case, all this upcycling and sharing of garments turned out to be a big hit. Look at this incredibly chic family! But before you run out to buy armloads of beige, just remember: You must be willing to share it all with your offspring when the time comes.