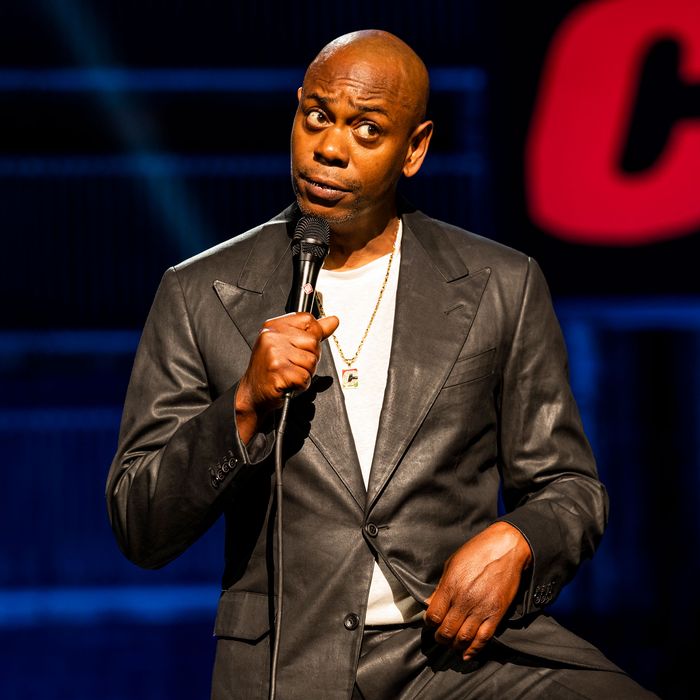 Earlier this month, Dave Chappelle greeted a cheering crowd at the Hollywood Bowl, chuckling, "If this is what being canceled is about, I love it." He was referring to the reaction to his newest comedy special, The Closer, which recently dropped on Netflix and has been skewered for its transphobic and homophobic humor.
This was not Chappelle's first rodeo. His whole gimmick, from the 2003 premiere of Chappelle's Show to now, has been that he's "offensive" and "boundary-pushing" in the name of good comedy, and his critics are just being overly sensitive. Transphobia is a long-standing facet of that persona, and it's made its way into a lot of his material in the past decade. One 2016 set saw Chappelle saying he didn't want "a woman with a dick" using a urinal next to him during a bit ostensibly about how he's opposed to bathroom bills. During a 2017 show at Radio City Music Hall, he expressed disgust at the idea of Caitlyn Jenner posing nude on the cover of Sports Illustrated and defended Trump's ban on transgender people in the military.
His latest special leans even harder into transphobia, and despite widespread backlash, Netflix has doubled down on its support of the controversial comedian's "artistic freedom." Here's what to know.
The Closer is littered with jokes targeting trans people and the LGBTQ community
Chappelle stuffed an impressive array of transphobic and otherwise offensive opinions into the special, which opens with a joke about Black people beating up Asian Americans, followed shortly after by the warning that "it's gonna get way worse." He brought back his bathroom-bill bit from 2016. He defended rapper DaBaby, who spent most of August apologizing and then un-apologizing for an anti-LGBTQ rant. Citing the lack of criticism DaBaby has gotten for his involvement in a fatal shooting in 2018, Chappelle quipped, "In our country, you can shoot and kill a n- - - -, but you better not hurt a gay person's feelings."
He then teed up a bit about gay people having made more progress than the Black community, riffing that "if slaves had oil and booty shorts on, we might have been free 100 years sooner." He continued to pit the Black and LGBTQ experiences against each other throughout the show, seeming to overlook the fact that many queer people of color also experience racial discrimination.
Finally, Chappelle proceeded to defend the adamantly transphobic author J.K. Rowling, saying he identifies as "Team TERF" — referring to the acronym for "trans-exclusionary radical feminist," a term used to describe Rowling's camp of self-proclaimed feminists who argue that trans women aren't "real" women. In that spirit, Chappelle then dove into a lengthy segment proclaiming his belief that "gender is a fact." At one point, he compared trans women's genitalia to plant-based meat and the existence of trans people to blackface. He expressed anger at the fact that Caitlyn Jenner had been awarded Woman of the Year by ESPN, saying women should be mad that someone who's never had a period could win such an honor.
The special is facing widespread backlash
Early reviews of the show were critical of Chappelle's comments, and many advocacy groups have already released statements condemning them, including GLAAD and the National Black Justice Coalition. Activist Raquel Willis wrote, "Chappelle reveals the ignorant tensions in the Black community about queerness and transness but doesn't have the range to turn them on their head. In fact, he underscores the bigoted status quo." In an essay for GQ, the poet Saeed Jones confessed that he turned his TV off around the time Chappelle got around to defending Rowling, because "I have better things to do than watch a stand-up set that could just as well have been a Fox News special." Writer Roxane Gay noted that he gets at potentially fruitful observations about whiteness in the gay community but instead ends up performing "a joyless tirade of incoherent and seething rage, misogyny, homophobia and transphobia."
Netflix stands behind the special
Ted Sarandos, the CEO of Netflix, defended Netflix's decision to keep the special up on the platform in a staff memo apparently sent in response to requests from team leaders on how to manage upset employees. "Chappelle is one of the most popular stand-up comedians today, and we have a longstanding deal with him," the memo reads.
Sarandos said The Closer does not violate Netflix's policy against titles "designed to incite hate or violence," explaining that "some people find the art of stand-up to be mean-spirited but our members enjoy it, and it's an important part of our content offering." He continued: "Externally, particularly in stand-up comedy, artistic freedom is … a very different standard of speech than we allow internally."
Sarandos's memo referenced Chappelle's previous Netflix special, 2019's Sticks & Stones, which was also criticized for transphobia. In it, he called bisexual people "gross" and trans people "confusing" and complained, while defending Kevin Hart, that "you are never, ever allowed to upset the alphabet people," a moniker he cooked up for the LGBTQ community. Sarandos noted that Sticks & Stones was "also controversial" but was quick to mention it was Netflix's "most watched, stickiest, and most award-warning stand-up special to date." The Closer appears to be creeping toward similar accolades: As of Monday afternoon, it was Netflix's third-most-popular title.
Netflix employees are protesting, and the company seems like it's starting to listen
A number of Netflix's employees and collaborators aren't pleased with the special or with the company's response to criticism. Jaclyn Moore, co-showrunner of the Netflix show Dear White People, announced she would no longer be working with the company "as long as they continue to put out and profit from blatantly and dangerously transphobic content."
Terra Field, a software engineer at Netflix who identifies as trans, posted a Twitter thread elaborating why The Closer is so hurtful to trans people. "Yesterday we launched another Chappelle special where he attacks … the very validity of transness — all while trying to pit us against other marginalized groups," she wrote. "It is an argument with trans people who want to be alive and people who don't want us to be." She was subsequently suspended — Netflix denied it was a result of her tweets — though she was later reinstated.
Meanwhile, a trans-employee-resource group staged a walkout October 20 in protest of how the company has handled the response to the special. After the walkout was announced, Sarandos sent another staff memo in which he doubled down on his defense of the special. "We have a strong belief that content on screen doesn't directly translate to real-world harm," he wrote, citing research about first-person shooter games and their lack of correlation to violence in real life. He continued, "Chappelle makes harsh jokes about many different groups, which is his style and a reason his fans love his comedy and commentary." The memo reiterated that Netflix's leadership does "not believe that The Closer is intended to incite hatred or violence against anyone."
As in his earlier memo, Sarandos emphasized some of Netflix's titles that feature LGBTQ creators in an attempt to demonstrate some sort of balance on the platform. The list includes comedian Hannah Gadsby, whose two stand-up specials Netflix released. On Friday, Gadsby posted an Instagram objecting to being used as a shield for accusations of transphobia. Addressing Sarandos directly, she wrote, "I would prefer if you didn't drag my name into your mess. Now I have to deal with even more of the hate and anger that Dave Chapelle's [sic] fans like to unleash on me every time Dave gets 20 million dollars to process his emotionally stunted partial world view."
Ahead of the walkout, the Verge reported that Netflix fired a leader of the trans-employee-resource group who was involved in organizing the protest. Netflix confirmed that it let go "an employee for sharing confidential, commercially sensitive information outside the company." This reportedly refers to leaked metrics for The Closer, including how much Netflix paid Chappelle, which were published in Bloomberg.
Sarandos subsequently confessed to Variety that he "screwed up that internal communication" and "should have led with a lot more humanity" in his two staff memos addressing the controversy. When pressed about whether he considered The Closer hate speech, he said that if hate speech is defined as something intended to cause physical harm, he wouldn't put the show in the category and reaffirmed that it will not be taken down.
Last week's walkout included a rally in Los Angeles with organizers releasing a list of demands to help promote trans-affirming content on Netflix as opposed to removing the special altogether. The fired employee, B. Pagels-Minor, spoke at the rally, and Transparent creator Joey Soloway took the mic to ask Netflix to appoint a trans person to its board "this fucking week." "There's no both sides here," Soloway continued, adding, "Trans-exclusionary radical politics means that bodies and gender and sexual identity must always line up as J.K. Rowling thinks they should," which is "the same thing as saying trans people aren't real people." Other entertainment stars posted in support of the walkout, including Elliot Page, Dan Levy, and Wanda Sykes.
Meanwhile, Chappelle fans showed up to counterprotest, carrying signs reading "Jokes Are Funny" and "Dave Is Funny" and advocating for "free speech." A Netflix spokesperson recognized employees' right to walk out, saying, "We have much more work to do both within Netflix and in our content." Following the walkout, Chappelle's reps told TMZ the comedian was open to discussion with Netflix employees who were upset by the special. His publicist, Carla Sims, told the L.A. Times in an email, "Dave stands by his Art. Both sides of the street are talking and Dave is listening. At some point, when everyone is open, I'm sure our communities will come together."
Chappelle responded to the backlash in a new stand-up set
Chappelle worked the Netflix backlash into a recent set in Nashville, which included more homophobic humor and featured Joe Rogan as one of the night's opening acts. According to TMZ, Chappelle quipped that he would meet with the protesters under three conditions: that they watch the entirety of his show, that the meeting be at a time and place of his choosing, and that they admit Gadsby isn't funny. At the end of the show, he said he would continue to screen his forthcoming documentary even though film festivals were dropping him. Then he asked, "Am I canceled or not?" before walking offstage to applause.
This post has been updated.