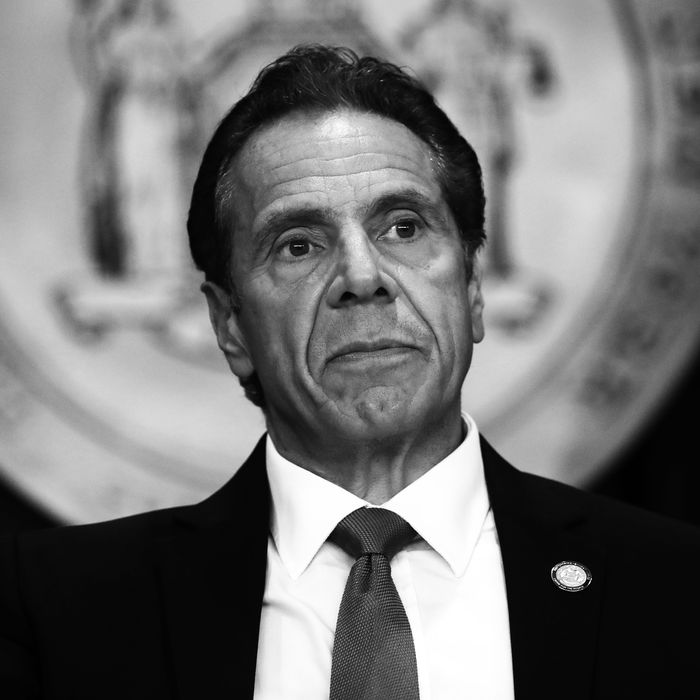 Andrew Cuomo
Photo: Spencer Platt/Getty Images
Former governor Andrew Cuomo has been charged with forcible touching, a class A misdemeanor, after an investigator with the Albany County sheriff's office filed a complaint with the Albany City Criminal Court on October 28. The complaint accuses Cuomo of "intentionally, and for no legitimate purpose, forcibly plac[ing] his hand under the blouse shirt of the victim and onto her intimate body part." According to the New York Times, his arraignment has been set for November 17. Cuomo maintains (through his attorney, Rita Glavin) that he "never assaulted anyone."
Still, the contents of the filing are in line with allegations lodged against Cuomo earlier this year, which ranged from sexually "suggestive" comments, to "unwelcome and nonconsensual touching," to assault. That's according to a monthslong probe by New York Attorney General Letitia James's office, the results of which she revealed in August. Cuomo "sexually harassed several women," James said, many of them employees. He eventually resigned over the fallout as the State Assembly and multiple district attorneys undertook investigations into the report's contents. One aide, Brittany Commisso, filed a criminal complaint against Cuomo, for (allegedly) having reached inside her shirt and groped her breast at the governor's mansion last year. Cuomo subsequently denied her account, saying: "That never happened." Commisso's case generated the forcible-touching charge.
News of the misdemeanor was initially muddled by reports that a summons had been issued to Cuomo by mistake: The Times Union reported that an official in the Albany sheriff's office filed a summary of the case, though the district attorney's office had not made any charging decisions at that time. New York State courts spokesperson Lucian Chalfen then confirmed the complaint's existence to the Daily Beast. According to the Times, however, Albany district attorney David Soares learned about the charge "like the rest of the public" as news broke on October 28 — unusual, as prosecutors and police departments typically collaborate to bring charges.
Glavin criticized the apparent breakdown in communications as "patently improper" on the part of Albany sheriff Craig Apple. "This is not professional law enforcement," she said. "This is politics." Glavin also suggested Commisso accused the governor for personal, financial purposes, though AG James sees things differently. "The criminal charge brought today against Mr. Cuomo for forcible touching further validates the findings in our report," she said Thursday.
Forcible touching carries a penalty of up to one year in prison. Per the complaint, the evidence against Cuomo includes texts from his phone, State Police Blackberry PIN messages, staff swipe-card records from the Capitol, and State Police aviation records for the day in question.
This article has been updated.