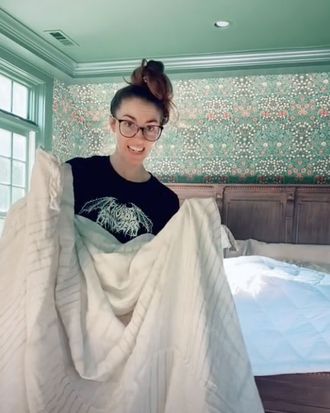 Photo: @annamtendler/TikTok
2021 has not been an easy year for anyone, and especially not Anna Marie Tendler. In May, it was confirmed that after seven years of marriage, she and noted wife guy John Mulaney were getting divorced, with Tendler telling "Page Six" she was "heartbroken that John has decided to end our marriage." Not long after, it was revealed that Mulaney and Olivia Munn were dating, making them an incredibly unexpected couple, and a few months after that, they announced they were … expecting a baby? As of this week, it's not even clear if they're still together, so it's been a wild ride for all of us.
But Tendler apparently wants us to know that she is thriving, and to prove it, she started a TikTok account. Her first video, posted on October 17, features a very important life hack: how to put a comforter in a duvet cover.
The video has a lot to take in. We have Tendler in a Phoebe Bridgers shirt and leopard-print pajama pants in a room with beautiful green wallpaper. And she is effortlessly demonstrating how to do something that is famously very hard to do on your own. Impressive!
Then, at 7:26 the very next morning, Tendler blessed us with yet another life hack, demonstrating how to perfectly butter cinnamon-raisin toast by employing a vegetable peeler. "Slice your butter as if it were a fine cheese," she says.
Tendler advises viewers to "savor" this life hack, since "it is the last one I know," but thankfully, she's been posting pretty consistently since then. This week, Anna Marie was featured on New York Magazine's very own Approval Matrix and she took to TikTok to share her thanks, not only for being included but for being included alongside Noodle the Pug (on a no bones day!) and French onion soup.
Her true art show opens at the Other Art Fair Brooklyn in early November, and she has a link in her Instagram bio for 50 percent off of tickets, which I, for one, will be taking advantage of.