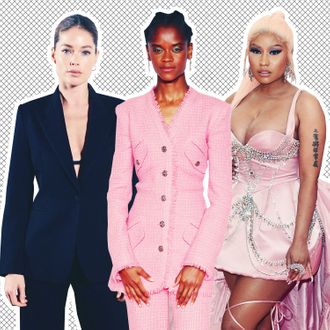 Photo-Illustration: The Cut; Photos: Getty Images
Nicki Minaj appears to have broken the dam on celebrity anti-vaccine sentiment. Following a series of tweets in which Minaj expressed skepticism of the vaccine rooted largely in misinformation concerning her cousin's friend's balls, supermodel Doutzen Kroes apparently felt empowered to share a post of her own announcing that she would not be getting a COVID-19 vaccine. Upon returning from a months-long social-media fast, the former Victoria's Secret angel posted a photo of herself in sepia with a lengthy caption defending her right to forgo the shot.
"I can no longer turn a blind eye to the injustice that is happening in front of us," Kroes wrote. "Although my hands are shaking while writing this, I feel it is time to choose courage over comfort and speak my truth." She continued, "I will not be forced to take the shot. I will not be forced to prove my health to participate in society. I will not accept exclusion of people based on their medical status."
Kroes's post fails to mention that the FDA and the CDC have declared the vaccines safe and effective, with both entities strongly urging everyone over the age of 12 to get the shot. Nor does it acknowledge the fact that vaccines help curb the spread of COVID-19 through communities, keeping both the vaccinated and those who cannot yet be vaccinated safer.
Kroes wrapped up by declaring that "freedom of speech is a right worth fighting for" and by urging her followers to "pass on the torch of hope and love and speak your truth." At least one fellow supermodel has come out of the woodwork to defend Kroes's right to free speech: Gisele Bündchen, who, lest you forget, feeds her children dehydrated spirulina fruit rolls. After the backlash to Kroes's post began, Bündchen commented, "I know Doutzen and she is a kind and loving person. I can't believe the hate being directed at her because she expressed her feelings."
While it's unclear whether or not Bündchen is vaccinated (per NFL protocol, her husband, Tom Brady, is), Kroes is certainly not alone in her skepticism. According to The Hollywood Reporter, actress Letitia Wright espoused anti-vaxx views while filming Black Panther: Wakanda Forever. In December, Wright also shared a YouTuber's hour-long anti-vaccine video to her Twitter account, which led to the actress quietly parting ways with her team of reps in the U.S. (Wright later deleted the tweet and issued a statement saying, "My intention was not to hurt anyone, my ONLY intention of posting the video was it raised my concerns with what the vaccine contains and what we are putting in our bodies. Nothing else." Again, evidence overwhelmingly shows that the vaccines are safe and effective).
THR's recent report also mentions an unnamed, unvaccinated "high-profile actor" who was hospitalized with COVID after allegedly making anti-vaxx comments on set. Though there is speculation about who that actor is, plenty of other celebrities have openly confirmed their stance against the vaccine. Comedian Rob Schneider, rapper Offset, Anwar Hadid, LaKeith Stanfield, and professional white boy Chet Hanks have all expressed various anti-vaccine sentiments over the past year. If the CDC can't shame famous people into getting vaccinated, maybe Chris Rock will?
This post has been updated.