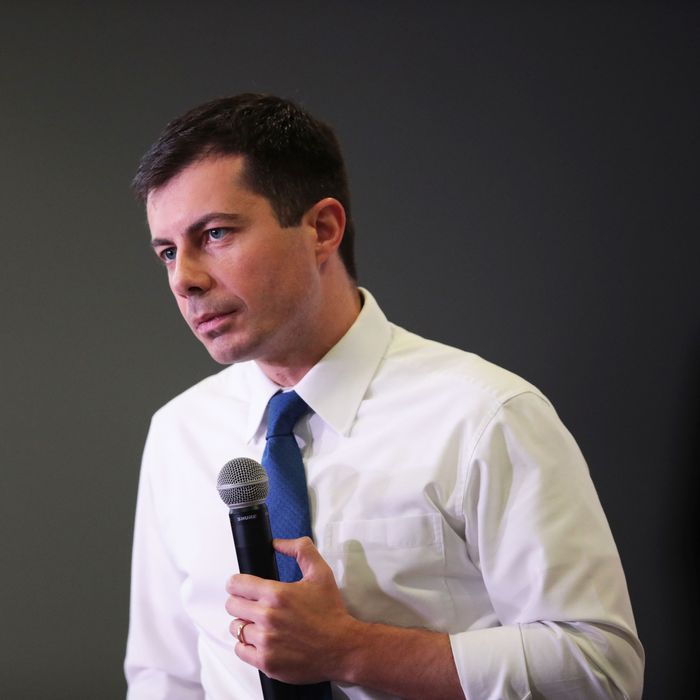 Photo: Scott Olson/Getty Images
In August, U.S. Secretary of Transportation Pete Buttigieg adopted twins with his husband, Chasten, and, per federal employee parental-leave policy, took six months of paid leave. Since then, a number of men have become obsessed with ridiculing him for … taking care of his kids.
It started earlier this month, when Tucker Carlson set some time aside during a segment about the supply-chain crisis to crack a vaguely homophobic joke about Buttigieg's paid leave. "Paternity leave, they call it," he said, "trying to figure out how to breastfeed. No word on how that went."
After the segment aired, Buttigieg appeared on CNN to respond to Carlson's comments, saying, "I'm not going to apologize to Tucker Carlson or anyone else for taking care of my premature newborn infant twins." He said parental leave is something "every American ought to be able to do as they welcome a new child into their family."
Sounds reasonable and humane, right? Wrong, according to a bunch of mostly childless men with opinions no one asked for. On this week's episode of his podcast, Joe Rogan hopped on the bandwagon, asking, "Isn't [parental leave] supposed to be for the person who gave birth?" His guest, comedian Bridget Phetasy, attempted to reason with this ill-informed line of questioning, pointing out that mothers need support after giving birth, not to mention it might be nice for dads to bond with their children? To which Rogan responded that "this is America" and family leave is "a new concept" here.
On this last point, Rogan is, unfortunately, correct. The U.S. is one of six countries in the world that doesn't mandate any kind of paid leave for new parents. Dozens of studies have shown providing parental leave reaps all kinds of benefits, including bolstering child development and even supporting economic growth. And beyond helping new mothers or birth parents get the support they need from their partners, paternity leave helps level the playing field in a workforce that still often views women's extended absences as a liability. And yet, according to the Bureau of Labor Statistics, only 23 percent of civilian workers currently have access to paid family leave.
It actually looked like we could be inching toward progress on this front until Wednesday, when Politico reported that Democrats were dropping federal paid family leave and medical leave from the sweeping spending bill President Biden is attempting to get passed in the Senate.
In the wake of this depressing announcement, yet another man without children — this one a Silicon Valley venture capitalist — decided to weigh in. Joe Lonsdale, the co-founder of Palantir (a spooky data-mining conglomerate far too sinister to even get into here) tweeted that "any man in an important position who takes 6 months of leave for a newborn is a loser" and the "correct masculine response" to child-rearing is to "work harder to provide for their future." (Apparently, he's under the impression that caring for an infant — or in Buttigieg's case, twins — doesn't qualify as "work.") According to Bloomberg, Lonsdale later tweeted that using the word "loser" was "uncalled for" but maintained that six months of paternity leave is "silly."
While six months might seem like a generous amount of leave in the U.S., by global standards it's not unusual, and actually somewhat short: According to a Pew survey from 2019, at least 17 countries mandate at least 40 weeks of parental leave. Thankfully, not everyone is as fixated on archaic child-rearing customs. Reddit co-founder Alexis Ohanian, who's spoken publicly about the paternity leave he took after his wife Serena Williams gave birth to their daughter Olympia, responded to Lonsdale's tweet, writing, "The correct masculine response is to do whatever it takes for your family + newborn."