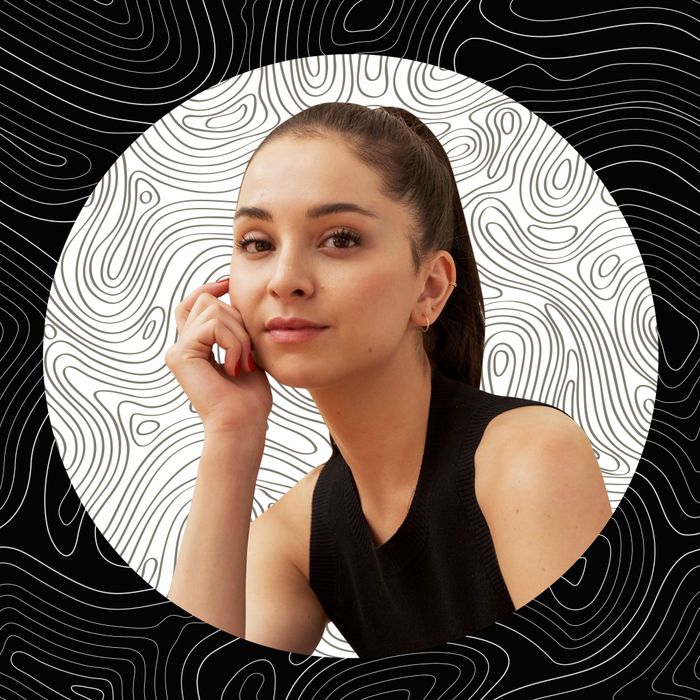 Photo-Illustration: by The Cut; Photo: Jenelle Manzi
In August, Jenelle Manzi, a New York City Ballet ballerina, put on her pointe shoes and began training again after an 18-month break because of the pandemic. The return to Lincoln Center was "incredible" but "wild and complicated," says Manzi, who has been with the company since she was 16 years old. She's also been running Get Golden, her snack company inspired by her wellness journey as a professional dancer. Her sweet but chewy Savor bars are gluten-free, dairy-free, and vegan, but still "tasty," she promises. "I created it out of a need for a feel-good boost of energy to get me through a day of rehearsing and performing." Below, Manzi breaks down the practices that keep her dance-ready.
On her definition of wellness: When I was 18, I had a tendon tear. I had two extra bones in the back of my heel — one in three people have them. They got irritated and broke off, and I needed surgery to remove them and repair my tendon. This cycle took two years, and it was the most humbling and grounding experience of my life. My identity as a ballerina, that I have known for so long, was completely stripped from me — I literally had to learn how to walk again in a pool. So to me, wellness is the optimization of my whole self — mentally, physically, and emotionally — to be in this career, yes, but also the optimization to be my most healthy and my best self outside of my job.
On the first thing she does in the morning: Because we had 18 months off, I was eating dinner at a normal time, around 7:30 p.m. Now, we finish shows around 9:30 p.m., so I don't end up eating dinner until 10:30 p.m. That is not good for my digestion, but if you don't eat after the show, you don't repair your muscles, and I start to feel really weak and brittle. Drinking warm water with lemon really helps with my stomach in the mornings.
On how she eats: When I came out on the other side of my injury, I had developed all these food sensitivities and allergies. I couldn't even eat avocados and bananas because my whole system was so inflamed and angry, so I started seeing Dana James. She's my nutritionist, and together, we figured out the foods that I am able to eat and those that I can't.
I want to eat to feel good, but it's not even an option to not eat well either, because my body is my instrument. I've tried to find a balance in that because I don't ever want to eat something that tastes disgusting or bad, but you do have to have a different mind-set when you have a job that's so demanding of your body. So I started making snacks and bringing them to my friends and the ballerinas. I became known as the girl that always brings in healthy baked goods (like apple cinnamon buckwheat donuts with lucuma caramel). They're refined-sugar-free, dairy-free, and gluten-free because those are my triggers. That's how Get Golden started, even before I decided I wanted to start my own business.
On skin care: We wear full theatrical makeup for performances because we're performing in a very large theater under hot lights. We start with a grease concealer under our eyes and then a liquid foundation that's waterproof (it's by the brand Mehron), and your pores cannot breathe at all. We add powder on top of that — because of the pandemic and because we're wearing a face mask at all times unless we're on the stage, I typically use M.A.C's Studio Fix (I'm shade N4) so everything stays in place. Then I do a full contour, blush, eyeliner, and false lashes.
That's all to say that I do a lot of cleansing at night — some people double-cleanse, but I triple-cleanse. Right after the show, my lashes come off; I go to the sink and massage my face and eyes with grape-seed or coconut oil. I follow it up with a mild cleanser like Cerave. When I get home, my skin still does not feel clean, so I cleanse again with a mix of Golde's Clean Greens Face Mask and Biologique Recherche Lait VIP O2 Oxygenating Milk Cleanser. Then it's the Augustinus Bader the Exfoliating Toner/the Essence or the Eve Lom Time Retreat Radiance Essence. Next up is my Environ Vita-Peptide C-Quence Serum 2 — it keeps my skin bouncy and beautiful. I follow it up with the Honey Girl Sensitive Skin Crème or the Augustinus Bader Cream — I have noticed it really calms down my skin if it's inflamed, but I use it sparingly because it's expensive. If my skin is feeling super sensitive from the stage makeup, I do a light layer of the Biologique Recherche Crème Masque Vernix. And lastly, I rely on spot treatments like Starface and Hyland's Smile's Prid Homeopathic Drawing Salve.
In the morning, I use a lot of the same products, but I mainly add in SkinCeuticals C E Ferulic. It's one of the products that I purchase the most. It smells like bacon, but we forgive it because it makes the skin tight and glow. And for sunscreen, Glossier's Invisible Shield is my favorite.
On taking care of her feet: This season, I gave up. Normally, I really like a gel pedicure because it stays on, and I feel like it makes my nails harder, which helps. But my feet … are not pretty right now. You learn what works, what doesn't, and what signs your body gives you. I do these "miracle baths." It's wintergreen rubbing alcohol, baking soda, and Epsom salts, and you can either do a foot bath or a full bath. I don't know why it works, but it's so refreshing. I'll do that and then elevate my feet on the wall.
On lymphatic drainage: It takes a village to do this job, and there are people in my life that I consider my healing angels. Natalie Vincent, I see her once a week for an hour, an hour and a half, for lymphatic drainage, which I've found really beneficial for the swelling in my legs. When I was younger, my grandma told me that I might have to do lymphatic drainage one day, and I didn't believe her, but she's dealt with lymphedema her whole life — and she was right.