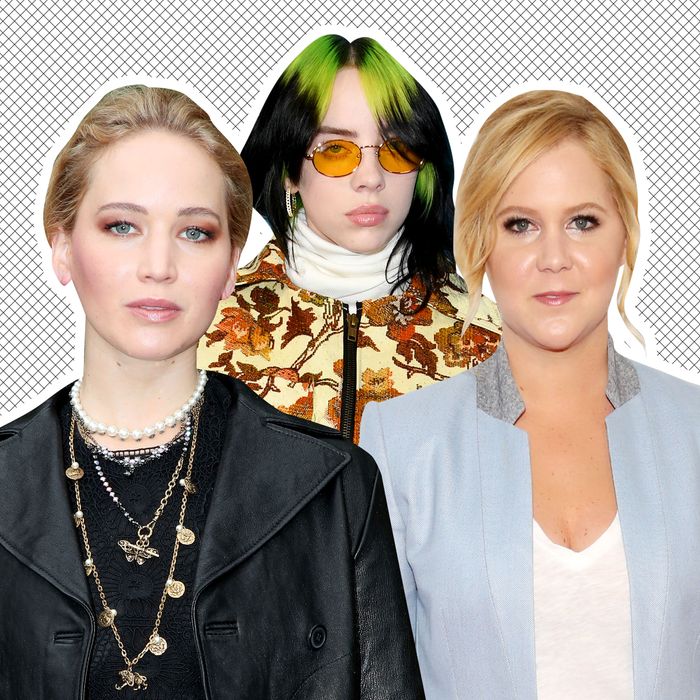 Photo-Illustration: by The Cut; Photos: Getty Images
Saturday night, Billie Eilish performed at the Austin City Limits festival to a sold-out crowd. However, Eilish revealed onstage that she almost pulled out of the music fest after Texas passed its hyperrestrictive abortion law back in May, which took effect September 1. The law effectively prohibits all abortions after six weeks of pregnancy, which is before many people know they are even pregnant, and has no exceptions in cases of rape or incest.
"When they made that shit a law, I almost didn't want to do the show, because I wanted to punish this fucking place for allowing that to happen here," she said, adding that she ended up choosing to perform since she didn't want to punish the audience, who she said were the "victims" of the law. Onstage, Eilish was surrounded by screens that read, "BANS OFF OUR BODIES." She concluded her statement by yelling, "My body, my fucking choice!" and encouraging the audience to join her in giving a cathartic middle finger.
Eilish wasn't the only celebrity to voice support of abortion rights over the weekend. On Saturday, Jennifer Lawrence and Amy Schumer participated in Washington, D.C.'s, Rally for Abortion Justice, which was one of 650 marches that took place across the country. The protest comes ahead of the U.S. Supreme Court's October hearing on Mississippi's anti-abortion law, initially passed in 2018, which bans nearly all abortions after 15 weeks. (Though it makes exceptions in cases where a mother's life is threatened or if there's "severe fetal abnormality," there are no exceptions for rape or incest.) The case challenges Roe v. Wade and has been described by experts as the "most important abortion case" in nearly three decades.
Schumer shared a picture of herself and Lawrence holding signs that read "Abortion is essential" and "Women can't be free if they don't control their bodies" outside the Capitol building. "I don't have a uterus and she is pregnant but we out here," Schumer wrote. The comedian recently shared that she needed to have her uterus removed due to endometriosis.
Eilish, Lawrence, and Schumer join countless other celebrities, athletes, and other public figures who have spoken out against the recent slew of anti-abortion legislation. On September 20, over 500 U.S. athletes, including soccer star Megan Rapinoe and WNBA player Sue Bird, signed a brief urging the U.S. Supreme Court to protect abortion rights. "If women were to be deprived of these constitutional guarantees, the consequences for women's athletics — and for society as whole — would be devastating," the brief stated. On September 21, Uma Thurman wrote about her experience having an abortion when she was in her late teens. She called Texas's abortion ban "yet another discriminatory tool against those who are economically disadvantaged."
On September 30, Representatives Cori Bush, Barbara Lee, and Pramila Jayapal each shared their own abortion stories while testifying in front of their colleagues. "It is simply nobody's business what choices we as pregnant people make about our own bodies," Jayapal said. "We are making the connection to something that is so critical for every family across America, for every pregnant person across America."