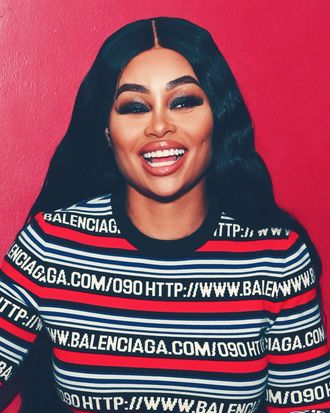 Photo: Prince Williams/WireImage
Sometimes you have to fight fire with fire, and by fire, I mean celebrities using their platforms to spread anti-vaccine information, sometimes concerning their cousin's friend's balls. Today, Blac Chyna did just that by blessing us with a historic first: a deranged pro-vaccine rant, performed at the Miami airport, in which she screams "Go get the fucking vaccine and stop being stupid, ho!" at numerous passersby. Yes, it is 2021 and the most sensible celebrity opinion just came from a woman who once weaponized a hot-pink stroller at Six Flags. Go figure!
The video, which includes a few less coherent points, shows Chyna surrounded by bodyguards at the airport terminal, yelling things like "Go get the shot!" and "Go get checked out. It's sad." While it's unclear what prompted this outburst, TMZ says witnesses saw it start when a fan holding a baby asked her to take a photo, and Chyna said that she better be vaccinated. The rapper has been outspoken about her stance on vaccines since she got her own earlier this year, which she livestreamed while fielding questions from fans on Instagram.
Her airport rant is perhaps not as effective a strategy of spreading vaccine awareness, but it is understandable nonetheless. Maybe screaming into a crowded Florida airport is better than screaming into the abyss?