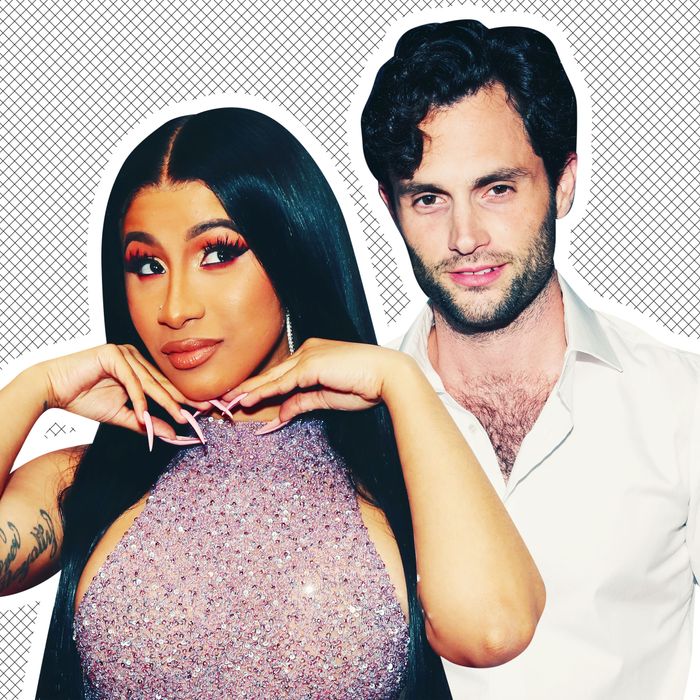 Photo-Illustration: by The Cut; Photos: Getty Images
It's a big week for Penn Badgley. The third season of his unsettlingly creepy show You came out, but more importantly, he befriended Cardi B.
What happened is: A clip from the promo for You's first season resurfaced on Twitter, where Badgley praises Cardi B for having an "incredibly authentic relationship" with social media. The clip caught Cardi B's eye and prompted her to express her unbridled fandom for Badgley and his knowledge of her Instagram habits. "OOOOMMFFFGGGGGG HE KNOWS ME!!!" she tweeted, throwing in a lengthy series of gasp-face emoji. Then, another "OMMMGGG!!!!!!" followed by, "like I'm famous famous."
Like he said, she's great at social media.
Why did this clip from circa 2019 prompt such feverish enthusiasm from Cardi? Maybe she's hot for Joe Goldberg, which means she and Penn Badgley need to sit down for a chat. Maybe she's gunning for a part in the next season of You that will involve an extremely literal interpretation of the line "bloody shoes." Or maybe she's just paying due respect to a short (five-nine) king who can fake masturbate with unsettling creepiness.
We will never know. However, I have a feeling Badgley himself is wondering the same thing, because he tweeted a flattered but perplexed response:
On Thursday, the friendship was sealed with a blood oath — i.e., swapping Twitter profile pics. Cardi B's avatar is now a screenshot of Badgley in You, while Badgley is posting as a blue-haired Cardi B (which is actually pulled from one of her Instagram live streams with Bernie Sanders). This is the grown-up equivalent of matching AIM statuses.
And thus begins the least likely celebrity friendship of them all. Just, um, maybe Cardi could not end up in Joe's cage this time?