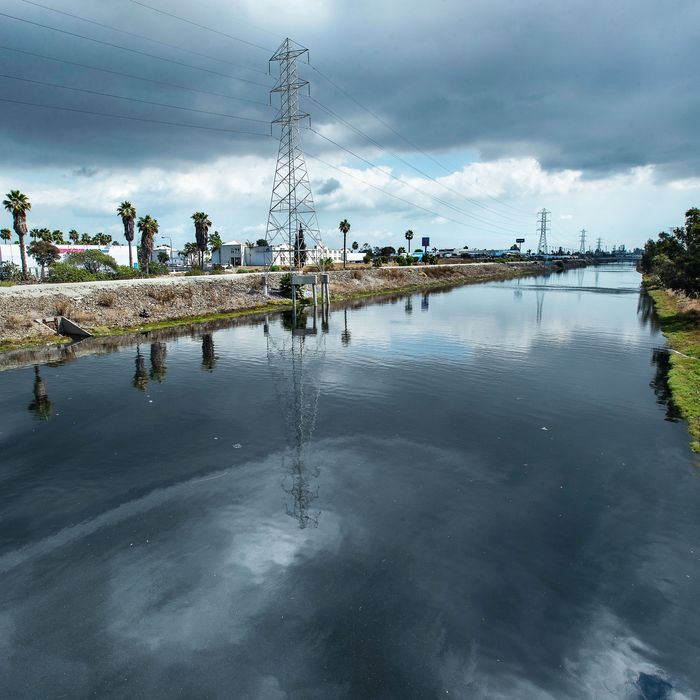 Stinky canal.
Photo: Mel Melcon/Los Angeles Times via Getty Images
A hideous stench has laid claim to Carson, California, which reportedly smells so bad that one congresswoman wants the governor to declare a state of emergency. According to Vice, top notes include decaying fish and rotten eggs, a combination so powerful that "it could take out a herd of rhinoceroses," one enraged resident complained at a recent City Council meeting.
The "intense, foul odor" — as Representative Nanette Barragán put it, in a letter to California governor Gavin Newsom — is believed to be the result of hydrogen sulfide emitted by decaying vegetation in the Dominguez Channel. Since initial reports came in on October 3, the stench has gotten bad enough that Los Angeles County is offering reimbursements for air purifiers and even hotel rooms for residents suffering smell-induced headaches, nausea, respiratory issues, and other ailments.
"This odor and the associated health impacts interfere with students' ability to learn and play safely, the operations of local businesses and the wellbeing of their employees, and the overall health and quality of life of my constituents who simply cannot avoid the smell," Barragán wrote. Yet repayment takes time, she explained, and therefore some of her constituents cannot afford to escape the formidable stink. "The scale of the problem has become so great that state resources and technical expertise is needed to address it." A state of emergency would allow for direct aid, she said.
Which, maybe you think that is a little dramatic considering that we are talking about a bad smell, but then you probably haven't experienced the "fart bomb" firsthand. "Rather than simply smelling rotten eggs, I felt more like I was inside a rotten egg," reports Vice's Jason Koebler, who arrived at the channel to find Public Works employees spraying biodegradable deodorizer to neutralize the reek. More dismaying, the city and county seem to be dragging their feet, only declaring the "odor event" to be a public nuisance on October 11. A Carson press release from October 8 insists, "FOUL ODOR FROM DOMINGUEZ CHANNEL NOT FOUND TO POSE HEALTH THREATS," though Los Angeles County Public Works is aware that the stench escalates in intensity during the evening and early morning hours. For now, they appear to be banking on the deodorant spray.
Worse still, the Los Angeles Times cites climate change as a likely culprit behind the stench, noting that storm water usually takes care of built-up organic matter in the channel. But this year, an extended drought — plus people dumping crap like cardboard and wooden pallets upstream — means more decay to gas up the surrounding environment. Truly, we live in hell.