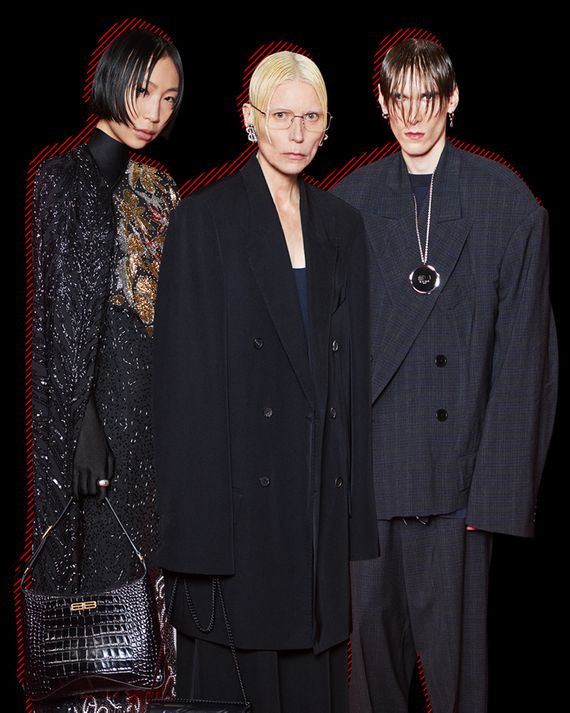 Balenciaga.
Photo-Illustration: by The Cut; Photos: Courtesy of Balenciaga
For much of Paris Fashion Week, I've had the feeling that no one is here for the clothes, that they really and truly are no longer the point. Instead, we're here as red-carpet celebrities, members of a community, even as adventurers.
This quite literally happened at Balenciaga, at the elegant Théâtre du Châtelet, which was billed as a screening, with a red carpet. When I arrived at the "carpet," which was covered by a long red canopy (and surrounded by a mob of rain-drenched spectators,) a publicist from Karla Otto's firm pulled me past the security and asked if I wanted to go on the carpet.
"Sure," I said with the innocence of a lamb going to slaughter. Another handler sort of took me by the back of my shoulders and put me in position and gave me a little shove.
Before I knew it I was standing in front of the photographers. Actually, they were the same runway photographers I see everyday, but now they were acting like red-carpet photographers. They were screaming my name. And since they were acting, I answered with a diva pose, which didn't altogether work in my Nikes, jeans, and tweed coat. It was hilarious.
It was only when I got inside the theater and sat down in my seat in the balcony that I realized the whole red-carpet scene was being played on a giant screen — to big laughs. Moreover, many of the "guests" were models, so the carpet was the show.
This was genius, another example of Demna Gvasalia's nimble mind. In the last few years, he has staged shows that evoked the creepiness of government bodies (the dark power uniforms of authorities) and the reality of living in a time when the fake can seem real (with a show that had the models seemingly walking on oil-laced water). This past July, he came out with an extraordinary haute couture collection, the first at Balenciaga since 1968, when Cristobal Balenciaga closed the house.
As for the "red carpet," I never laughed so much at a fashion show. What a novel concept — I mean, laughing. People kicked back in their plush seats and watched people mugging (intentionally or not) for the cameras. It was a wonderful if small study of human behavior. Some people immediately snapped into a pose, while others looked awkward. As for the clothes, they were mostly a continuation or a refinement of the over-sized tailoring that Gvasalia started awhile ago, with a handful of glam dresses. The striking fact of his shows, which feature many older women and some folks not conventionally attractive, is that they make everyone look cool. One of my favorite looks was on a woman with very short gray hair: It was a black soupy V-neck sweater with a ragged hem worn over a matte-silver leather skirt, with tights and heels. She looked amazing.
Once the models were finished with the carpet, they entered the theater and took random seats in the audience, acting just like regular guests. Gvasalia, in a hoodie and pants with a black mask — a reprise of his Met Ball costume — was the last to arrive, to a huge burst of applause. Then we watched a short film, courtesy of the creators of The Simpsons, in which Marge and Homer (and the rest of Springfield) go to Paris to be in a Balenciaga show. Anna Wintour had a cameo role as the woman who must be obeyed. Apparently, the film was in the works for a couple of years. It was another way for Gvasalia to cement his position as the leading disrupter in fashion, and this time with the rarest commodity — a sense of humor.
Earlier that day, Hermès brought editors and many others to Le Bourget, the airport where Charles Lindbergh landed in 1927, and which now handles private-jet traffic. At the end of a lovely show — by the capable Nadège Vanhee-Cybulski — a wall automatically slid open to reveal the airfield and a gray Paris sky. Then, as if on cue, a private plane landed.
The audience, now cued, let out a collective sigh.
I don't mind having my heart strings tugged a little, but I do mind when there's an international gas shortage — or so I read in the Times that morning — and dire concerns about the climate. Hermès insisted on bringing everyone out to Le Bourget in private cars, a two-hour trip both ways. Vanhee-Cybulski's interest in flight arose from two seasons of being grounded, using digital formats. "It's the promise of going somewhere," she said, "and the desire for — really, the sensation of — lightness." That feeling came across in the clothes, notably some nearly identical sundresses in cotton, ultra-soft leather or fine knit; white cotton overalls trimmed in brown leather, and a quartet of shifts and short-sleeved dresses made entirely of small squares of black leather or chiffon sewn on tulle and, in some cases, edged with tiny black beads.
But for all the finesse in those pieces — the fact that Vanhee-Cybulski imagined them and sought to link the shift to the flappers of the '20s and the beginnings of commercial air travel, the fact that someone at Hermès painstakingly cut and stitched every square — the fashion seemed largely disconnected from the setting. The irony of traveling to an airport for a fashion show is that technology has already made its glamour seem outmoded. Look at the marvelous places you can go on Instagram. While it's not the same as going there, almost nobody loves an airport.
Valentino was also an inside/outside affair — that is, insiders saw the collection in an enclosed runway space and then public spectators got to view the clothes when the models came outdoors and walked in the neighboring street. Valentino's creative director, Pierpaolo Piccioli, said he felt it was time for a change in perspective. To increase the diversity of his cast, he added around 30 new models, selected in what's known as a street casting. The company arranged with cafés and shops near Le Carreau du Temple, the site for the Friday night show (and a former marketplace), to offer food and various products, including some Valentino merchandise, with profits going to charity. Inside the venue, a flower vendor made bouquets for the guests and there were café tables and waiters serving cocktails.
During a preview, Piccioli pointed to a long, flouncy, floral-printed dress that was an exact copy of a Valentino from more than 40 years ago. It would have been worn by some fabulous creature like Marisa Berenson. Piccioli said, "When you see this dress worn by someone who is more human, more normal, you feel the aesthetic is not about clothes, it's about a human."
Piccioli has a point, but all it takes is some makeup and hot rollers to transform an ungainly girl into a swan. Still, because of the social and political shifts of the past couple of years, luxury brands like Valentino are racing to respond to changing attitudes. And sometimes designers get in a rhetorical tangle. Suffice to say that what Piccioli did to make the clothes seem "more human" was to simplify shapes and use more functional fabrics like crisp nylon and washed taffeta. Only their sheen hints of couture goods. The collection was loaded with mix and match separates, cut with volume. They included jeans, embroidered white shirts and wraps, and a spiraling black-and-white archival print, though most looks were in those juicy Valentino colors.
Jonathan Anderson took Loewe into new territory, with a Surrealism-inspired collection presented on a blank canvas of a runway. Actually, it was lime-washed pine boards, with the models coming up through an opening in the floor. "I wanted something which was neurotic, which was psychedelic," Anderson said. The opening jersey columns had forms inside them that, in places, caused the dress to jut out. Or their dresses, including one in a smudge of colors, with gold metal breastplates. The idea, Anderson said, was "to contort the body, as if you're looking into a funhouse mirror."
That may not be everybody's idea of fun, but it's worth noting that all these pieces were exceptionally well crafted. And there is a legacy of metal being fabricated for high fashion, from the Surrealist period through Claude Lalanne (with Saint Laurent) in the '60s and, of course, Paco Rabanne. The colors in this collection were gloriously weird — pastels, violet, metallic silver and gold, flesh tones — and there was plenty that derived its sexual tension from being utterly simple.
Yohji Yamamoto closed his show with metal — a cage crinoline half draped with black fabric. Few objects are more symbolic of the kind of constricted lives that Western women once lived than a crinoline. But what does it signify on a runway in 2021? From Yamamoto, now 78, I think it signifies that the formal traditions of dressmaking and tailoring are slowly disappearing, and, to a generation used to sneakers and hoodies, may already be obsolete. Indeed, the rest of the master's collection largely consisted of simply draped or wrapped dresses and separates in black cotton or jersey. Let other designers have their fun.