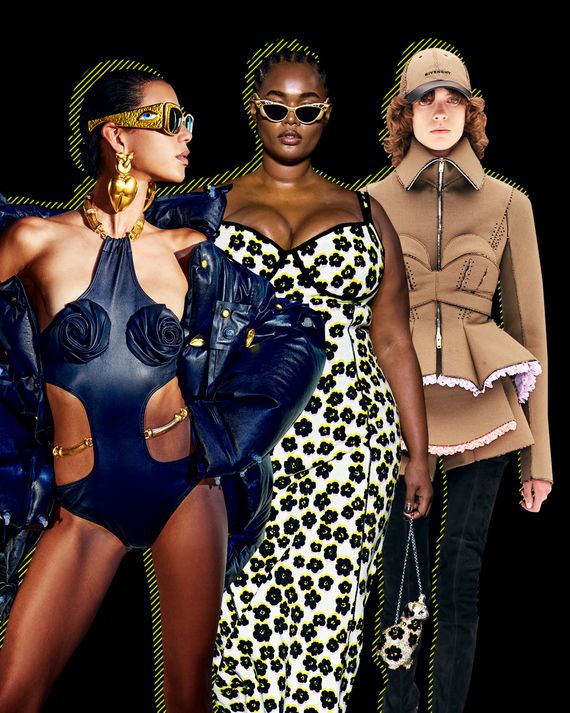 From left to right: Schiaparelli, Lanvin, Givenchy.
Photo: Courtesy of Schiaparelli, Lanvin, Givenchy
Givenchy's Matthew M. Williams put on a very big show on Sunday night, 75 looks (and one robotic camera) whirring around a purpose-built, celestial bright oval ring inside La Defense Arena, on the outskirts of Paris. But in the words of American sage Gertrude Stein, there was no there there.
This was Williams's first runway show for Givenchy since he was hired in June 2020 to replace Clare Waight Keller. Givenchy has had many designers over the past 25 years: John Galliano, Alexander McQueen, Julien Macdonald, Riccardo Tisci, and Keller, who not only softened the lines of her bad-boy predecessors but also advanced a wider and less doctrinaire view of feminine fashion. Her bosses at LVMH had other ideas, however, and they appointed Williams, who has his own men's line and, more, has worked with Lady Gaga and Kanye West. Those connections, along with a social-media presence, obviously matter.
But they don't make for an original point of view. To quote another great American, Yogi Berra, Williams's collection gave me "déjà vu all over again." There were styles, or elements of styles, that reminded me of the work of Nicolas Ghesquière (those weird mashups of texture and form), Azzedine Alaïa (flirty minis and sweetheart necklines), and the artist and fashion designer Sterling Ruby (smudgy, intensely saturated prints with streamers). I thought in Williams's thigh-high boots with a clog-meets-sneaker base that I detected the molded, action-figure shapes of Rick Owens. Or was it the work of another creative mind?
Whatever the explanation, the collection looked at once familiar and try-hard, beginning with the opening styles. These included snug, zip-front, peplum jackets worn with shorts (or perhaps a mini) and high boots. Sometimes a bustier seemed embedded into a jacket shape, with stiff, extraneous flaps near the front or at hem, and later Williams added tiny colored frills to a peplum's edge. There were also frills on rompers, and on a long skirt in yellow chiffon worn with a tough-looking, sleeveless jacket in a brown menswear check, its shoulder pads exposed at the armholes. And there were more random slits and flaps, including a long one in the front of a pantsuit.
Williams obviously likes contrasts and complexity, but it was generally to no purpose — except, perhaps, to make graphic, a bizarro statement on Instagram. Much of the overloaded feeling may be a result the fact that Williams collaborated on the collection with the prominent American artist Josh Smith. Figurative and abstract imagery on jackets, pants, and T-shirts looked like his work, and the result offered a nice, neurotic jolt of color. But designer-artist collaborations are fast losing their novelty, in part because they seem intended to substitute for genuinely good design. What does Williams's Givenchy stand for? Hard-edged tailoring? Does that mode even work today? In 75 looks, the answers were still unclear.
On Tuesday night, Paris Fashion Week will close with a tribute to the late Alber Elbaz. In the 2010s, Elbaz overhauled Lanvin, and in the process changed the look of fashion, with his uncomplicated dresses and separates, often with raw edges and grosgrain-ribbon trimming. In short, he had a concept. Unfortunately, the same cannot be said of Lanvin's current creative director, Bruno Sialelli. Before the pandemic, he was doing some decent work, more or less in the mood of Lanvin. But that focus dissolved on Sunday, in a collection that used — wait for it — Batman as its motif. The Caped Crusader's likeness appeared on shirts and sneakers and might account for the old-time comic-strip colors — purple and jade to silver and gray — and, as well, Naomi Campbell's show-closing black chiffon cape. And unlike Balenciaga's turn with The Simpsons, it wasn't even funny.
Schiaparelli is all charm and well-handled kitsch, thanks to the talented Daniel Roseberry, its creative director since April 2019. "You can go from zero to 100 in this collection," Roseberry said the other day in the company's Place Vendôme office, as we stood near a white skirt striped in black patent leather, embellished at the waist with a gold chain that linked two surreal-looking human ears. He does molded breasts and nipples, too — and, for fun, an inflatable puffer jacket with the kind of little plastic nozzles you find on beach toys.
Roseberry has discovered that customers like the surrealistic elements, which are a historical connection to Elsa Schiaparelli. "No one wants a navy blazer without nipples," he said, referring to the gold ornaments that can appear on a number of styles, including T-shirts. "Everyone wants the full-on version." And they will be able to get their fill later this month when Schiaparelli opens a boutique in Bergdorf Goodman.
None of these fashion jokes would work, though, if Roseberry were not an accomplished designer with a sure eye for cut and proportion and a great taste for color. I loved a sash-belted coat in off-white heavy canvas — known as toile American — that was trimmed in black leather and small gold buttons. Ditto caftans and shirt-dresses in bold red or light-blue cotton stripes. "There's really no limit to the quality we can do," he told me. And it shows in the clothes, as well as the imaginative jewelry.
More From Paris Fashion Week
See All