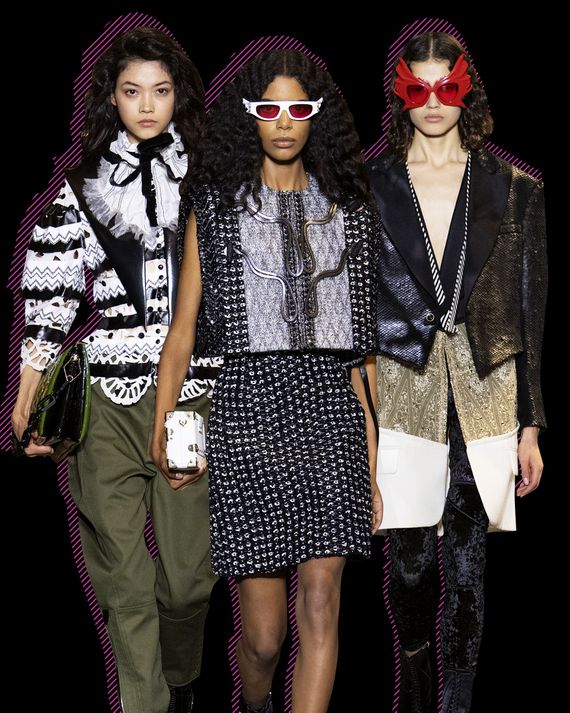 Photo-Illustration: by The Cut; Photos: Courtesy of Louis Vuitton
On its final day, the Paris collections served up some decidedly rich fashion — and just when people were aching for home and wondering how neatly to pack up the dirty laundry.
There were Olivier Theyskens's ingenious patchwork dresses; made from thin, multicolored strips of fabric, their bleed-together hues resembled varieties of agate. The 22 styles represent the best work the Belgian designer has done in years, and one of the outstanding spring 2022 collections. At Miu Miu, the standard components of a school uniform — khakis, navy blazer, blue or white dress shirt — became points of adolescent tension as Miuccia Prada flipped between decorum and anger. What other emotion describes the extreme look of a micro-mini chopped out of a pair of khakis, or a crewneck sweater hacked off just below the breasts? Under ordinary circumstances, this sort of style might be characterized as deconstruction. But in the context of young lives disrupted by the pandemic, it becomes confrontational, a more disgruntled challenge to rules.
Then there is Louis Vuitton. Nicolas Ghesquière's collections often display an ivory-tower richness. Prior to the first French lockdown in March 2020, Ghesquière staged an extraordinary show in the central courtyard of the Louvre that featured a backdrop of 200 chorale singers dressed (by the costuming legend Milena Canonero) in period clothes, from the 15th century to 1950. He liked the idea of the past talking to the present, and his own designs kept pace with that.
His new collection was again historical, but now darker in flavor and surpassing in opulence — fabrics, trimmings, beading — anything we saw this season. The show was held not on a specially built runway in the Louvre but on bare stone in the gloomy Richelieu Passage of the museum. Overhead were dozens of crystal chandeliers hung for the occasion. My thought when the first outfits appeared was We really do live in a decadent time. Ghesquière stuck modified panniers under the silk charmeuse and gold-tipped, shredded chiffon skirts, so that the skirts poked out at the sides and bounced like two bongo drums. One dress came with a black lace and silk pleated top, under which was a white cotton tank top, while he put a wide-shouldered black tailcoat with a silver-trimmed lace skirt. There were also capes, and most of the models wore ornate dark glasses — plainly a reference to masked balls.
Paris has a very decadent history. It's offered unparalleled luxury, especially following the rise of haute couture houses in the mid-19th century. Brothels could once be found everywhere, indeed some remained active until well into the 20th century. Ghesquière, in his show notes, said the collection grew out of work he did on Irma Vep, a series for HBO directed by Olivier Assayas and starring Alicia Vikander. He designed all her costumes. Irma Vep follows an American movie star who comes to France to star in a remake of Les Vampires, a silent film series (1915) that, despite its title, was about criminal groups in Paris.
The historical allusions in the show were hard to miss, aided by a classical soundtrack that swelled through the passage. But the clothes were hardly period stuff. Among the most compelling designs were an asymmetrical top in wide silvery white-and-black stripes, with frayed edges, and a lace and beaded slip dress. Both were shown with skinny jeans. Ghesquière sometimes gets a bad rap for doing clothes that don't feel relevant enough — that is, connected to the streets, to everyday life. However creative his clothes are, people will sometimes think it doesn't matter — because Louis Vuitton is such a monster bag business.
While it's true that accessories are Vuitton's main bread and butter — just look at what they promote on Instagram — street cred shouldn't be the only standard to judge whether a fashion matters. I think Ghesquière is in fact tapping into a deep vein of decadence, one that runs far and wide. He isn't just touting "unabashed luxury," to quote the notes. He's saying with his dark tones, his lingerie lace, his masquerade gear, that there exists a profound desire for pleasure. To be honest, I was so engrossed in this thought that I didn't notice at first a female protester on the runway with a sign that read: Overconsumption = Extinction. I later thought how remarkable it was that she entered my thoughts when she did.
Ghesquière received a standing ovation.
More From Paris Fashion Week
See All