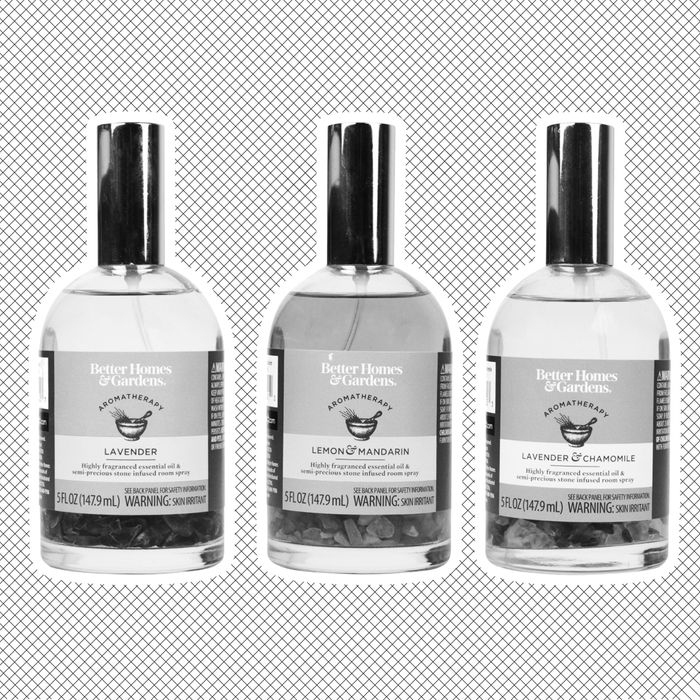 Beware!
Photo-Illustration: by The Cut; Photos: Consumer Product Safety Commission
The Centers for Disease Control and Prevention has been tracking a potential killer in our midst, tracing its location to the shelves of 55 Walmarts nationwide, and also Walmart.com. The agency is asking that anyone who bought Better Homes and Gardens Lavender and Chamomile Essential Oil Infused Aromatherapy Room Spray with Gemstones stop using the product right this minute, and return it to the place of purchase. The infusion has been linked to at least two deaths, with more people falling ill after inhaling its ostensibly relaxing scents.
Maybe you are wondering, how could a room spray kill people? According to the CDC, the culprit appears to be Burkholderia pseudomallei bacteria, exposure to which can cause melioidosis, also known as Whitmore's disease. A localized infection may cause fever, ulcers, abscesses, or pain and swelling at the contact site; pulmonary infections can also look like pneumonia, with cough, chest pain, fever, headache, and loss of appetite. Melioidosis may also cause blood infections, or spread to the central nervous system and brain. Typically, the bacteria responsible are only found in water and soil in tropical climates, particularly in Southeast Asia and northern Australia. That it showed up in North America — specifically, in Kansas, Minnesota, Texas, and Georgia — puzzled health officials caught up in the case.
"I don't know that we immediately thought that an air freshener would be the likely source. I think we had a very wide net that we were casting," Jennifer McQuiston, deputy director of the CDC's Division of High Consequence Pathogens and Pathology, told STAT News. "We tested hundreds of specimens collected from the households of several of the patients, really looking for that needle in the haystack. And we didn't know if we'd be able to find it."
That needle turned up in Georgia. Investigating the home of one of the room spray's victims, health officials found a bottle of the spray that tested positive for a strain of Burkholderia pseudomallei found in South Asia. The bottle in question was manufactured in India, so the link looks promising — except for the fact that Walmart ranks among country's the largest retailers. They've recalled 3,900 units, apparently a low figure by Walmart standards, and say the spray was apparently sold as only in select stores (and also online, from February to October 21).
Investigators are still working to see how many of the manufacturer's products may have been compromised. In the meantime, the CDC urges vigilance: If you have purchased the room spray — in lemon and mandarin, lavender, peppermint, lime and eucalyptus, or in sandalwood and vanilla — then you should, per the agency, "double bag the bottle in clean, clear zip-top bags and place in a small cardboard box," for return to a Walmart store. (Per the Consumer Product Safety Commission, "Customers will also receive a $20 Walmart Gift Card upon return.") Do not attempt to destroy the spray yourself or simply throw it away — this could potentially allow the contagion to spread, and nobody wants that.
If you purchased a room spray fitting this description, you should (a) stop spraying it immediately!!, and (b) launder and dry any linens, or disinfect any surfaces that may have come into contact with the spray, washing your hands thoroughly after handling. Wearing gloves while touching the bottle would probably be smart. Then, (c) see a doctor if you've used the spray in the last 21 days, particularly if you've come down with a fever or any other symptoms — in that case, your doctor should definitely know about the possible scourge in your home, but they may want to give you antibiotics regardless. Better safe than sorry.