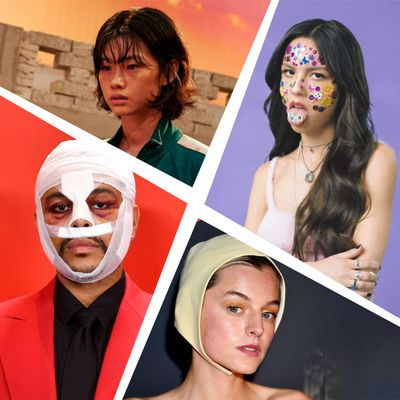 Photo-Illustration: by The Cut; Photos: Getty Images, Netflix, Urban Outfitters
Looking for some lazy Halloween-costume ideas that are even lazier? Of course you are! If you don't feel like getting dressed this year, but still want to prove to people on the internet that you participated, skip the trip to your closest and head straight for the beauty products in your bathroom. With a little imagination, styling yourself from the neck up with pimple patches or bruise-colored lip liner can make you look costumed within the confines of a selfie.
Here, some pop-culture moments from the past year that can be quickly created with beauty products that you probably already have lying around (e.g., black liquid liner, brown eye shadow), in addition to some more playful beauty picks you'd add to your cart should the right excuse present itself (e.g., the slight urge to kinda-sorta do something for Halloween).
1. Olivia Rodrigo's Sour Album Cover
Thanks to Euphoria and the recent Met Gala, we're pretty comfortable sticking things on our faces these days. Decorate yours like a '90s binder that belongs to a teen using a combo of cute pimple patches and temporary tattoos — they'll stay put on your skin much better than regular stickers.
2. Lil Uzi Vert and His Head Diamond
For an even lower-effort stick-on costume, try adhering a singular face jewel to the middle of your forehead in an ode to the world's most stressful piercing. You can even wear this costume a second time and just say you're Vision to get more bang for your buck.
3. Sae-byeok From Squid Game
Dress up as TikTok's current crush by wearing almost every popular beauty look of late: faux freckles, curtain bangs, and under-eye circles that are drawn on with makeup.
4. North West, Noted Goth
If you haven't heard, North is goth now, and you can be too. To follow her lead, cover your face in temporary tattoos while listening to Black Sabbath and arguing with your mom.
5. Emma Corrin at the Emmys
If you were looking for a special occasion to try out Corrin's spooky clawed-pilgrim look, Halloween totally works. All you need is some alien makeup on your lids, pointy claws on your nails, and a comfy spa headband to cradle your face.
6. Blonde Billie Eilish in Disguise
Earlier this year, a blonde Billie Eilish wore a Billie Eilish Halloween wig to a bunch of events, so not only is this costume a breeze, but a very historically accurate one. Just slap that thing on and call it a day.
7. The Weeknd, Pre-Instagram Face
Last Halloween was all about the Weeknd's literal beat face, but not long after, he debuted his plastic-surgery-downtime face, the precursor to his glorious Instagram face. Use all your matte, satin, and shimmer-free makeup products in blacks, purples, reds, and browns to create subtle bruising, then swaddle your face in gauze.
8. A Grimes Selfie
If you don't want to do a whole head-to-toe Grimes look for the holiday, focus your efforts on one of the many intriguing beauty looks that make it on the grid. This one featuring a glittery hairline is particularly good — so good that she posted it not once, but twice.
9. A Bratz Doll
If you don't want to take the Disney Channel–star route, you can embody Y2K the Mattel way. Shape your brows as skinny as possible, draw on an exaggerated cat eye, add extra-long lashes, and follow the Clown Lips tutorials making the rounds on TikTok to get that signature oversize pout that curves upward in a slightly unsettling way.
10. A Bridgerton
If you've mastered no-makeup makeup, now's your time to shine. Keep things as glowy, rosy, and fresh-faced as possible; wear your hair up, stick some sparkly things in it, and you're good to go.
11. A Sexy Mullet
Mullets are back in full force, and Rihanna's got the best in town. A hot Rihanna mullet pairs best with a Fenty lip, a Fenty cat eye, and Fenty lingerie if you've got it.