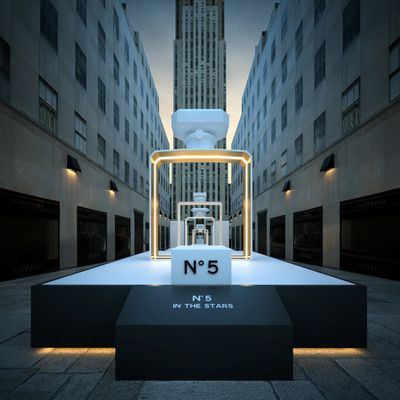 Photo: Courtesy of Chanel
Starting November 6, Chanel will be taking its brand to the ice rink. In an event called No. 5 in the Stars, Chanel will be transforming Rockefeller Center into a huge 100th-birthday party for its No. 5 fragrance, and the public is invited.
Chanel No. 5 was the first perfume created by the brand in 1921; Gabrielle Chanel allegedly told French Russian perfumer Ernest Beaux that she wanted something that would "smell like a woman, and not like a rose." It was one of the first perfumes to use aldehyde, a breakthrough synthetic ingredient that gives scents a fizzy, Champagne-like quality and is still used in modern perfumery today. When asked what she wore to bed, Marilyn Monroe supposedly told an interviewer in 1952 that she wore a few drops of Chanel No. 5.
Everyone is invited to the party, going from November 6–12 from 11 a.m. to 8 p.m. In the lounge, you can have themed hot chocolate and other treats. It's a little early for reindeer games, but you can play N°5–inspired games in the area and watch an outdoor exhibition of the scent. Every night at 5 p.m., there will be special themed animations. No sign-up is required, and tickets will be given in person on-site or at the Rockefeller rink. If you'd like to attend, you can find more information via Chanel's site here.