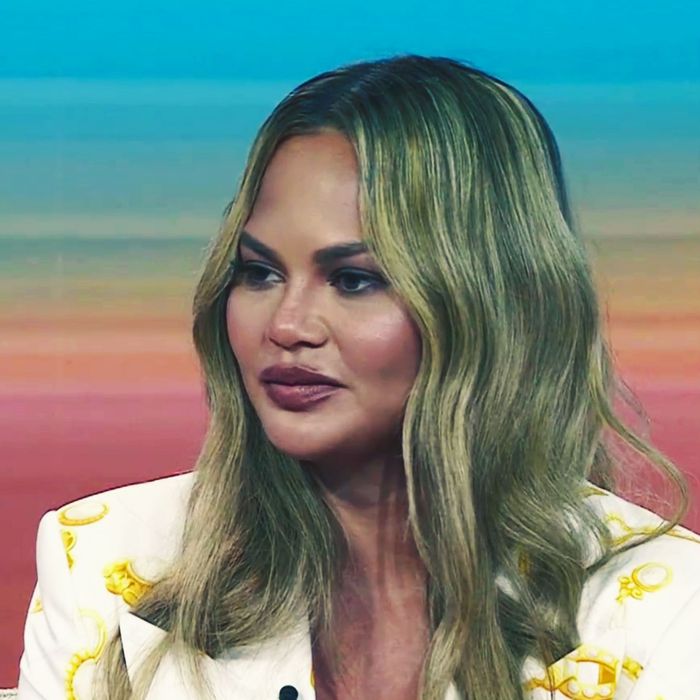 Chrissy Teigen on a recent
Today
show appearance.
Photo: NBC News
On Tuesday, Chrissy Teigen gave her first TV interview following the slew of bullying allegations that came out earlier this year. The controversy, spurred by an interview with reality-TV persona Courtney Stodden, led to brands distancing themselves from Teigen and Teigen being relegated to what she referred to as the "cancel club." Five months later, Teigen said she's grown from the experience. "There's this whole cliché, 'I'm glad it happened,'" Teigen told Today show host Hoda Kotb, "but truly it made me a stronger person, a better person."
In May, the Daily Beast published an interview with Stodden detailing disparaging tweets and direct messages they received from Teigen. Stodden said Teigen would message them "things like, 'I can't wait for you to die,'" both publicly and privately. A couple days later, Teigen addressed the accusations in a Twitter thread, saying she was "ashamed and completely embarrassed" for her past behavior. Then, after spending a month remaining mostly silent online, Teigen issued a longer apology on Medium, which prompted even more bullying allegations. In July, she shared a post on Instagram about "being cancelled," emphasizing that she "learned a whollllle lot" in the couple months since.
In Tuesday's Today show interview, Teigen, who was also there to promote her newest cookbook, talked about the time she's spent reflecting on her past behavior and how she intends to move forward. "I look at my kids and what I want their values to be and how I want them to treat people," she told Kotb, "and to see that in myself that I wasn't doing that was, I think, the hardest part for me." Teigen added that the feeling of anonymity on the internet, in part, fueled the kind of messages she sent in the past. "[I] didn't feel like anybody was going to read it," she said. "You don't really think about the impact and the person on the other side."
Teigen mentioned, both in this new interview and in her Medium post, that she'd attempted to reach out to those she'd hurt. "I'm in the process of privately reaching out to the people I insulted," she wrote in her post in June. "It's like my own version of that show My Name Is Earl!" On Tuesday, she acknowledged that some people didn't wish to be in contact, saying, "If they accepted it, that's great, but they didn't have to." Stodden has maintained that they never heard directly from Teigen's camp.
During her Today show interview, Teigen also talked about her recent sobriety. "I'm actually a hundred days sober today and I'm so excited," she said, mentioning that her behavior while drunk had become "embarrassing." "I feel so good, I feel very clearheaded," she continued. "I feel like I've done the work and I just hope these people can forgive and be able to welcome the fact that hopefully they've seen me be better."