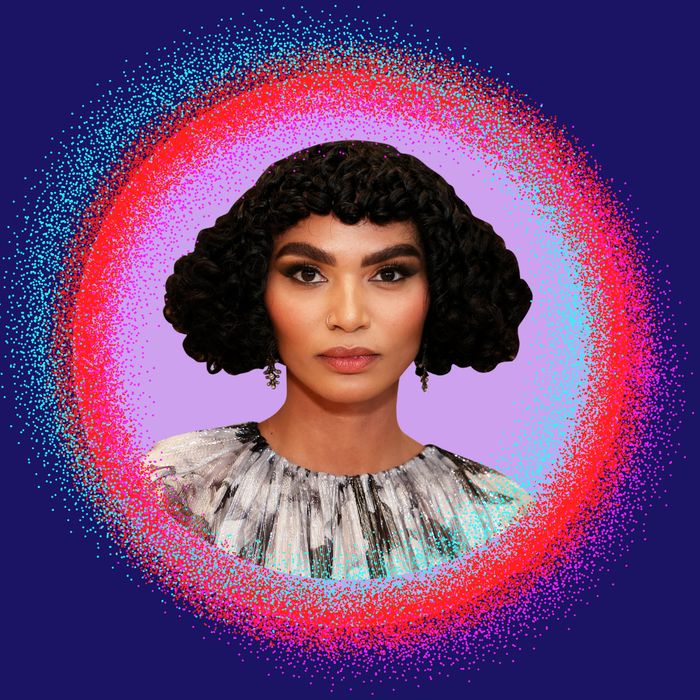 Photo-Illustration: by The Cut; Photo: Getty Images
The setting couldn't be more serene: Sophia Roe is sitting on a comfy king-size bed in her room at the Concorde Hotel in New York City, scrolling through her phone. She dressed casually, wearing an iteration of her everyday uniform: a white T-shirt with black skinny jeans and white Chuck Taylors. The room is remarkably quiet; even midtown's impossibly loud ambulance sirens and car horns are absent on this sunny afternoon.
See? Serene. Except for the part where it's the second Sunday in September, which means tomorrow is the Met Gala. Which explains why we're not in her Bed-Stuy apartment and instead at a boutique midtown Manhattan hotel. Vogue editor-in-chief and honorary chairman of the Met Gala Anna Wintour personally invited Roe — over email. "I thought it was spam," Roe recalls of the "textlike" message as she sits down on the window-facing sofa inside her hotel room. Still pristine from check-in, the room feels like it's in the eye of a storm — silently waiting, suitcases still unpacked — before a myriad of clothes, friends, and beauty stylists take over in less than 24 hours to see Roe off to her first Met Gala.
Known for her highly Instagrammable vegan recipes, Roe is one of ten chefs in charge of designing the plant-based menu for this year's $35,000-a-plate dinner, which includes her take on a niçoise salad — a French egg-and-tuna dish that Roe reworked with cannellini beans, cucumbers, and Yukon gold potatoes. Even though she was invited to be part of fashion's biggest night as a chef, Roe doesn't like to describe herself by that term. Just call her "cook." She also considers herself "not in the fashion world," despite the fact that Halston made her a custom gown for the big night. She prefers the comfort of Keds sneakers, which she buys in bulk, to the glamour of high heels — understandable, given that her physically demanding job requires her to stand up in the kitchen for hours. But when Roe goes all out, she doesn't hold back: ​​"I know if I'm going to do this, I really want to be the fantasy version of myself, the self that I always want to really be."
Her excitement is palpable as she describes the aforementioned flowy Halston gown, made by the house's current creative director, Robert Rodriguez. It was an homage not only to the late designer's love of orchids but also to Roe's lifelong admiration for Donna Summer and the Studio 54 disco scene. As she's explaining the inspiration behind her dress, Roe pauses and turns to her assistant, who's hard at work on the room's wooden desk a few feet away: "Dani, I still don't have a Donna Summer tattoo. Remind me to get one."
This is one of the first times Roe has gotten to dress up since the coronavirus pandemic started. For much of the past 18 months, she's been at home, plotting some of the biggest projects of her career — a TV show and two books.
The first season of her TV show, Counter Space — which premiered on Vice TV in November and explores issues like food justice, school lunches, and the future of meat — was entirely produced and shot during the pandemic, a time Roe describes as otherwise "dull." (But let's be real: Roe has Scorpio sun and moon, which, she says, translates to secretly loving isolation.) Although Roe has always carried a plant-based, vegan diet in her own life, she regularly breaks the rules for her job, especially when she used to work for private clients and families: "I don't cook anything I can't taste." So a bite of cheese or a taste of milk-based sauce are in order from time to time. But Counter Space offered a unique challenge for her plant-based diet.
The premise of the show required Roe to step inside cultures around the world to explore issues like food justice and climate change, and in order to do that, Roe says, "You have to make lamb kebabs, that's it." Her justice-minded approach to food, she says, prevents her from judging non-vegans, and instead she focuses on why there are over 2 million people in the world who eat insects every day. After all, in a world where it's increasingly hard to survive, the option to go vegan comes from a place of privilege: "You're going to go into Yemen and tell the people in Yemen that day that they can't drink milk from your only cow that they have? What the fuck."
The first-time hosting duties earned her a Daytime Emmy nomination for Outstanding Culinary Host. "It's my first nomination for anything — ever," she laughs. And, fingers crossed, not the last. "I don't think there's anything wrong or vain with wanting to be in front of the camera," she says. "I hope I get to do it for a long time."
Glitzy spaces like the Met Gala and the Emmys may be criticized for their lack of diversity and in-your-face display of ostentatious privilege, but to Roe, it matters when someone like her — a Black woman of French, Japanese, and Brazilian heritage from Florida, who grew up in and out of foster care — is there: "The only way to make the systems better is to exist within them," she says. "I can say, 'Cancel this and cancel this.' But how am I going to make things better?"
Still, most of her advocacy work isn't quite so flashy, which is on purpose. Unlike the cliché black squares on Instagram and poppy Canva-based activism, she's the type of person who believes that advocacy work should happen offline. "I don't have to tell people that I've spent over $100,000 on advocacy this year," she says. "I don't need to put that on the internet, because who am I doing that for?" Instead, she has quietly donated to local grassroots organizations and gifted brand-new refrigerators for food pantries. She has also spent time working with the Women's Prison Association and focusing on foster-care reform, food justice, and homelessness.
"People call me a leader — I don't know that that's what I am," she says. "I don't think I'd like that responsibility, either." Instead, Roe prefers to "stay my lane," signaling that today's digital world asks everyone to "suddenly be an expert on everything." She insists on raising awareness through what she knows: food. Roe does want to be known for being a good boss, though, specifically one who promotes wealth redistribution. It's the core of her business model. "I know what it's like to have nothing, and I know I don't need much to be okay," she says. So she doubles her manicurist's rate, gives her assistant surprise bonuses when they have a good quarter, and refuses to let go of staff when money starts to run dry.
During the onset of the pandemic, when gigs got canceled left and right, Roe says she continued to pay her staff for months without any income until she figured out a way to make a living in our new reality. Yes, it took a lot of "frank" conversations with her accountant. Slowly, things started to pick up again — a virtual class here, a branded partnership there. Keeping Danielle, her assistant of many years, was a priority. "I love her so much," she says, her voice reaching a delicate tone.
These days, Roe is busy adding a new title to her ever-exploding résumé: writer. Even before she moved to New York or considered becoming a chef, Roe dreamt of being a published author, inspired by the words of Octavia Butler and fellow chefs like New York Times columnist Samin Nosrat. So yes, there's a cookbook coming, but right now, she's much more excited for her other writing project: a nonfiction book that narrates the 24 hours she spent underground in the New York City subway system in pre-pandemic times. "I did it in chunks, though, not consecutively," she explains. Although the project still has no title or publisher, there are a few anecdotes Roe is eager to tell, like that time she had to figure out how to pee at a station with no available bathrooms or the day she got her period waiting for the 1 train at 96th Street. After her time riding below ground was over, she concluded, "If you want brutality, New York is the right place."
It's not all so brutal, though. At home in Brooklyn, Roe's other 364 days are a little more casual. Her routine is filled with intentional play and fun (i.e., skateboarding and biking to local farmers' markets), largely thanks to her partner's kid, keeping her hectic schedule from becoming too overwhelming. That is, unless life has other plans, which happens. Like, say, walking a ritzy red carpet that's on every celebrity's bucket list. It's on those days that you won't find Roe in the kitchen. "I just order takeout," she says.