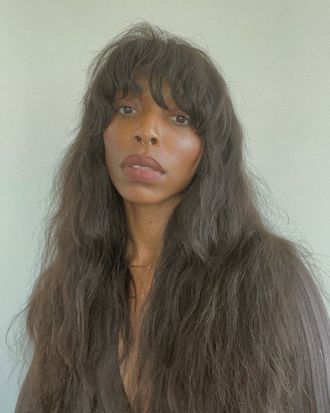 Photo: Courtesy of Deun Ivory
Want more skin care? Join the Beauty Group on Facebook.
You hear it all the time: You are what you eat. But that adage didn't hit home for Deun Ivory until she was suddenly dealing with "a beard of acne" at the age of 25.
Ivory, a photographer, public speaker, and creative director, was living in Texas at the time and eating some form of dairy with every meal. "I had ice cream every day, butter on everything," says Ivory, who is also the founder of the Body: A Home for Love, a 501c3 nonprofit organization dedicated to shifting the culture around how Black women heal from sexual trauma. "It was overconsumption, but I mean, in Texas, that's just how you eat."
Ivory was at a loss as painful cysts constantly appeared and disappeared around her chin area for over six months. "I know this is extreme considering everything else happening in the world, but I would say I went through a mild form of depression," she says. "I would cry all the time, and I couldn't explain why. You go from having clear skin one day to waking up with a lot of texture. Like, you have no idea."
To combat the cycle, she tried every product and DIY solution the internet suggested — one forum even told her not to wash her face for three months — and she "destroyed" her skin further in the process. She remembers that it was constantly irritated and felt like it was "burning."
Then someone on an online forum suggested that she cut out dairy. She did and saw almost immediate results. Unfortunately, what she soon discovered was that getting rid of her acne was only one piece of the puzzle, because as soon as the acne ceased, she was left with intense hyperpigmentation. Erasing it has been a more recent success. Rosehip oil and some Tata Harper products helped early on, but the real winner came in the form of Topicals' Faded Serum for dark spots and discoloration. "That thing is magic," Ivory says.
Below, Ivory breaks down the products that keep her skin free of acne and hyperpigmentation while still giving her a glow. Keep on reading for the cleanser that makes her feel "like a new person," the sunscreen that feels more like a moisturizer, and the eye gel that erases darkness.
The Cleansers
"At one point, I was only using makeup wipes and then going to sleep, but we're not gonna talk about that. Now I use this balm at night sometimes. I love how it melts everything on your skin."
"The first time I put it on, I felt like everything just washed away. I didn't even know that I had that much dirt on my face, but once I used it, I felt like a new person. My skin was like, 'Thank you.' I don't know what Youth the People put in, but it's the best. I actually found it because the brand sponsored the Body: A Home for Love's first in-real-life event in L.A. They gave our entire team products."
The Serum
"This serum smells like a perm — Black people, we know what perms smell like — but I don't care. This is getting my skin together, so I'm gonna use it — I actually use it every single day.
"It's from the hands and mind of a Black woman, so I already knew going into it that she knows what I'm dealing with and how to solve the problem because she herself has dealt with it and she looks like me. That, to me, is one of the most important things to consider. And when I started using the serum, I had some marks on my cheek, and it completely did away with them. I have tried other hyperpigmentation serums and they've worked, but they've taken a bit longer. I noticed a difference with this one probably within two weeks."
The Moisturizers
"I go back and forth on moisturizers, but this one is gold. Furtuna Skin is one of my fave brands — they're probably running neck and neck with Youth to the People. It smells mature, if that makes sense, but it makes my skin look dewy without having to add anything else on top of it. I just ran out, so I've been using one from Youth to the People [below]."
"This is a deep moisturizer, and it really keeps my skin moisturized throughout the day. It has an earthy smell, but it's not too potent — it's tolerable. When I use this, I always add my Tata Harper retinoic nutrient face oil with Vitamin A [below] on top to give me a dewy effect."
The Eye Gel
"Sometimes I have puffy eyes — being an entrepreneur, you are just exhausted all of the time. I didn't used to pay attention to my under-eye bags before, but then I was like, 'Deun, you need to because you're onscreen more and you need to look your best.' So I use this in the mornings and at night to get rid of any darkness and to look more alive."
The Face Oil
"I put this on, and I'm like, 'You can't tell me nothing.' Like, I'm glowing, looking supple, and everyone's like, 'Oh my god, your skin!' Like yes, I know. It just seals in all of the goodness from my cleanser and my serum and my moisturizer. I believe oils should always go on last — there's no other way to do it. And it has vitamin A, but I've never had any of the retinol uglies with it."
The Sunscreen
"I love the way this sunscreen seeps into my skin. I've tried so many sunscreens, and I'm like, 'I appreciate the intention here, but this is giving me ashy,' because it is sitting on my skin. Other times, they leave my skin flaky and pasty. This one feels like a moisturizer. I put it on, and I feel really good about it. I just apply it once in the morning and go about my day."
The Mist
"I was using this after my cleanser, and then I was like, 'I'm going to use it after my routine.' So now I use it as a mist to refresh my skin. I don't know if that's right or wrong, but I like what it does to my skin. Especially if I'm dry, I just put that on, and it's like wham-bam."