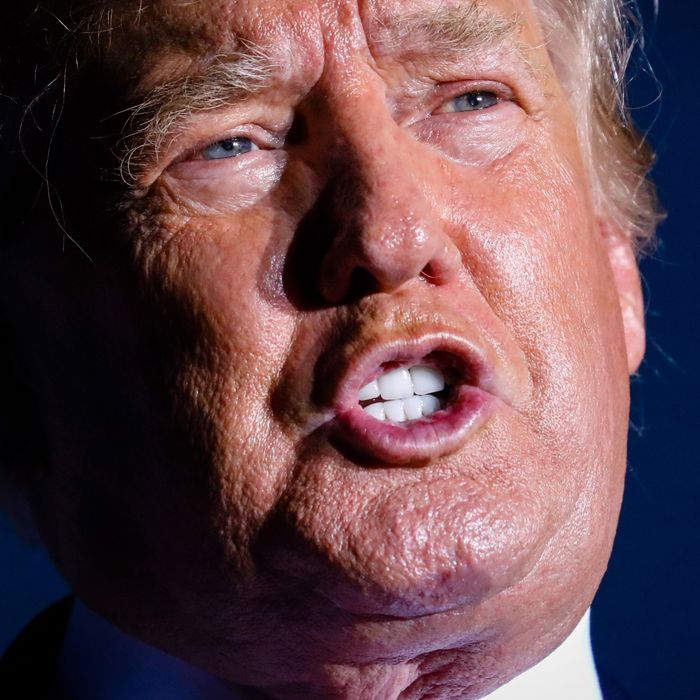 "I'm not into golden showers." Okay, buddy.
Photo: Eva Marie Uzcategui/Getty Images
It has been years, maybe, since you thought about the pee tape, and I regret to report that you are about to think about it again, even though you probably don't want to. Donald Trump, somehow still alive and screaming, brought up the pee tape's contents unprompted at an exclusive retreat for high-rolling GOP donors this week. "I'm not into golden showers," he shouted at the crowd during his speech to the National Republican Senatorial Committee in Palm Beach on Thursday. To be clear, nobody asked him to articulate his position on the matter, but here we are.
What is this man doing speaking on a public platform — I though he lost that when he left the Oval Office? you may be asking yourself. Unfortunately, Trump pivoted to fundraising and rallies, which he isn't explicitly calling campaigning, even though a 2024 bid seems likely. With that in mind, maybe you are also wondering why he would voluntarily dredge up a splashy claim that surfaced almost five years ago: That, circa 2013, Trump allegedly watched two sex workers pee on a bed at the Moscow Ritz-Carleton, and that this spectacle allegedly brought Trump pleasure because the Obamas supposedly slept in that bed. This encounter, if it occurred, would not actually qualify as a golden shower, seeing as no one got peed on directly. But! Because Russian state security allegedly had the hotel under surveillance, there may — may — be footage this event if, again, it actually happened.
That is the perennial mystery of the pee tape. No one knows whether or not it actually exists. Though many people believe that it does, and some of them suspect Russian President Vladimir Putin used it to influence and/or blackmail Trump, simply wanting the pee tape to be real doesn't make it so. And anyway, none of this answers the larger question of why Trump is still talking about the pee tape, apropos of nothing. I don't know about you, but when someone comes at me with an unsolicited denial of a topic that wasn't even on the table — for example, insisting at high volume that they do not enjoy being peed on during sex when I hadn't even thought to ask them about that — I assume some reverse psychology to be afoot. I hear "I'm not into golden showers" and I think, Okay, buddy, sure you're not ;)
Either way, I'm sorry to bring this all back up for you.