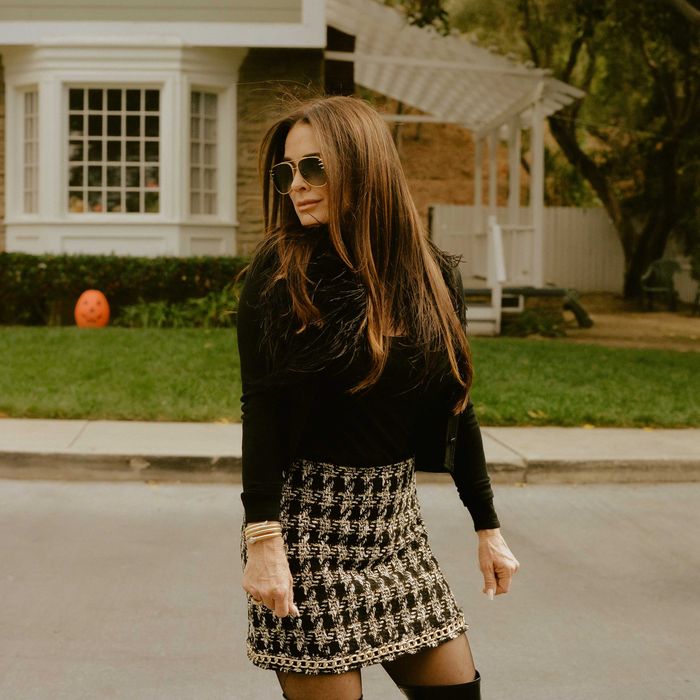 Kyle Richards is proud to announce that she slept for ten hours last night, and she does so before she even says hello after entering the mezzanine lounge of her West Village hotel. She spends the next several minutes marveling at how well rested she feels — "a rarity," she promises with a signature head-thrown-back cackle — as she pulls up a chair from a nearby table. She's dressed for today's crisp fall weather in a pewter-gray Christian Dior wool cardigan and chunky orange-and-yellow Hermès sneakers. Her infamous hair, to which she dedicated an entire chapter of her 2011 memoir, earns its reputation as some of Bravo's best. "I'm someone who likes a lot going on to a certain degree, and I do well at juggling," she says. "But do things fall between the cracks? One hundred percent."
It's late September, and the 52-year-old is in town from Los Angeles to tape tonight's episode of Watch What Happens Live with her sister Kathy Hilton. She loves coming to New York, she says; even though her hours are nearly always overcommitted, her visits are the only time she can take for herself. For the past few decades, she has streamlined the responsibilities of a wife, a Real Housewife, a mom, a dog mom, a landlord, an actor, a producer, and an all-around major Hollywood force. On any given day, cameras are probably following her every move. It's gotten to the point, she says, that she even looks forward to the breathing room afforded by short car rides. "People do know me to a certain extent," she says. "They know the gist of who I am: I'm very emotional, I'm fun, I can be funny; they know where I live, they know my dogs, and they know my relationships and problems with my family and my sisters and all that stuff. But of course, you always keep a piece of yourself to yourself."
What, one may ask, is left to say about a woman who has spent the past 12 years putting it out there on camera for all to see, to say nothing of the decades before, when she acted alongside some of the greats, including James Brolin, Bette Davis, and Angie Dickinson? But if you thought Richards was an open book on-camera, you simply haven't met her in the flesh. Today she teeters between consummate professional and dishy confidante. When she knows she's about to spill something juicy, she pulls her chair closer to the table and rubs her hands together conspiratorially, her husky voice growing as close to quiet as it knows how, while her eyebrows arch toward the ceiling in telegraphed shock.
Although Richards and those around her say viewers have consistently gotten her authentic story on Housewives, there's only so much the producers can tell about someone who's certifiable Hollywood royalty with a family of six, five dogs, an $8.2 million estate in Encino that once belonged to Smokey Robinson, and an ever-growing litany of projects she's either starring in, creating, producing, or all the above. This year, she's adding to her plate yet again with a return to John Carpenter's iconic Halloween franchise — in which she first appeared at age 8 — and next month's first-ever Housewives all-stars spinoff, Peacock's seven-episode Ultimate Girls Trip.
Those jobs are just the tip of her ever-expanding, empire-building iceberg, a slow-moving force repositioning Richards from her years as a family cheerleader to the star of her own story. "I have no balance right now," she says. "But I just feel like nothing gets done as well as if you do it yourself."
Richards cut her teeth on-camera as a child actor in series like Little House on the Prairie and Fantasy Island, following in the footsteps of her older sister, Kim, a Disney performer who appeared in hits like Escape to Witch Mountain. But 1978's Halloween put the youngest Richards on the map, placing her in the hands of a then-19-year-old Jamie Lee Curtis as they escape the murderous rampage of Michael Myers. "It's a whole lifetime ago," she says. "She'd always tell me how proud she is of me."
When she shot Halloween 43 years ago, she was accompanied to set every day by her mother, posthumously known best by Housewives fans as "Big Kath." Richards, a self-professed "introvert who lives an extrovert's life," had to learn to become comfortable greeting studio and network executives with a handshake and a smile at her mother's behest, often forcing herself to fake enthusiasm to mask her deep discomfort. She still struggles with that anxiety "every day," she says. "People go, 'I see you doing the splits on television,' and of course I have that side of me who can have fun, but I am innately an introvert."
She kept acting until she became pregnant at age 18 with her first daughter, Farrah. Several years later, at age 25, she met her now-husband, Mauricio Umansky, and went on to have three more daughters (Alexia, Sophia, and Portia) with him. Somewhere along the way, "I became a spokesperson for the family," she says sheepishly. "Every time there was an interview, it was me they would turn to. It became, 'Oh, that's Paris Hilton's aunt,' and then it was 'Kathy Hilton's little sister.' Growing up, I was very much 'Kim Richards's sister.'"
Richards was looking for her own spotlight when the Real Housewives of Beverly Hills producers reached out in 2009. She and her sisters had already been approached to film an E! reality series about their families, piggybacking off the success of Paris Hilton's reality show The Simple Life in the mid aughts. But when Bravo told Richards they wanted to build a show around her, not her family, her eyes lit up. "I remember thinking, I'm just going to take a leap of faith and do this," she says.
By that point, Bravo had found success with several iterations of The Real Housewives. The Beverly Hills version was the sixth to make it to air, but fans quickly learned that extreme wealth and connections to Hollywood would set this show apart. At the core of its first five seasons were Kyle and Kim, siblings with some unaired grievances that would soon make it onscreen. "I used to say for years and years, it would always come back to the Richards sisters," executive producer and Bravo daddy writ large Andy Cohen says. "We would have crazy seasons, and in the end, something would happen with Kim and Kyle."
"I don't think she holds back, so what you see is what you get," says Kathy Hilton of her sister. "She's very, very funny, hardworking, and a lot of fun. She's matured a lot."
Cohen didn't meet Richards until they had taped the first RHOBH reunion, but he remembers quickly realizing how much of a bedrock she would become. "Of all of the Housewives in all of the cities, she is one that — even with all of her Beverly Hills life and upbringing — has remained very relatable," he says over the phone from his Watch What Happens Live dressing room. "She didn't go nuts as a result of being on the show. She already knew what fame was. She had a healthy sense of what it meant to be on the show and off the show."
The series's rabidly passionate fandom has responded accordingly, loving or hating Richards  depending on the direction of the wind that year. A limo fight with sister Kim, the cornerstone of the show's first-season finale, ended in accusations about one's alleged alcoholism and the other's alleged "goddamned" house stealing (both sisters later tried to get the production not to air the fight, without success). Although it has only gotten better from there, "the pressure from Housewives is like nothing I've ever experienced," Richards says. "It's not like acting. For someone who has anxiety, it can really affect me sometimes."
Bumps and hiccups aside, she has stayed in the fold, never shrinking from her contractual obligations and always delivering compelling (if occasionally polarizing) seasons of television. Millions of viewers annually return to RHOBH expecting to see Richards holding court; anything less would feel like a seismic shift. "She's relatable but totally aspirational," Cohen says of her appeal. "She's a mom, she's a wife, she's got a hot rich husband, and they seem to be very much in love. She loves to party, do the splits, and she is not afraid to speak her mind. She's very ballsy. She always delivers the luxury. And I think all of those things are the perfect set of ingredients for a great Housewife."
With its headline-making legal drama, season 11 isn't the first to become mainstream water-cooler conversation, but it's by far the biggest example of how, somewhere along the line, Housewives became pop-culture Puppy Chow, treated with a seriousness typically reserved for Emmy-winning dramas. The recontextualization has paid off, helping Richards gain the confidence to broach the idea of returning to horror's hallowed ground on the Halloween sequel's red carpet in 2018, where she cornered one of its writers, Danny McBride, to ask why he hadn't included her in the film. "My mom used to tell me when I was a little girl, 'You want something you like? Speak up. The squeaky wheel gets the oil,'" she says. "I was like, I'm going to be the squeaky wheel." After meeting with director David Gordon Green over lunch in Beverly Hills several months later, she booked a job on the upcoming Halloween Kills and started shooting soon after.
Richards nets a substantial amount of screen time as Lindsey Wallace, a woman traumatized by the horror she experienced as a child at the hands of Haddonfield's most notorious murderer. Lindsey joins other victims like Tommy Doyle (Anthony Michael Hall) and Marion Chambers (Nancy Stevens) in the hunt for Myers, who has, horrifyingly, escaped the fiery, seemingly deadly justice enacted upon him by Laurie Strode (Curtis) and her family in the 2018 reboot. Richards — who regularly flew back and forth between RHOBH shoots and the new film's North Carolina set — is given ample space to flex her acting muscles, including a chase scene so compelling that Curtis, the scream queen herself, was impressed (though the two don't share any scenes together this go-round).
"You can only imagine: I was her babysitter, and now she's this grown woman with an empire," Curtis says over Zoom, sitting in front of a replica of Myers's home on the Universal Studios back lot. "I've just watched the new movie again today, and even when she's covered in mud, in a swamp, she's just exquisitely beautiful. Her performance is so raw and unglamorous and without vanity. She has that secret sauce."
For Richards, revisiting Lindsey proved to be a life-changing opportunity and confidence booster. For years, she says, she had felt undercut as an actress, first by the decade-long break she took to start her family and then by the shadow that Housewives inadvertently cast. In the years following the show's breakout success, she could find work outside Bravo's walls only as … well, the televised version of herself, essentially, on soaps and in parody films.
She sensed a shift in the seriousness with which Hollywood was willing to take her after she co-executive-produced the 2018 series American Woman, an Alicia Silverstone vehicle based on Richards's childhood. Although the show lasted only one season on the Paramount Network, it scratched a long-dormant storytelling itch that inspired Richards to pursue other behind-the-scenes projects. "I learned that I'm really good at it," she says with a grin.
One lesson she has yet to learn is how to say no, and she chooses instead to strike repeatedly while the iron is hot. It's one of the reasons she agreed to do Peacock's upcoming The Real Housewives Ultimate Girls Trip, the all-star spinoff that Bravoholics have spent years clamoring for, which brings together top Housewives from coast to coast on a trip to Turks and Caicos.
In the works since well before the pandemic, Ultimate Girls Trip shot for eight consecutive days earlier this year, a vacation in name only. "When I came back, I honestly felt like I could be checked into a facility just to sleep," Richards says. "You're on every second. You arrive, you're on. You get ready to go to dinner, they're watching you get ready to go. You're always on, and there was no downtime."
Speaking of downtime: In the next three months alone, NBC Universal will quadruple down on Richards between Housewives, Halloween Kills, Ultimate Girls Trip, and The Real Housewives of the North Pole, an upcoming Peacock Christmas movie she stars in alongside Breaking Bad's Betsy Brandt. She has also just shot scenes with both sisters for her niece Paris Hilton's upcoming Peacock docuseries, Paris In Love.
The work doesn't stop there, between decisions to make about her ready-to-wear clothing line, Kyle x Shahida; input to give on the two upcoming shows she has just sold (one a reality series, one a scripted, hour-long drama). There's also — spoilers ahead — potentially an arc to shoot in the final act of the new Halloween trilogy. Richards puts it bluntly. "I will come back until they kill me off," she says with a glint in her eye. "I'll come back until Lindsey's dead."
In 1977, when Richards wrapped the first Halloween, Curtis lifted her in her arms and carried her off the set as fellow cast and crew applauded. Two years ago, in North Carolina for Halloween Kills, they closed the loop, and Richards turned the page on Lindsey — for now. "She jumped into my arms," Curtis remembers. "She said, 'I feel like I should carry you.' And I was like, 'Yeah, you're not carrying Mama.' But it was just lovely."
The two shared one last cry in Curtis's trailer, but it had to be short because Richards was due to board a plane to shoot another episode of RHOBH. Lately, she has been thinking about her place on the series and asking friends if it wouldn't just be better if she went out on top, on her own terms. If Bravo had its way, she would anchor the show for years to come, but, Cohen says, "I think it will take her wanting to stay." Says Richards, "I have a loyalty and an obligation, and I feel guilty to turn my back on them. We're not like the other franchises. I learned that on the Ultimate Girls Trip. We support each other. It wasn't like that in the early years. There was a lot of backstabbing and people pretending they cared about you. Now we all want to try to succeed."
So for now, she says, she's staying put. "I've done a lot of incredible things in these past 12 years now that would not have happened without doing this show," she explains. "It's opened up doors I never thought would open."
Three days after we meet, she's set to film her daughter's bat mitzvah as the official start to production on season 12. Today, though, Richards is growing antsy about meeting up with Kathy and Nicky Hilton on a nearby shopping excursion. She excuses herself to make a Starbucks run, but her publicist pulls her back, asking her to hop on a preinterview phone call with producers from The Kelly Clarkson Show. She groans and rolls her eyes. "Do you see what I'm talking about?" she asks with exasperation, only half-jokingly begging the rep for a breather.
After freshening up, Richards returns, agreeing to take the call from the car but only if she's allowed the time to get a pumpkin-spice latte. She starts rattling down a to-do list a mile long, all of which needs to be accomplished in the next week. She sighs and smiles, clapping her hands together in a signal that it's time to get cracking. Because for Richards, the work is never over — and she wouldn't have it any other way.