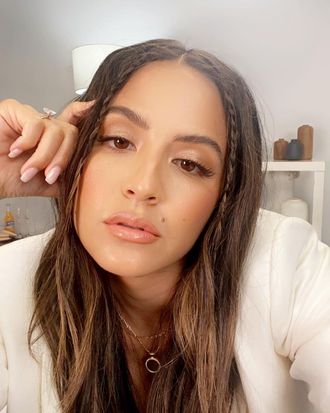 Photo: Courtesy of Erin Lim Rhodes
Want more skin care? Join the Beauty Group on Facebook.
"I mean, it's so cliché, but I'm glowing now," says Erin Lim Rhodes, the host of E! News' Snapchat show The Rundown. She credits her pregnancy. Not that her skin was "bad" before, but when she realized she was expecting her first baby, she counted on her skin to change — possibly for the worse. "I had heard horror stories, and it could have gone either way."
Lim Rhodes didn't need to change her skin care when she got pregnant. She learned to keep her routine relatively simple as a teenager, when she was trying treatment after treatment and dropping money on anything that promised to clear her acne. "In the end, my dad was like, 'Erin, just get a Dove soap bar and wash your face, and I promise you, it'll work,'" she remembers. "And it did."
She still swears by bar soap for her cleanser, but she's graduated from Dove to one made by her acupuncturist, Dr. Jeong G. Oh of Balboa Acupuncture Clinic, with oatmeal and distilled herbs. Her toning mist, which she sprays directly on her face after cleansing, comes from the same clinic.
The E! host began seeing Dr. Oh after she developed Bell's palsy, which paralyzed half of her face, several years ago. "I was doing intense acupuncture treatments a couple of days a week with him, and even as I was going through my Bell's palsy journey, my skin was glowing, and Dr. Oh said to me, 'Yeah, acupuncture on the face is like getting a facial.'"
These days, she alternates her acupuncture appointments with occasional visits to FaceGym, which specializes in "workouts" for the face using tools like gua sha, radiofrequency, and cryotherapy. "They've helped so much with lymphatic drainage and releasing the tension in my jaw," she says. "And not only does it feel good, but my skin is glowing after a session."
Below, more of Lim Rhodes's skin-care favorites, including the tinted sunscreen she prefers over foundation, the eye patches she wears on her way to work, and the spot treatment she makes herself.
The Exfoliant
"After an award show, my makeup has been through 15 hours of sunshine, camera, lights, sweat, and lots of touch-ups, and it's so hard to get the makeup off, so I use this. It's a light exfoliant, and it's not too abrasive on the skin. You have to activate it by rubbing it in your palms, and it really takes everything off."
The Spot Treatment
"My sister's always trying 'natural' ways to heal a blemish, and she found a recipe that uses apple-cider vinegar. I was like, 'Oh, this sounds dubious. I don't trust you,' because she had done a recipe that said to put eggs on your face before and had a very bad reaction. But no, this one really worked. It's literally just one part apple-cider vinegar, a pinch of Himalayan sea salt, and two parts water. I'll mix it up, put a little Q-tip in the tincture, put it on my face, and let it dry. Then I'll go on with the rest of my routine, and it doesn't burn. It's got a little bit of the funky ACV smell, but because it's diluted with the water, it's not extreme. After applying it, a pimple will disappear sometimes by the next day. It's amazing."
The Serum
The Eye Cream
Photo: Retailer
"This eye cream smells like celery to me, but I like that for some reason. It's like, Oh, I'm putting on vegetables. The eye area is so delicate, so you want to use an eye cream to keep it intact. My makeup artist, Maria Vargas, actually introduced me to it. It's got a great texture, and it's so moisturizing — I hate feeling dry. If any part of my body feels dry, I can't go on with my day."
The Moisturizer
Photo: Retailer
"This face cream leaves you so dewy, and I love that feeling. This was another introduction from my makeup artist. Weleda has two versions of it, so I use the light one for my face and the original, ultra-rich one for my hands. It smells like either lemons or celery — I can't decide."
The Sunscreen
"This feels kind of like a tinted moisturizer. I don't want to put foundation over it ever because it's got that light tint but it also gives you a glow. On the weekends, it's all I put on, no makeup or anything.
I was just in Mexico for my babymoon, and I was definitely reapplying my sunscreen every couple hours throughout the day. But when I just go to work, I put it on before my makeup so I'm not reapplying it."
The Lip Balm
Photo: Retailer
"I've got dry lips all the time because I always have lipstick on for however many hours a day. So before my makeup artist starts my routine, she'll put this on. It's really great under everything — lipstick, gloss, you name it."
The Eye Patches
Photo: Retailer
"I love these eye patches because they're in a container, not individually wrapped. When I have really early mornings, I'll drive to work with them on. They really bring me back to life."
The Gua Sha
Photo: Retailer
"My sister uses a gua sha, and when I went to massage places, they always used one on me, too. So I got one that looked like a little butterfly, and it was so cute. I like pressure on my face — I love acupuncture and face massages — and it helps with lymphatic drainage. My face holds a lot of fluid. Like, if I had alcohol the night before or I ate a lot of salty food, you immediately see it on my face. Also, it's been years since I've had Bell's palsy, but if I'm working and smiling and using my face a lot, I feel tightness, and the gua helps loosen up those nerves."
The Supplement
Photo: Retailer
"One thing that I started doing more consistently was adding this biotin tincture to my smoothies. It's supposed to help with collagen production. I actually found it on Instagram; I was just scrolling and it popped up. I've been using it for probably a year now, and I feel like it's made my face glow."