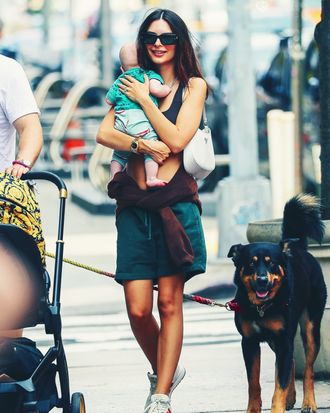 Mystery baby
Photo: MEGA/GC Images
For months — almost seven of them, if we are being precise — you have been thirsting for answers re: Emily Ratajkowski's infant child, specifically, what does this baby look like? We know that he (per EmRata's pregnancy announcement, the baby will let us know what his gender is in due time, but she calls him "boy") was born on March 8 of this year, which makes him a Pisces. We know that his name is Sylvester Apollo Bear, and … that's about it. Though "Sly," as the baby is known, appears often on EmRata's Instagram grid, his little baby face is dutifully blurred or obscured. But today, that changes. Today, EmRata opted to do a Big Baby (no, not that one, sigh) Reveal, via her IG stories.
Are you ready? Really, you're sure? Okay, brace for baby:
Eyes? Round, blue. Hair? Covered by a maroon baseball cap, though to judge by the brows, likely blonde at this time. Mouth? Agape. Sweater? Blue and emblazoned SLY, with festive orange trim. Socks? Pretty cute, in my opinion. That's it; that's the whole pic. I hope you're happy now.