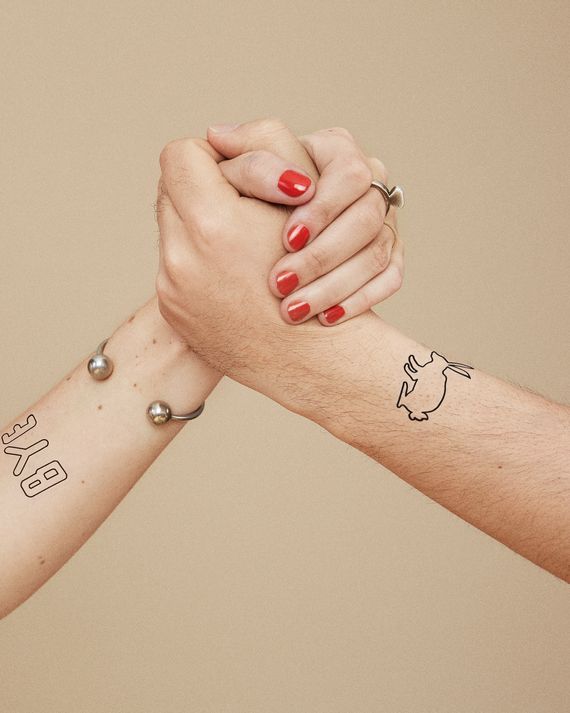 Photo: Courtesy of Ephemeral
I don't have any tattoos myself, but I've always envied those who do. Obviously you look cool and hot, but it also speaks to your character. Imagine having that kind of commitment to permanence, to an aesthetic. It seems at once reckless and resolute.
Turns out I'm not the only one who feels this way. There's now a booming market for temporary tattoos, led by venture-backed start-ups like Toronto's Inkbox and the New York–based Ephemeral, which offer customers "made-to-fade" tattoos that look like the real thing. While Inkbox has found success in trendy collabs with figures like Rupi Kaur and BTS, Ephemeral can probably thank its success on TikTok for its latest $20 million in funding.
And Ephemeral has arrived on the scene at a time when the Y2K aesthetic — complete with lower-back tattoos — is everywhere. Of course, most of its clients are Gen Z and millennials. The Williamsburg studio's interior, crafted by an ex-Casper designer, seems well aware of this, swathed as it is in soft pinks and greens. Incense burns in a lounge area, while large tabletops and plush couches give the impression of a co-working space with a Botox studio in the back.
When I pay a visit, I learn that while the tattoos are designed to fade away after 12 to 15 months, they're pretty much the same in the ways that count: cost and pain. For the size, Ephemeral's tattoos — which range from $195 to $450 — are around the same price as traditional ones. Ephemeral's tattoos are also applied with a real needle; as one customer reported, the process feels pretty much like getting a regular tattoo. But for most of the customers the Cut spoke with, Ephemeral was their very first tattooing experience.
A phonetic rendering of the word "serenity"
Crismerys Castillo, 20
Student, Harlem
I have a permanent tattoo on my ribs, but my family is really religious and old-school. For me to convince my mom to get the real one, it was already like I had to beg. I heard about it on Instagram — they have great promotions — so for this one, I was like, Oh, Mama, it fades, it fades. So she agreed to it, and I'm just kind of getting her comfortable with me having tattoos because I will be getting more. I was like, "You should get one with me," and she goes, "No." The tattoo is basically the word serenity, but you know when you Google a word and it gives you the pronunciation? I just thought it was different, and it's kind of inspired by Kylie Jenner, who has a similar one.
A number representing a Quran verse
Yousuf Khan, 35
Cardiology fellow, Brooklyn
I've been thinking about getting a tattoo for years, but I work in the health-care field and didn't want something too loud and obvious. This is my first tattoo, so I put a lot of thought into it. It's verse 55:13 from the Quran: "So which of the favors of your Lord would you deny?" It's a saying that helps me get through bad times, and keeps me humble and optimistic. I actually might go for a more daring one next time.
"Ode alla vita"
Leslie Westendorf, 35
Product designer, Ohio
This is my first tattoo, and I was motivated to get it because of the pandemic. "Ode alla vita" means "all of life" in Italian, and it's the title of a poem by Martha Medeiros, which I've always loved. I saw it ten years ago when Pinterest was first a thing, and I studied Italian in college and did my study abroad in Florence. The poem is about the different things that make us die slowly. And there have been so many things that have just made us feel dead inside this past year. I'm in New York on a girls' trip and I just thought I would see if I could get an appointment. It was more painful than I thought it would be, and I have high pain tolerance — I had two children with no medication!
"Without fear"
Michelle Klein, 26
Paralegal, Gramercy
I got "without fear" in Dermot Kennedy's script. He's an Irish rock singer, and it's the title of his album. And my favorite line from my favorite book series is, "I will not be afraid." So it kind of has a dual meaning. It's my first tattoo and I probably wouldn't have gotten it permanent. I have a lot of anxiety about hating something after I commit to it — commitment issues. I think I'm paying $200 but it's not going to stay forever, so I was like, "More than worth it to me to pay a little extra for this to go away."
"A+"
Cyrus Royer, 30
Small-business co-founder, West Village
For the last ten years, I've maintained that if someone came up with a tattoo that would last for two to three years, I'd probably be covered in them. But I've made some impulsive decisions over the years and my body being one of the few things that I have not totally destroyed, I don't think I would've just had a tattoo done permanently without being able to try it on. I did Inkbox first — they last for four weeks and you draw it on, so I'd even drawn it on a couple times. This tattoo is an A+. By conventional measures, my life has been anything but A+. I had a young single mom and really had to raise myself. But then at the same time, I'm 30 years old and I live in the West Village and I have a decent job and things are pretty good.
"Hebrew word meaning 'inner strength'"
David Duncan, 48
School counselor, Mount Laurel, New Jersey
This is my first tattoo. I've wanted a tattoo for a while, but I'm Jewish and we don't usually get permanent things on our bodies. My buddy and I would always say, "Man, I wish they made temporary tattoos that look real," and about a year ago we started calling places in South Jersey to see if they had anything like this. We just got laughed at. Then we found this place on the internet. I traveled about an hour and a half to get up here. My tattoo is a Hebrew word meaning inner strength. The past few years were a very difficult time in my life, and I wanted something to symbolize that.