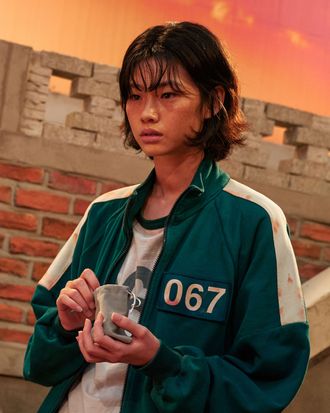 Photo: YOUNGKYU PARK/Netflix
Last week I began seeing TikToks about a new Netflix show called Squid Game, but I quickly dismissed them, thinking they were something like the random TikToks I get on a daily basis about old SVU episodes or obscure movies.
And then I saw her, the person who would launch my interest in this new show. She has wispy bangs, big eyes, and pouty lips that make her look like she's always both sad and serious. The moments when she smirks are magical, and she has deep eye bags that somehow add to her mysterious vibe. Speaking of mystery, the new series seemed to pop up overnight, becoming possibly Netflix's most popular show ever. It's a Korean thriller in which hundreds of people in debt are rounded up and forced to play children's games — like Red Light, Green Light — for a chance to win money, but they are unaware that if they lose, they die. After doing my research, I took a closer look at the girl whom the internet will be simping over for the foreseeable future, and I was sprung.
Known as 067, or Kang Sae-byeok, she quickly became a fan favorite. We meet Sae-byeok, referred to as "pickpocket" by the main character, early on in the series. Though she remains quiet and intense throughout the first few episodes, we eventually learn more about her. Sae-byeok was a defector from North Korea, and she and her brother are her family's only survivors, which is why she wants to win the prize money. Her younger brother is in an orphanage, and she wants to be able to provide a life for both of them. Played by actress HoYeon Jung, Sae-byeok became the most TikToked, drooled over, talked-about player from the show, and for good reason.
Before even beginning Squid Game, I knew she was hot and lovable because everyone I saw obsessing over her was a woman. For days straight, my "For You" page was filled with women-produced appreciation posts for the character, causing numerous queer awakenings. There's a scene in which Sae-byeok is washing blood from her body, her wet face in the mirror as she perches over a sink in a white tank top, that has replayed over and over again in my brain. There's a moment when she looks up with cracked lips in a suit and bow tie that I have seen so many times. And there's the scene from the pilot episode when she grabs the hair of player 101, a man her character has a bad past with, and smirks as she teases him about pushing him during the first game.
People are wondering how she can be this hot. The 27-year-old is one of South Korea's top supermodels and was the runner-up on season four of the reality show Korea's Next Top Model. And, sadly, she has a boyfriend in real life — they've been together for six years.
She's also good friends with Jennie, a member of the popular South Korean girl group BLACKPINK. So the real question is, are you watching Squid Game, or are you watching Squid Game to simp for Miss Kang Sae-byeok? I know my answer.