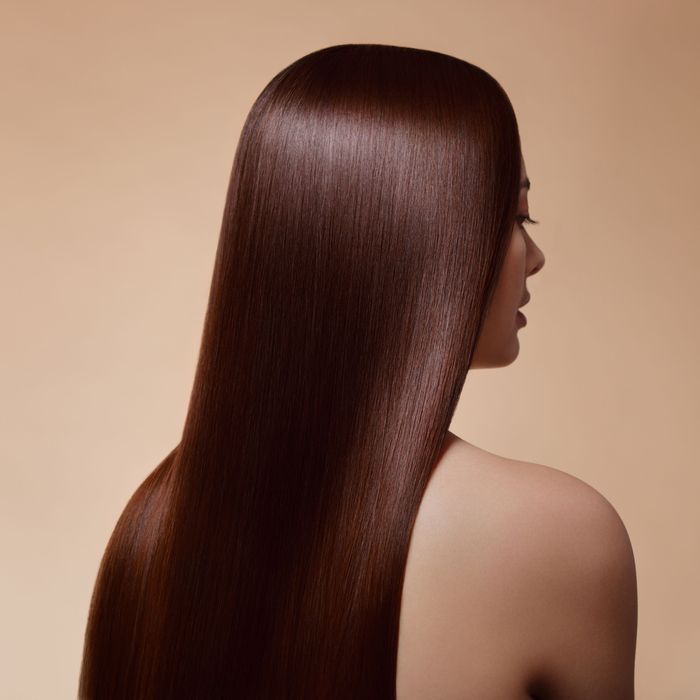 Photo: lambada/Getty Images/Vetta
For many women (including, reportedly, Meghan Markle), the secret to smooth, shiny hair sits at the end of a keratin treatment. The de-frizzing process is more popular than ever, but can you afford it? What does it actually do, and how long will it last? There's a lot of mystery surrounding keratin treatments, so the Cut created a handy guide to explain it all.
So, what is a keratin treatment?
A keratin treatment is a chemical process that smooths and shines frizzy hair. "Some will straighten the hair completely, while others work to relax and loosen the curl shape," explains celebrity hairstylist Harry Josh, Goldwell & KMS ambassador. Think of it as a "topcoat" for hair, advises IGK co-founder Chase Kusero. "Hair gets frizzy when the outermost layer of the hair, called the cuticle, lifts. This allows for moisture and other environmental factors to seep in, swelling up the hair shaft and making it thick and frizzy. By permeating the hair with a keratin treatment, you're smoothing down the cuticle and sealing it up, therefore preventing frizz and breakage."

Results can last up to anywhere from weeks up to six months. There are many different versions of the treatment that go by different names (Brazilian Blowout, Cezanne, Goldwell Kerasilk) and your hairstylist can customize a blend of the formula to suit your needs. Some versions of the treatment release formaldehyde when heated (more on that later), but many newer versions are formaldehyde-free. No matter the formaldehyde content, on a basic level, keratin treatments dive into the hair follicle and inject porous areas with keratin, an essential hair protein. Your hair will appear healthier, because it actually is.
Can you walk me through the process?
"The length of time it takes to do a keratin treatment depends on the formula the stylist is using, as well as your hair texture, and how much hair you have," explains hairstylist Ansen Gurgov. Expect your salon visit to last anywhere from two to four hours. When you arrive, your hairstylist will first wash your hair. Then, the hairstylist will either apply the keratin treatment to your wet hair and let the formula saturate each strand for about half an hour, or the hairstylist will blow-dry your hair first and then apply the treatment — again, it all depends on your hairstylist and your hair needs. The treatment is heat-activated. "Finally, I go over any coarse strands with a flat iron on low to medium heat depending where the treatment needs to be sealed in," Gurgov says, and then you're done!
Okay, is it different from a chemical relaxer?
Absolutely. While keratin treatments are temporary and wash out after a few months, straightening chemical relaxers are permanent. The two treatments also use different ingredients that produce different results. Using a main ingredient of sodium hydroxide, lithium hydroxide, potassium hydroxide, or guanidine hydroxide, chemical relaxers break and restructure the bonds in curly hair so that the hair becomes weaker and straight. Instead of altering the chemical composition of your hair, keratin treatments actually inject the porous parts of your hair with protein, so that it feels smoother. After a few months, this washes out. Some treatments may contain a solution that releases formaldehyde when exposed to heat (there are also many new formaldehyde-free options). It is also different from a Japanese straightening treatment.
Can I do this at home?
Technically yes, but don't expect salon-results. You'll first need to buy the right products — do not buy professional-grade ones for home use, since they need an experienced operator to apply safely. Many treatments contain the word "keratin," but that doesn't automatically make them "keratin treatments." All hair is made up of "keratin proteins," so keratin-named products aren't rare. To get the best experience at home, look at the products's ingredient list. A lot of smoothing treatments are actually intense silicone and conditioning treatments. After that, look at the instructions. Do they provide extensive instructions on how to wash, dry, and straighten your hair? If not, you probably have a standard conditioning product, and not a keratin treatment. And even if you buy an actual keratin treatment, your results won't last as long as the salon version. Where a salon treatment can last for several months, at-home versions tend to wash out after a few weeks.
Is it safe?
Formaldehyde is a carcinogen, and although the amount of formaldehyde released in a keratin treatment is allegedly small, you should avoid it, even if the procedure is done in a well-ventilated area. There can also be a risk to the stylists performing the treatment, confirms Raphael Rogue, advanced stylist at Rob Peetoom Williamsburg. In 2016, the New York Times reported that FDA scientists found evidence that hair straighteners containing formaldehyde were unsafe and wanted to ban the products, but that effort stalled for unknown reasons. Make sure to ask your stylist how long they've been performing the treatment. "Also discuss the ingredient list with your stylist," says Rogue. Ask point-blank if the treatment is formaldehyde-free or contains a form of formaldehyde, advises Josh. "What many people may not realize is formaldehyde can be a concern even if the product is formaldehyde-free. As it heats up from the smoothing it still will turn into a formaldehyde gas."
It's much better to seek formaldehyde-free treatments. Some claim they are not as brilliantly effective and long-lasting as the formaldehyde formulas, but they are much safer. Look for straighteners containing glyoxylic acid, suggests Josh and Kusero. "Goldwell's Kerasilk Keratin Smoothing Treatment uses it as the active ingredient, which is perfect because it doesn't turn into a formaldehyde gas once heated with a smoothing iron," explains Josh.
I colored my hair. Can I still get a keratin treatment?
Yes! Unlike chemical-straightening relaxers, you can safely have both dyed hair and a keratin treatment without the risk of damage. "I recommend my clients use sulfate-free shampoo and conditioner for maintenance," explains Gurgov. "I also recommend they shampoo their hair once or twice a week, only when necessary. When you shower, rinse your hair with water without shampooing and then apply conditioner only. Do not use salt-based sprays for beachy, textured hair."
Who should avoid it?
Keratin treatments are not recommended for women who are pregnant. "Any hair type with damaged, ultrafine, or brittle hair should consult their stylist prior to getting a treatment to ensure they will not further compromise their hair," says Kusero.
And how much does this all cost?
Again, this depends on your hair length and your hairstylist. Gurgov's "Rio" keratin hair treatment starts at $500, while other options can begin around $200 and can go up to $450.
This article was originally published May 15, 2018. It has been updated throughout.