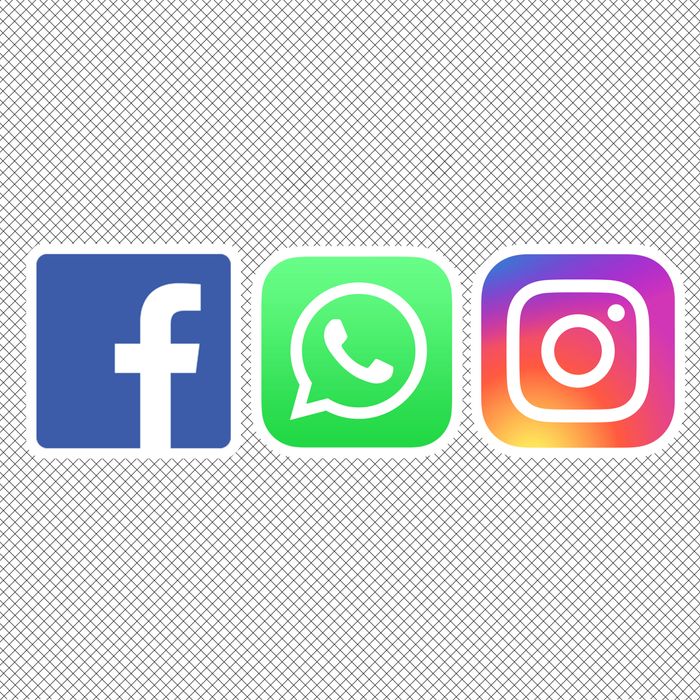 Photo-Illustration: by The Cut
You've probably noticed that Facebook, Instagram, and WhatsApp are all down today, meaning that you must look reality dead in the eye for longer than usual. Uh-oh.
Facebook and two of its properties, as well as its virtual-reality arm, Oculus, stopped working for users around the world on Monday around 12 p.m. ET, and have been down for a few hours in what's turning out to be an unusually long outage. While the cause of the outage is not yet clear, cybersecurity experts are saying that it's a problem with the domain name system, which means absolutely nothing to me personally. Facebook posted just after noon on Twitter (the irony!), saying the company was aware of the issue and that they were "working to get things back to normal as quickly as possible." As of 4 p.m. ET, all three services are still down.
The outage comes at a particularly strange time, after a Facebook whistleblower who recently released incriminating internal documents revealed her identity on 60 Minutes on Sunday. The whistleblower, Frances Haugen, was a product manager working on civic integrity at Facebook until she left in May. "Over and over again … there were conflicts of interest between what was good for the public and what was good for Facebook," she said during her interview. "Facebook over and over again chose to optimize for its own interests."
In any case, we have a blessed intermission from multiple hellscapes, and I recommend you use this time to make contact with outdoor air for the first time today. The apps will (probably) be right back.