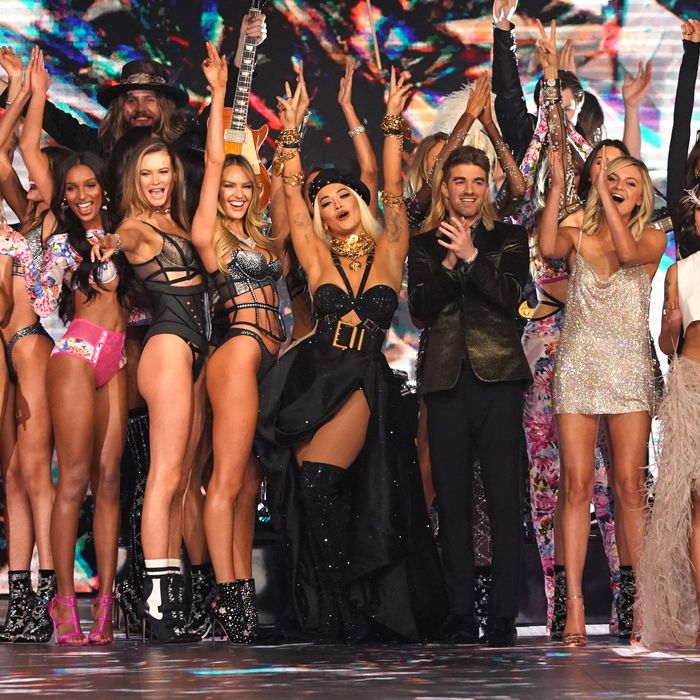 Photo: TIMOTHY A. CLARY/AFP via Getty Images
Victoria's Secret is back from the dead, and mired in a rebrand seemingly designed to make you forget all the bad press that put the nail in its coffin. You know, allegations of rampant sexual harassment and retaliation by former Victoria's Secret executive Ed Razek; ex-CEO Les Wexner's ties to Jeffrey Epstein; not unrelatedly, complaints of sexual misconduct and an abusive work environment from many, many models; as well as its transphobia, fatphobia, ageism, and racism — remember all that? Well, if any of the details slipped your mind, a new podcast has arrived to rehash the horror stories: Fallen Angel.
Narrated by journalists Justine Harman and Vanessa Grigoriadis (who has written and podcasted for this magazine), the series promises to reveal all the company's secrets, with firsthand input from "women who witnessed what really happened behind the curtain." For example: We hear from former Angel Bridget Malcolm about having to stay skinny enough to fit a size 30A bra; another model, Erin Heatherton, recalls taking a cocktail of diet drugs — phentermine, later described by Heatherton's therapist as "bathwater meth," along with hormonal injections — to meet the brand's outlandish size expectations.
All of which stands at odds with the image Victoria's Secret 2.0 aims to project. The brand is currently undertaking a total-body makeover, scrapping the whole Angel conceit (for reasons Fallen Angel will probably make clear!) and instead leaning all the way into women's empowerment. Going forward, its ambassadors will be "accomplished women who share a common passion to drive positive change," a group that so far includes soccer champ Megan Rapinoe, trans model Valentina Sampaio, skier Eileen Gu, and actor Priyanka Chopra Jonas. Along with this "VS Collective," the brand also launched a Victoria's Secret Global Fund for Women's Cancers, presumably to show you that it cares. And! As it happens, Victoria's Secret just released an "empowering new podcast" called VS Voices, which … totally unrelated, I am sure.