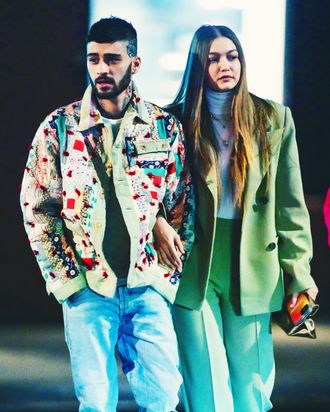 Zayn Malik and Gigi Hadid have reportedly split.
Photo: Gotham/GC Images
Zayn Malik and Gigi Hadid have reportedly split, as sources tell multiple outlets including People, E! News, and Entertainment Tonight. The two share a 1-year-old daughter, Khai.
Reports of their breakup come shortly after news that Yolanda Hadid, Gigi's mother, had accused Malik of striking her. Per TMZ, Yolanda was "seriously considering" filing a police report, and it appears she has done so. TMZ reported on Friday that Malik has been charged with four counts of harassment, pleading "no contest" to all of them. He was fined and sentenced to 90 days probation for each count, totaling 360 days of probation. Malik had previously issued a statement to Entertainment Tonight stating that he "adamantly" denies striking Yolanda, calling her allegations "false." He also tweeted an earlier statement saying, "I agreed to not contest claims arising from an argument I had with a family member of my partner's who entered our home while my partner was away several weeks ago," presumably referring to Yolanda.
While it's unclear what caused the altercation, both Malik and Gigi mentioned their daughter in their respective statements regarding Yolanda's allegations. "Gigi is solely focused on the best for Khai," a rep for the model told People. "She asks for privacy during this time."
A source close to the couple told People that the two will continue to co-parent their daughter. "Yolanda is of course very protective of Gigi," the source added. "She wants the best for her daughter and grandchild." Neither Malik nor Gigi, who had been dating on-and-off since 2015, have publicly responded to reports of their breakup.
This post has been updated.