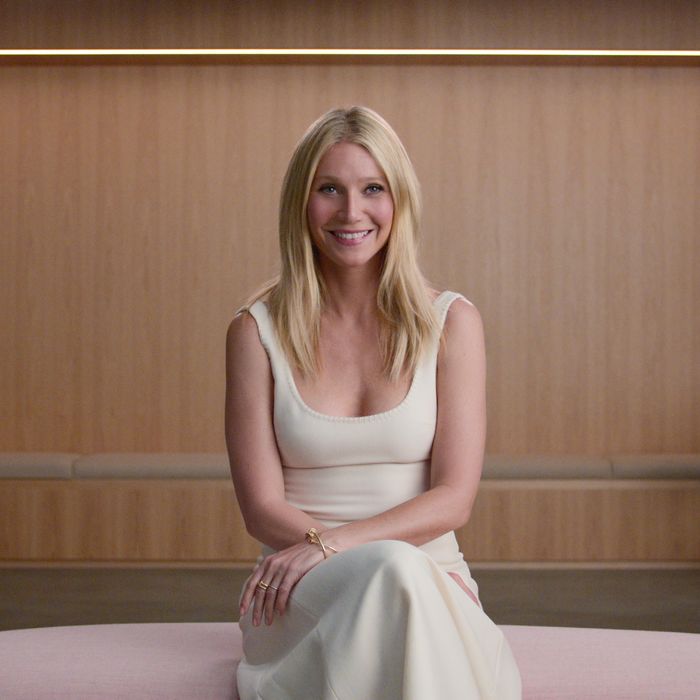 Photo: Courtesy of NETFLIX
Gwyneth Paltrow's infamous Goop Lab is back, but this time, it's all about sex. The new series, Sex, Love & goop follows five real couples as they take a journey to learn about eroticism and sex. The trailer, which dropped today, features massaging, tying, spanking, bondage and toys, as well as smiling and crying. In other words, it's a lot.
"It's one thing to be emotionally vulnerable on camera, but to be sexually vulnerable — we've never really seen this before," Paltrow says in the trailer.
This is (as if we could forget) the same woman who once suggested putting jade eggs in your vagina to "increase chi, orgasms, vaginal muscle tone, hormonal balance, and feminine energy in general" (which was subsequently widely debunked). She also suggested vaginal steaming, and one woman who tried it got second-degree burns. In other words, not someone with a great track record when it comes to sex advice. That said, the original Goop Lab did have a pretty good episode that talked about vaginas and provided practical insight and advice, so maybe we should give this series the benefit of the doubt?
The couples in the trailer really do seem to have some breakthrough moments, and part of me is rooting for them as they learn to love themselves and each other, which seems to be the intention of the show. But then there are moments that seem to be a little less well-intentioned, and it makes me curious how Paltrow is going to handle the stickier, touchier topics, like kink and bondage. Regardless, my curiosity is piqued. I will be tuning in when the Netflix series premieres October 21.