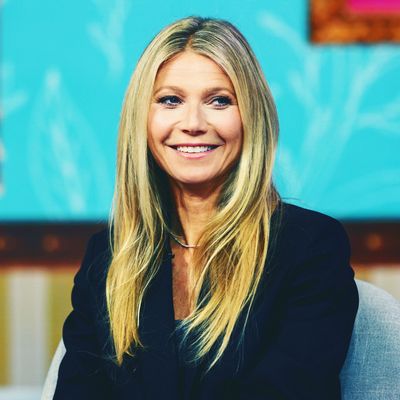 Gwyneth Paltrow, before she knew what "snatched" means.
Photo: NBCU Photo Bank/NBCUniversal via Getty Images
Great news! Gwyneth Paltrow has learned a new word, and that word is "snatched." Last night, Paltrow posted an unboxing video on her Instagram Story — her very first unboxing video, no less! In it, she unveils a Skims x Fendi package from Kim Kardashian West, filled with lingerie and tight-looking bodysuits galore. This seemed to confuse Paltrow as she held up a beige bodysuit and whispered, "What is that?" Her daughter Apple, who was apparently filming, replied, "This is so you can get nice and snatched." This was little help to Paltrow, who asked, "What is 'snatched'?!" It was among the best line deliveries in all of Paltrow's career.
Fortunately, a couple slides later in her Instagram Story, Paltrow seemed ready to embrace the word as part of her vocabulary, writing, "I have now learned that 'snatched' means I am killin it (?)." I mean … kind of! I say this with minimal judgment and as someone who definitely thought "oomf" was just a cool way of writing "oomph." Anyway, Paltrow put her new vocab word to practice, holding another bodysuit up and asking Apple, "Is this going to make me look snatched?" Apple replied, "Yeah, 100 percent, it's going to snatch the house down." I feel 100 percent sure that Gwyneth Paltrow has no idea what "the house down" means.
Speaking of words I'm not confident Gwyneth Paltrow knows the definition of! On a recent episode of Red Table Talk, host Jada Pinkett Smith said to guest Paltrow, "So we read that you're having some of the best sex these days, which, yay! And you're 49." Paltrow replied, "Yes, but I'm a newlywed, so it's like I'm cheating maybe a little bit. You know?" Paltrow has a generous reading of the word "newlywed," as she and husband Brad Falchuk, the co-creator of Glee, American Horror Story, and Pose, have been married for three years. However, she's said they're "still in the honeymoon phase." Which, yay!
Regardless, congrats to this woman on being a lifelong learner and having hot "newlywed" sex. Yay!