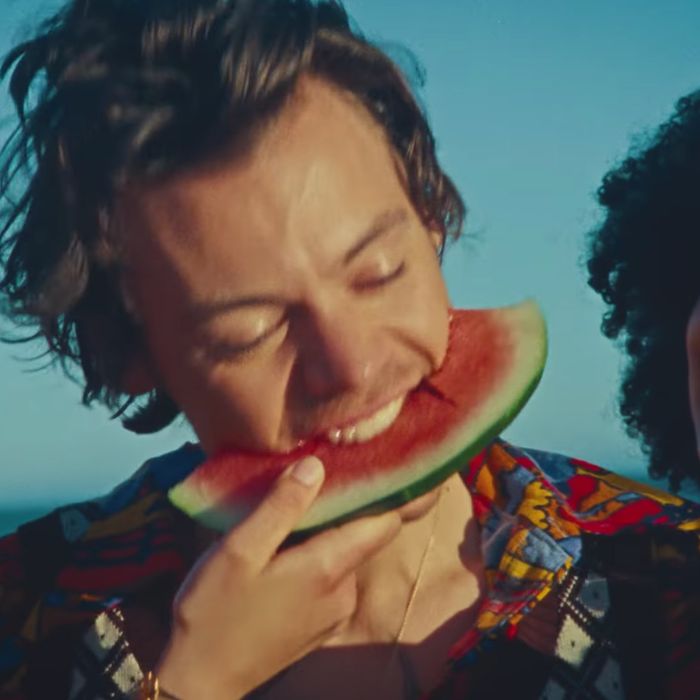 Photo: Harry Styles/Youtube
We all knew this already, right? In case you didn't, Harry Styles has confirmed that his sexy song "Watermelon Sugar" is indeed about sex. More specifically, it's about the female orgasm, which I trust Styles has extensive knowledge of.
During a concert in Nashville last week, Styles opened a rendition of the song by quipping, "It's about, uh … the sweetness of life." Wink wink. He let the crowd sing a few lyrics before delivering the punch line: "It's also about the female orgasm, but that's totally different. That's not really relevant." Harry, I must inform you that this detail is in fact relevant, even though nobody was under the illusion that this was just a song about fruit.
If it wasn't clear enough from the lyrics "I just wanna taste it," you probably could have guessed the meaning from the music video, in which Styles can be found sensually stroking a watermelon and joining an aspirational polycule.
Still, in the two years since the song was released, Styles had not actually acknowledged that his song about fruit is one giant innuendo. In fact, the last time someone checked with him on this matter, he was a little confused himself. Perhaps his silky white tuxedo vest got him feeling bold enough to drop this truth bomb over the weekend. Or, you know, he's matured to a place where he's comfortable being a sex symbol or whatever.
Hopefully during the rest of Styles's concert tour — subtly titled "Love On Tour" — more totally irrelevant details about his songs will emerge. Maybe a little something about his boas?