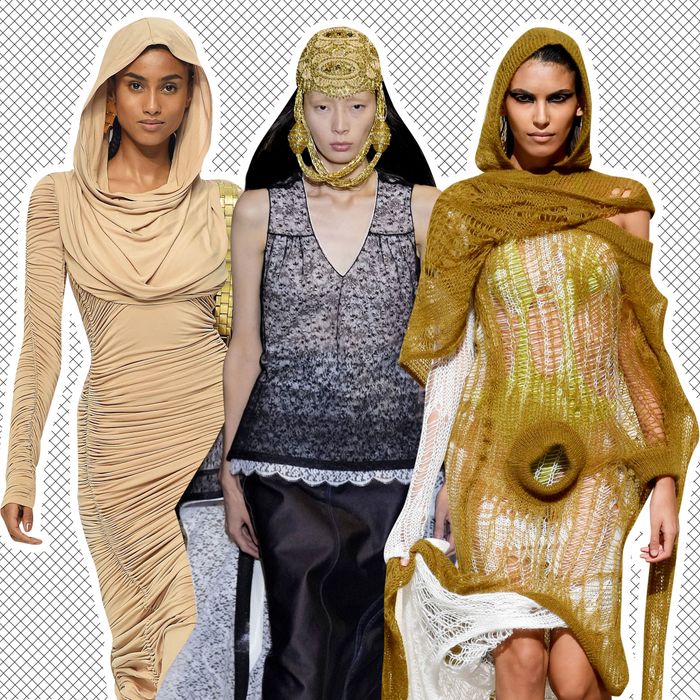 Photo-Illustration: by The Cut; Photos: Getty Images
Amid the Paris Fashion Week jungle of runways and after-parties, shimmering dresses, and sky-high heels, there was an unexpected trend this year: head coverings.
Balmain featured models in fully hooded dresses, while models walked the Rick Owens show draped in misshapen hoods and long scarves wrapped around their heads. Giambattista Valli featured classic silk scarves tied around models' coifs, and even Louis Vuitton included dazzling headpieces atop several models' hair as a dominant element of their presentation.
At first glance, not much seemed out of the ordinary. Hair scarves have been a fixture in the fashion world for decades — not least the quintessential silk scarf of the "French girl" caricature. But what made it confusing was the elephant in the room: Doesn't France hate headscarves? Or is it only when Muslim women wear them?
France launched its latest Islamophobic controversy earlier this year when the national legislature tried to pass a law banning Muslim girls under 18 from covering their hair in public and any hijabi mothers from accompanying their children on school trips. France has targeted Muslim women and girls for decades: Hijabs have been banned in public schools since 2003, and niqabs, or face veils, were banned in 2010. It's something I've experienced myself: On a trip to France in 2017, I was forced to remove my hijab against my will by officers at Nice Airport. "You're in France now," they told me.
So what happens when head coverings appear on France's most visible global platform: the runways of Paris Fashion Week? And, more importantly, who has the privilege to wear them?
Over the last several years, Muslim women and their styles have suddenly become commodities around the world. Hijabi models like Ugbad Abdi and Halima Aden are now first-row fixtures at Fashion Week, and star in national and international brand campaigns. Vogue Arabia launched in 2016; the next year, designer Mara Hoffman invited activist Linda Sarsour to open her New York Fashion Week show. Brands including Dolce & Gabbana and Uniqlo have launched collections aimed at Muslim women, and some, like Lisa Vogl and Alaa Ammuss, even have their own clothing lines in department stores.
In an era of transparent dresses and lingerie, Muslim women have kept modest dress alive in mainstream culture. When Kim Kardashian appeared at the Met Gala last month in a head-to-toe ensemble of black fabric, she was lauded for her edginess. While the Balenciaga piece didn't conceal her ponytail, it covered everything else — including her face. For Muslim Twitter, Kim's look was immediately comparable to a traditional form of Muslim women's dress. Some — inaccurately, but nonetheless speaking to the look's allusion — even interpreted it as insensitive to Afghan women under Taliban rule. What I found most interesting is that designer Demna Gvasalia's apparent interpretation of anti-glamour is similar to the pure concept of hijab (modesty) itself, outside of today's patriarchal intrusions: It is a rejection of the outside gaze, a deliberate reclamation of one's body and presence. I won't present myself as you demand that I present myself, or play this game by your rules. 
I'd be lying if I said that seeing head coverings cemented on Fashion Week runways this year didn't bring with it a level of affirmation that I had been denied for most of my life. I couldn't be a "fashion girl" growing up, not only for my hijab, but also for being plus-sized — a double whammy of couture foul. It confirmed my alienation from society, and seemed like assurance that girls like me are "out." Now, our look — from voluptuous bodies to flowing robes — is finally "in," but are we?
French influencer Hanan Houachmi definitely doesn't think so. "[Our hijabi sisters] are tolerated for that week to target a specific market," she says of Paris Fashion Week. "They are marginalized and disrespected the rest of the year." She grew up feeling her own kind of couture foul: "Being a woman of color and a Muslim in French society is like a double crime in their eyes."
And the dissonance might not necessarily be coming from brands and designers, many of which have fully embraced — whether by the strong hand of social media or otherwise — more diversity in shape, size, and color on their catwalks. Moroccan model Imaan Hammam, though one of the only Muslim models at Paris Fashion Week, walked in last week's Balmain show in a fully hooded dress that made her look like a typical veiled Muslim woman; only days before at Milan Fashion Week, models in the "Fendace" collaboration show between Fendi and Versace wore silk scarves tied around their hair in the same classic fashion as our Arab grandmothers' generation. "Obviously, I don't think all brands have a malicious agenda, but I think it's up to us to educate them on where that fine line is," Houachmi says of the difference between representation and exploitation. "It is sad to be told what to wear and what to reveal to fit the patriarchal concept of freedom."
Aden herself initiated a whirlwind exit from her modeling agency IMG last year to protest what she felt was the exploitation of her hijab, an outcome many of us feared. She decided to step back from her work rather than compromise and commodify the hijab's true purpose to be superficially accepted as "fashionable." It's also worth noting that Aden, possibly the most visible hijabi model working today, turned down an invitation to this year's Met Gala, as she exclusively confirmed to Muslim Girl.
It's undeniable that the fashion world is a dominant power in shaping the Zeitgeist — and the new frontier of functional defiance against xenophobia could be transformational if done right. It reminds me of the infamous 2016 burkini ban on Nice beaches that birthed the shameful viral photo of French police forcing a Muslim woman to strip; in solidarity, scuba divers showed up to the beach wearing wetsuits to underscore the double standard. Fashion houses are the scuba divers — but are they taking a stand?
Rick Owens and Giambattista Valli both declined to comment on this article. Balmain did not respond to requests for comment; Louis Vuitton responded to our request but has yet to comment at time of publication.
While the fashion world is profiting from Muslim women and their tastes, Islamophobia is rampant. These women and their fashion sensibility might be walking catwalks to seemingly earth-shattering applause, but for those on the outside of the velvet rope, the silence is deafening.
Amani is the founder and editor-in-chief of MuslimGirl.com, the largest platform for Muslim women's voices in America.