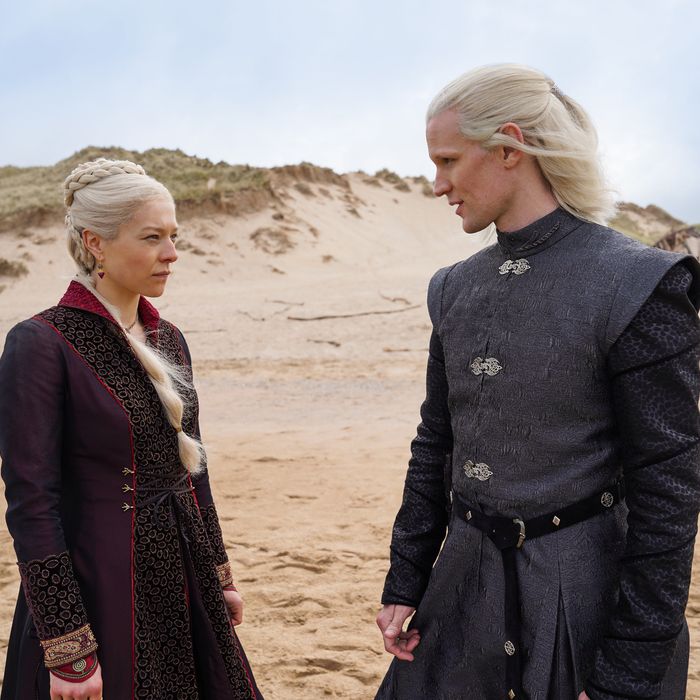 The time has come: At least one of the many Game of Thrones spinoffs HBO has threatened to unleash upon us is on the horizon. On Tuesday, the network released a teaser trailer for House of the Dragon, a prequel to the series that follows … you know what, I don't even have it in me to Google what it's about. There are dragons and fire, and maybe also that old blind man named Egg?
Uh-oh. Is that … a hauntingly blonde ponytail braid? Accompanied by some dramatic violin strings? Not a shot of that weird pin again! Oh no.
If you, like me, were under the impression that we had at least five years to recover from the coffee (or tea?) cup incident, you were regrettably mistaken. No, even though the Naomi Watts prequel was canceled in 2019, HBO apparently had many more prequels lined up, and, instead of focusing on delivering more seasons of Succession, they decided to see one of them to completion.
Obviously we are tired of spinoffs, which are apparently the only thing that exists anymore aside from their siblings, reboots and sequels. Sex and the City is for some reason pressing on with its third revival of the show, even without one of its key characters. Gossip Girl is back and not great, and Dexter is apparently returning, which no one is thrilled about. And prequels don't have a great track record: Even James Gandolfini's own son couldn't make the Sopranos one good!
But the prospect of a Game of Thrones remake is especially draining. When I think of the spring of 2018, it's all choppy pixie cuts and shoddy episode lighting. I cannot remember a single thing that I did in real life during this period. Please, I cannot bear to read another think piece about CGIed dragons.
And if I cannot singlehandedly stop HBO from reawakening the monstrosity that is Game of Thrones fandom, let me at least submit one tiny request: put Harry Styles in an episode?