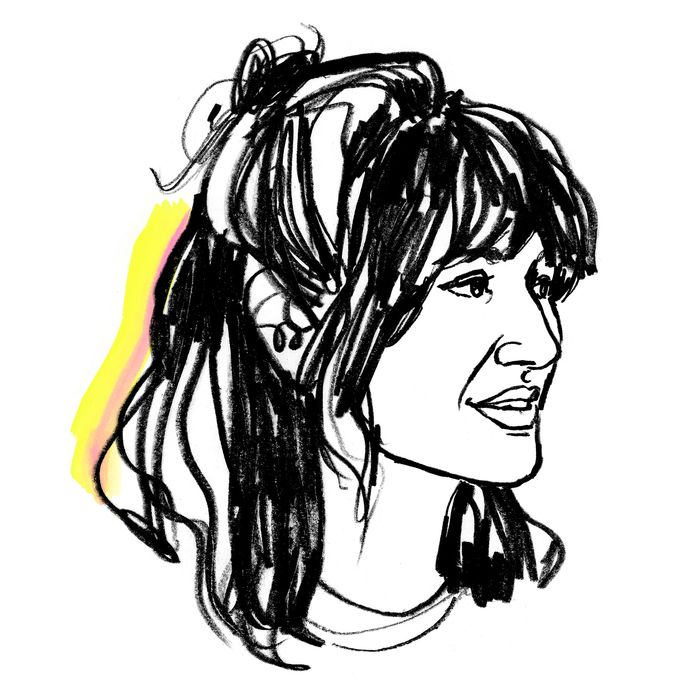 Illustration: Lauren Tamaki
Deja Foxx has been an activist since she was 15 years old and first volunteered, knocking on doors for Planned Parenthood. Known for being the youngest staffer and first influencer and surrogate strategist on Vice-President Kamala Harris's presidential campaign, the full-time Columbia student, now 21, is also signed to Ford Models and serves as a founder of GenZ Girl Gang, an inclusive community and platform that creates campaigns, hosts events, offers mentorship, and just recently launched its own merch. Having been in the spotlight since she went viral for confronting former Senator Jeff Flake about his views on funding for Planned Parenthood through Title X — when she was just 16 — Foxx knows a thing or two about juggling multiple projects. She recently moved back to New York City for her first in-person classes since the onset of the pandemic. Here's how she gets it all done.
On her morning routine:
Two nonnegotiables for me every morning are to eat and to exercise. I usually will take a run in the morning and then eat something, or else I'm going to feel crazy all day. I'm a big fan of an apple and a coffee. I didn't drink coffee until the pandemic. I made it through an entire presidential campaign without drinking coffee. I was one of those people. Then I needed something to make my days a little bit brighter, so I started. Now my coffee order is an iced latte with oat milk and lavender. It's also really important for me to have a daily ritual, which is my journal. I write in a journal in the morning, and that starts my day.
On (not having) a typical workday:
I really get to build my own schedule. I'm a content creator. I'm signed to Ford Models, so I often am filming things. I'm shooting content, giving interviews. I worked during this election cycle on a presidential campaign. I worked as the social-media director and on the political action committee. I was a strategist to a nonprofit called Ignite, and I built an influencer program for them around getting the youth to vote. I get to mix in the best of all of these things, from going to classes to shooting content taking meetings and leading on strategy. My days are all different, and I like that.
On staying focused:
I picked up this technique my freshman year of college from my adviser and my therapist, because my workdays are so chaotic. In some ways, a lot of what I do doesn't always feel like work: texting my GenZ Girl Gang team who are my friends, or shooting stories. For work, I take out a notepad, set a timer for two to three minutes, and brainstorm literally everything that needs to get done. And I mean everything, from dropping off my laundry to Venmoing my mom to writing an article. And then I write "one," "two," and "three" next to the things that I need to get done first. And then I proceed in that order and I don't break from it. I just try to hone in on doing one thing at a time, because — I think this is a Gen-Z tendency — it feels like I can do a million things at once. But when I do that, nothing gets done.
On staying inspired:
I'm most inspired by the women who surround me. I think about the Planned Parenthood organizer who drove me to training when my family didn't have a car, or the guidance counselors who really went above and beyond and visited schools with me in New York. I think about the mentors who've put me on to jobs I didn't think I was qualified for yet, and all of the women who have seen my potential and pushed me to see it too. Then I think of my ability to be that person for other people. I always say that there's nothing I'd rather be in this life than a good role model. I'm in a position where I'm living out a lot of the dreams I had for myself as a young person while still being a young person. I don't take being a role model lightly. It inspires me to be the best version of myself.
On the value of social media:
I am a part of a family that doesn't come with connections. I grew up below the poverty line on food stamps and in Section 8 housing. I relied in large part on social media to create not only financial freedom for me as a content creator, but also to build those networks that so many other people were born into. I think social media has afforded me this opportunity for social mobility that has never been accessible in that way before.
I mean, all of it was sort of unexpected for me. I started to see social media differently when I went viral, when I was 16 years old. It was a complete surprise to me. I was taking on bigger reforms around birth-control access on a national level, and I'd spoken at a town hall to my senator, and really pushed back on him about birth-control access and how he is a white man. The next morning I woke up, and nearly 18 million people had seen that video. It absolutely catapulted me to the forefront of the reproductive-justice movement in a way that I could have never expected, pushed me to be a public figure, pushed my confidence in a way that I couldn't have even imagined.
Her advice for other young people who want to get into activism:
My advice is to get personal. I started out as a volunteer for Planned Parenthood. When I was just 15 years old, I was working at a grassroots level to change the sex education in my school district. And so my advice is to think about the issues that are personally affecting you and your community. How does this issue intersect with who you are, where you come from, your everyday life? I shared my stories at school board meetings about how, as someone who didn't have parents at home, dealing with outdated sex-ed education curriculum was really was detrimental to me. So that personal story became an agent of change-making.
On working on a presidential campaign:
The experience of how I got there was hilarious, right? I was unpacking my sophomore-year dorm, taking clothes out of my suitcase and hanging them up in the wardrobe. I got a DM on Instagram with a job description and I was like, "I have some friends that just graduated. Let me look into that and I'll send you some recommendations." And, she said, "No, I think you would be a wonderful fit. I think you should apply." And then two weeks later I was packing up my dorm, withdrawing from school — which as a first-generation college student, is a big deal — and packing it all into a rental car, moving to a new city. During my orientation, my boss put one word on the screen, and that was "perspective." He said to us, "You know, there's so many people that have more campaign experience, more connections than you all, but we picked you because of your unique perspective, because of who you are and what you bring as a whole person to this space." And I think that showed. I was routinely in meetings with only other women of color. We were the most diverse campaign in the field. That really modeled for me what a working environment can look like, what diversity looks like. And I don't think I'll ever settle for less.
On her goal of being the future president:
I don't just want to, I plan to. I think that's a big distinction, because I recognize that the more I say something and the more I believe it, the more other people do. I want to show people what is possible. I think in large part that's why I ended up in the Kamala Harris campaign, as a woman of color, a first-generation American, someone raised by a single mom. I saw myself represented in her in a way that I never had before, and I felt the power of that.
So yes, I have every intention of still being president one day. I'll also add, post-Trump administration, I spent a lot of time reflecting, What did I learn from this? What did I take from this? I did this work. I was fighting for sex-education reform long before he was in office. I'm going to be doing this work long after he's gone. And I think one of the things that Gen Z is really taking away from that administration is like, Why not me? You know what I mean? Why the hell not me?
On feeling imperfect:
I just turned 21. And while I talk about eating and exercising and all of this, I forget to eat all the time until like 2 p.m. I call my mom and cry like once a week. I think all of these things are worth noting. I don't know what I'm doing and that's okay. I've been in the public eye since I was 16 years old, and I'm not perfect. I'm undecided in my major. There's so many things to figure out. And I hope that in some ways that helps people see themselves in me a little bit more.
On her evening routine:
I close the night by journaling, too. It's really helpful for grounding me. And I'm pretty strict about my skin-care routine. I think skin is a great indicator of like, have I been taking care of myself, or did I just completely forget about taking care of me for the last week?