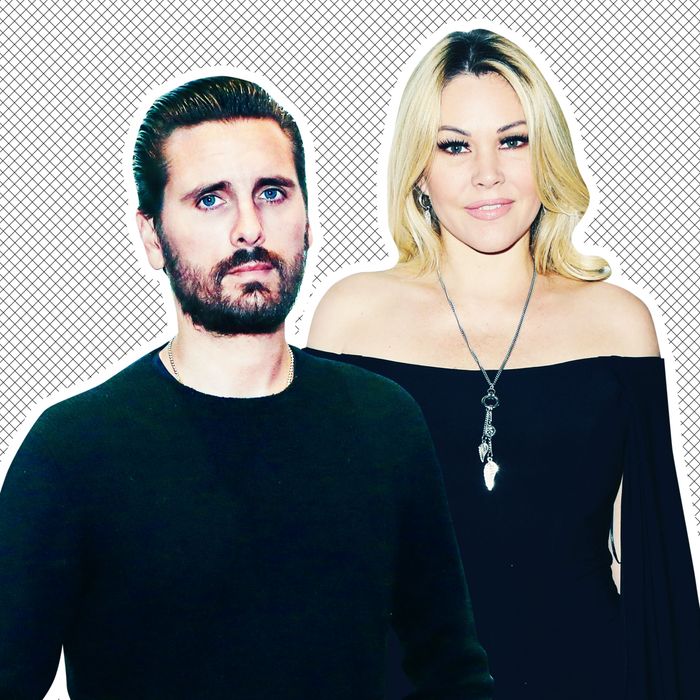 Photo-Illustration: by The Cut; Photos: Getty Images
There are two kinds of celebrity exes: ones who are aggressively thrilled about their former partner's new romance and ones who are pointedly not happy about it. In the case of Kourtney Kardashian and Travis Barker's extremely public romance, we have many of the latter type. Can you blame them? Seeing so much of your ex's tongue touching another's can't be good for the soul.
Now that these goth lovers are engaged, one predictably unhappy party is Kourtney's ex Scott Disick. He reluctantly gave his "blessing" to the relationship in June but soon started to express his distaste for the couple's public displays of affection. He even attempted to join forces with another one of Kourtney's exes, though unfortunately his chosen target screenshotted and posted his message — which was petty enough that the whole internet has been wondering how he will respond to the engagement. Well, according to US Weekly, he's "absolutely furious," with a source telling the outlet he is "very jealous" and "still thinks that they could call things off before the wedding."
And then there's Barker's ex-wife Shanna Moakler, who has gone out of her way to repeat her claim that Barker had cheated on her with Kim Kardashian, a.k.a. Kourtney's sister. (Kim denies this, but Moakler has stuck to her story.) But after the engagement, she seems to be trying to take the high road, and by "the high road," I mean posting a bunch of cryptic quotes on Instagram. On Sunday, Moakler's Instagram Story featured a number of screenshots including one of a questionably attributed quote that reads, "Tupac once said: Before you ask why someone hates you, ask yourself why you give a fuck." Another said, "Temporarily closed for spiritual maintenance," which, fair.
I too am seeking spiritual maintenance to prepare for the Hot Topic–themed wedding we are about to behold, so if Moakler has any recommendations, perhaps she can share them when she's back online.