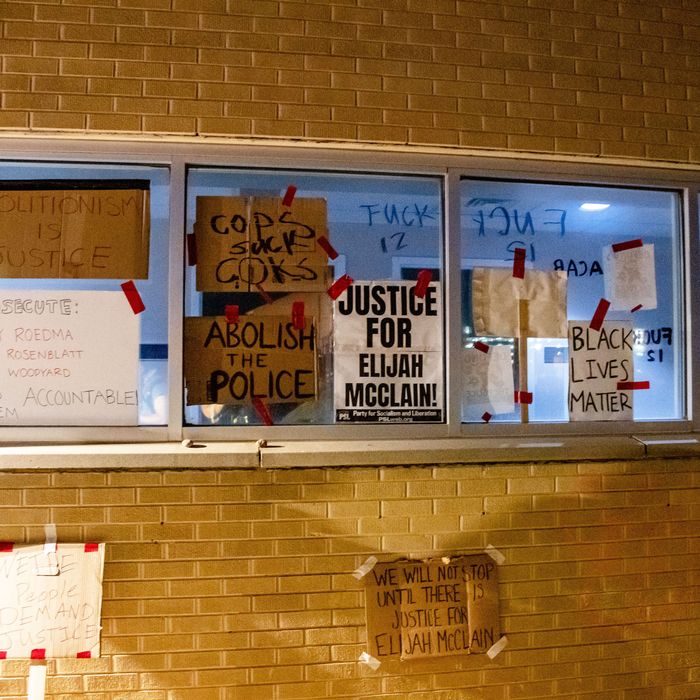 Signs taped on the windows of the Aurora Police Department Headquarters to protest the death of Elijah McClain on July 4, 2020.
Photo: Amy Harris/Shutterstock
For the protesters, it felt obvious what the Jeep was doing. It was summer 2020, and for weeks, demonstrations against racist policing filled the streets of cities nationwide. In Aurora, Colorado, police had closed a stretch of Interstate 225 to traffic, clearing the way for hundreds of people to march on the highway, demanding accountability for Elijah McClain's death. But that July evening, a teal Jeep managed to maneuver onto an entrance ramp. The driver of a white pickup, trailing the crowd as an added layer of protection, merged into the Jeep's lane in an attempt to slow it down; instead, he says the Jeep plowed right into him and kept on going, beelining for the group ahead. As demonstrators scrambled for the shoulders, a quick string of shots rang out; bullets allegedly aimed at the Jeep injured two protesters. Yet the Jeep's driver never slowed or swerved off his course, according to then-District Attorney George Brauchler.
People who watched the event unfold felt no ambiguity: "That dude tried to murder people," Trey Quinn, an area activist, told the Cut. But the Aurora Police Department saw things differently. While an ambulance arrived to bring wounded participants to the hospital, witnesses do not recall officers taking statements or investigating the scene. Though police interviewed the Jeep's driver, Kyle Faulkison, they did not arrest him. Instead, they seemed to accept his explanation that after the collision, he became scared and tried to get away. As a result, Faulkison — who did not return the Cut's request for comment — would not face charges. The protester who fired at the Jeep, however? Four counts of attempted reckless manslaughter. (He has pleaded not guilty.)
The organizers who planned the event would also eventually face charges — obstructing a highway and inciting a riot, bundled into a larger slate of offenses allegedly committed by six area activists at demonstrations they coordinated last summer. For one activist accused of attempted first-degree kidnapping in connection with a sit-in held at a police station, the cumulative sentence could have amounted to as many as 48 years in prison.
The activists sought justice for McClain, who died after a brutal encounter with Aurora police officers who may have lacked legal grounds to stop him in the first place, according to a report issued by an independent panel appointed in July 2020. The actions organizers staged last summer prompted five probes, including an investigation from the Colorado attorney general's office into whether or not the department habitually violated Aurorans' civil rights. On September 15, AG Phil Weiser confirmed the APD "has a pattern and practice of racially biased policing." In their report, investigators found that between 2018 and 2021, APD officers used force against subjects of color at 2.5 times the rate they did white subjects. Black residents make up less than 17 percent of Aurora's population, yet almost half of all the people whom the APD subjected to force between 2015 and 2021 were Black. Racial disparities are evident in arrests, too: Officers arrested Black people two and a half times as often as white people. Between 2008 and 2018, investigators found, Aurora paid out $7 million to settle excessive-force and constitutional-violation complaints.
None of which will be news for people familiar with the department's operations. "The Aurora Police Department has a true use-of-force problem," and it is also "very sensitive to criticism," Sandra Freeman — a criminal-defense and civil-rights attorney and a former public defender in Aurora — told the Cut. Now, more than two years after McClain's death, a grand jury has indicted three officers on manslaughter and homicide charges. But when the community attempted to hold its police officers to account, the APD fought back every step of the way.
Outside Colorado, Aurora is best known for two tragedies that, compared side by side, highlight the racially polarized ways the department approaches policing: In 2012, a white man named James Holmes opened fire during a sold-out midnight showing of The Dark Knight Rises, killing 12 people and injuring dozens more. When Aurora police arrived on the scene, a single officer took Holmes into custody utterly without incident. Contrast that to the way they treated Elijah McClain, a Black man who was walking home from a convenience store when three officers detained him on August 24, 2019. A 911 caller had reported a "sketchy" man wearing a ski mask on a 67-degree night. (McClain's sister would later attribute the mask to her brother's anemia.) Though the caller did not see any weapons nor observe any criminal behavior, 911 dispatched Nathan Woodyard, Randy Roedema, and Jason Rosenblatt to find McClain.
In the version of events that the APD's Major Crime/Homicide unit would eventually present, the officers stopped McClain to "check on his well-being." They "attempted to explain to McClain why they wanted to talk to him and determine if he needed medical assistance." They only resorted to physical force because their verbal attempts to de-escalate the situation failed. But even the limited body-camera footage that exists from the incident — all three officers managed to dislodge their cams shortly after approaching McClain — tells a very different story.
As he exited his vehicle, Woodyard shouted at McClain to stop, but McClain was listening to music and told police he was pausing it when they grabbed him. Still, he wasn't armed, nor was he the suspect of a crime; per the panel report, he had no obligation to stop and talk with the officers.
Still, according to that report, "within ten seconds of exiting his patrol car, Officer Woodyard placed his hands on Mr. McClain." Within about a minute, the officers decided to take him to the ground, and Roedema accused McClain of attempting to grab one of their security-holstered guns. The officers then applied two carotid holds to McClain's neck, temporarily restricting blood flow to his brain to subdue him. "He was completely disobeying all orders given," Roedema would later explain to his colleagues. "He was pushing against us." As for the speed with which the officers resorted to force, Roedema noted that in Aurora, officers "tend to take control" of a suspect or a situation "before it needs to be controlled."
To judge from the report's minute-to-minute breakdown of the stop, the officers — all of whom are white — never bothered to explain to McClain why they approached him, or why they were wrenching his arms behind his back, or why they were forcing him face-first into the grass. Instead, they simply told him they intended to talk to him ​​and repeatedly ordered him to relax. Once the officers had him on the ground, the report notes, body-cam footage did not seem to support their claims that McClain struggled violently. In the audio, he is heard pleading over and over that he cannot breathe, that he is in pain, that he is sorry, that he is "different," that he was only going home. When the paramedics arrived, they grossly overestimated McClain's height and weight. Allegedly without an examination, the paramedics accepted the officers' diagnosis of excited delirium and injected him with a dose of ketamine they had been taught was more appropriate for a person 50 pounds heavier. (The investigation from the attorney general's office concluded that Aurora Fire Rescue paramedics "routinely" exceeded the maximum legal dose of ketamine when sedating someone.) Yet according to the panel report's body-cam analysis, McClain had "not moved or made any sounds in the approximately one minute prior to the administration of ketamine." McClain went into cardiac arrest on the way to the hospital. Days later, he was declared brain-dead and taken off life support, with APD officers stationed outside his room, guarding him like an apparent suspect.
In the days that followed, local activists joined members of McClain's family in lobbying for transparency they say never came. Instead, the department leaned on protocol that steered members away from accountability. Rather than treating the incident as a prospective case of police misconduct, then-Chief Nick Metz kicked the investigation to Major Crime/Homicide, which, according to Public Information Officer Matthew Longshore, "is responsible for all factual findings" that get presented to the district attorney's office. But the unit's detectives, according to the independent report, "failed to ask basic, critical questions about the justification for the use of force." Apparently, Major Crime investigators did not prompt their colleagues to explain why, or even if, they suspected McClain of a crime, making it hard to gauge the stop's constitutionality against the police record. Instead, they exercised baffling leniency, looking the other way as one of the officers contradicted himself and nudging their colleagues toward what the report calls "specific, exonerating, 'magic language'" seemingly designed to let them off the hook. In November 2019, an Aurora district attorney declined to charge any of the officers involved in the stop.
Across the country, this is usually how it goes when police kill or brutalize a Black person: The officers and their colleagues close ranks, cobbling together whatever scaffolding is required to justify excessive force. In Aurora, this often means conjuring up criminal charges that deflect blame back onto victims. "You see a case come into the Aurora Municipal Court — there's failure to obey, resisting arrest, and obstruction," Freeman says. "And I can guarantee you that person was beat to hell by the police, just seeing those three things."
Here's what the pattern looks like in practice: In 2015, a white sergeant tackled a Black woman named OyZhana Williams to the ground in a hospital parking lot when she refused to give him her car keys, stomping her head into the pavement, then booking her on suspicion of assaulting an officer. (The charges were later dropped.) In 2017, three cops drew their guns on a Black woman named Vanessa Peoples after entering her home without a warrant during a welfare check, carrying her hog-tied from the premises with a dislocated shoulder. They jailed her on a later dismissed obstruction charge. In 2018, two officers responded to a noise complaint, and when a language barrier prevented their subject, a Latino man named Alberto Torres, from responding immediately, they beat him up in his driveway and charged him with three municipal violations. In 2020, a team of officers confronted a Black woman named Brittney Gilliam and her family while they sat in their car outside a nail salon, holding four minors — the youngest of whom was 6 — facedown on the asphalt at gunpoint for two hours because the APD mistakenly identified Gilliam's SUV as a stolen motorcycle. In each of these cases, the attorneys representing plaintiffs against the police believe that the department failed to discipline the officers responsible.
When police use excessive force, says Mari Newman, a civil-rights lawyer who has litigated many cases against the City of Aurora and is involved in McClain's case, the cover-up machine often kicks into gear as soon as a stop gets under way. Officers will demand that a subject "stop resisting" — even as the person shows total compliance — and claim a subject exhibited "incredible strength" in order to conjure up a diagnosis of "excited delirium," serving themselves legal justification for using physical or chemical restraints. (Aurora temporarily banned the use of ketamine in September 2020, and per the AG's report, Aurora Fire had no immediate plans to resume its use.) And then, to cover their tracks, police will often hit victims with a slate of wildly inflated charges for minor to nonexistent infractions.
This practice sends a clear message about police power and control, and it can force low-income victims to plead guilty to crimes they never committed. If a person cannot afford to fight the case against them, Newman explains, "very often, [they] might choose to plead to some lesser charge, even if they didn't do it, because they need to be able to move on with their lives and continue to be able to work and support their families." But pleading guilty to a police accusation complicates the possibility of holding departments accountable, making it more difficult to sue later on. With a plea in hand, police also have something concrete to point to in vindicating extreme behavior, a task that becomes even easier when it falls to their colleagues to review alleged misconduct.
It wasn't until George Floyd's murder in late May 2020 — nine months after McClain died — that the "Justice for Elijah" movement took off. Massive, nationwide protests against racist policing provided a perfect opportunity to turn attention toward McClain. In the weeks that followed, one local district attorney's office received more than 10,000 emails and 1,000 voice-mails about the officers involved. With celebrities sharing McClain's story and calling for justice on social media, a Change.org petition demanding an independent investigation garnered more than 3 million signatures by late June of that year.
On June 27, organizers held a history-making rally and march of thousands. Police met the crowd in riot gear from the very start, but it wasn't until evening fell, and the remaining attendees — some of them families with young children — gathered on the lawn for a violin vigil honoring McClain, that police advanced, hundreds of officers clearing the crowd with pepper spray and batons.
Images of the vigil made national news, bringing the APD even more negative attention. But behind the scenes, a larger PR crisis grew. A few days earlier, Chief Vanessa Wilson (the department's interim chief at the time) reportedly became aware of a selfie that three of her officers — two of whom responded as backup to McClain's detention — took the previous fall, one grinning as the other two reenacted a carotid hold at the site of the stop. The officers sent the image to Rosenblatt and Woodyard in an effort to "cheer [them] up," and although Woodyard didn't reply, Rosenblatt texted back "haha." When the photo came out, there were 171 open felony cases involving at least one of the officers pictured. One officer resigned before he could be fired, and Wilson terminated Rosenblatt along with the other two officers in the photo, stating that the incident "showed a lack of morals, values."
It also showed that Wilson had firing power. Indeed, the speed with which she terminated the officers — days after news of the photo leaked, weeks after McClain's case captured national attention — upset the Aurora Police Association. The union complained of dismissal without adequate time to prepare for interviews and without a full review. Yet Woodyard and Roedema remained on the force. (According to the APD's Officer Longshore, "Currently, the involved officers have not been convicted of a crime nor were they found to have violated any department directives that were in place at the time of the incident," so under the city charter, they could not be fired for McClain's death.)
"To everybody in the community, it was like, You can fire them, but you won't fire the cops who are still walking around with guns, in squad cars, who killed Elijah?" Lillian House, one of the activists charged for the protests, recalls. A few days later, organizers led a crowd of demonstrators to a sit-in at the city's District One police station. An estimated 600 people showed up on the evening of July 3, and for about five hours, they stayed peaceful — the APD confirming as much on its Twitter. "There were folks sitting on the lawn and engaging in chants, having conversations. Folks started ordering pizzas," Councilman Juan Marcano, who attended the "occupation," recalls. Music played; people were break dancing. "It just felt like a giant block party." Joel Northam, another activist who helped organize the event, specifically told the crowd not to do anything police could construe as criminal. As Marcano took laps around the precinct, he saw nothing "untoward."
Around 11 p.m., after Wilson asked Marcano to set up a call with an organizer, she informed House and the crowd that service calls were piling up, suggesting officers could not respond until protesters moved. "We're not going in, we're not going out," House replied. "If you want us to leave, that's easy. All you have to do is fire Woodyard and Roedema tonight."
For police, exiting the building at that point would've been as simple as walking through the crowd of people gathered outside. Organizers insist that the vast majority of attendees remained calm throughout the evening, even though after midnight, a small group of people began blocking exits. With dancing and chants continuing nearby, this faction rolled a picnic table in front of doors, built makeshift barriers out of debris from a nearby construction site, and tied the mechanical gates to the precinct parking lots with rope. Organizers say they had nothing to do with this — that they tried to shut down that activity and keep everyone else focused on the protest's goals — and footage from surveillance cameras circling the precinct, and eventually presented in court hearings, seems to back them up. Witnesses corroborated the activists' story, but House, Northam, and one other organizer, Whitney "Eliza" Lucero, would ultimately be charged with the attempted kidnapping of the officers inside District One.
Nearly two months after that protest, on a random September morning, police began picking up their targets one by one, grabbing House, Northam, and Lucero along with three other activists — Terrance Roberts, Russell Ruch, and Trey Quinn — many in theatrical displays of force. Quinn says around eight cops showed up at his then place of work, escorting him from the premises and packing him into a cruiser. Northam was slow-walked from his apartment at gunpoint after a SWAT team in an armored personnel carrier showed up at his building and threatened to break down his door.
The arrests defied logic from top to bottom: The 30-plus-page affidavits submitted to justify them are stunning in their level of detail, citing random social-media accounts alongside stills from security cameras at protests. Afterward, House, Lucero, and Northam wound up sitting in jail for eight days. House and Lucero say they were confined to near solitary, where the jail kept them on 23-hour lockdown in filthy, freezing conditions. "It was terrifying," House says. "We had no idea when they were going to let us out, because clearly the legal standards are not of concern to them here."
Terror seems to have been the point. "This was all about punishment, in every way the police could," Mara Verheyden-Hilliard, co-founder of the Partnership for Civil Justice Fund in Washington, D.C., says. "This is just another form of police abuse, abetted by the prosecutor's office."
On the heels of the arrests, Wilson released a five-point plan to reform the department, diversify its members, and incorporate civilian perspectives. Entitled "A New Way," it aims to "restor[e] community trust," in part by promising civilians more avenues to communicate their feedback to the APD. Yet at the same time Wilson made this public pledge, local prosecutors prepared to take the charges against the activists to trial, despite their exceedingly flimsy case.
In March, defense attorneys for House, Northam, and Lucero appeared at a multiday preliminary hearing for the kidnapping charges. A preliminary hearing takes probable cause as its legal standard, meaning that — accepting the prosecution's argument and evidence as true — a reasonable person would believe a crime had been committed. It's a low bar and one weighted in prosecutors' favor; still, Aurora's couldn't meet it. Adams County judge Leroy Kirby ruled that the district attorney's office had no evidence — not for the attempted-kidnapping charge and probably not for the other charges either, though those were not on the table. The thing about holding a protest at a police station is every detail will be captured on-camera. It should not have been hard to produce a photo — footage, even — of at least one of the organizers winding rope around a door handle or shifting a planter in front of an entrance. But the prosecution didn't have that. What they did have was input from Quinn and Councilman Marcano contradicting their case. They had an officer who claimed to have been trapped inside the precinct admitting that when he arrived, protesters obeyed commands to stand back and let him pass. Chief Wilson, the officer said, gave orders around 8:45 p.m. not to leave the station or interact with the crowd.
In his ruling, Judge Kirby noted that kidnapping generally occurs against a person's will. Meanwhile, the officers inside the station "had access to their weapons, an armory, and nonlethal weapons," Kirby said. "No windows were broken, no rocks were thrown, the officers were specifically told not to engage with protesters, not to leave the building." They had freedom of movement," he continued, but "self-sequestered" by choice and department orders. If the arrest warrant had come to him, the judge concluded, he would not have signed it.
It took prosecutors a few more weeks to begin dropping charges, the last of which they dismissed on September 13. But even as the district attorneys' minds changed, Wilson's remained fixed. In an interview with conservative radio host Steffan Tubbs, she responded to Judge Kirby's ruling with an apparent warning to "emboldened" protesters: If a comparable event occurred in the future, "I can tell you this, that we will arrest people again," she said. Officer Longshore confirmed this, telling the Cut: "Chief Wilson will not hesitate to pursue similar charges against others in the future that participate in illegal activities to include trapping officers inside of a police station." Despite lacking evidence that the people they singled out did anything illegal, the APD still seems determined to stick to the story it created.
That attitude — and the decision to prosecute people for exercising their right to free speech — feels at odds with the department's alleged commitment to amplifying and respecting the voices of the people it serves. Wilson's "A New Way" carries an implicit request of the community: to trust that, this time, things will be different. But amid an unprecedented national push for police reform, even abolition, Tyrone Glover — an attorney with Killmer, Lane & Newman who represented Roberts against the charges — notes that police and prosecutors can borrow the right words from studies, from activists, from their communities. "But when they feel like their backs are against the wall, they're more than willing to mobilize the same resources," he says. "They can say the right things, but when it comes down to it, what did they do?" In Newman's experience, action has been spotty at best. Newman says that a number of the points in the APD's "A New Way" are demands the department has previously agreed to in settlements with her firm but failed to enforce. In 2010, for example, Aurora officers allegedly responded to a call for medical assistance by jumping on and handcuffing a Black man named Rickey Burrell mid-seizure. Those officers dragged Burrell from his home in his underwear. Settling his case, Newman mandated obligatory training for officers attending to people with seizure disorders and suffering other medical emergencies, she says. But in 2018, officers again, allegedly, beat and Tased a Black man named Andre Williams, who was unable to immediately respond to police orders because he was seizing.
More than a year after the APD arrested the activists, there are a few reasons to hope the department may realistically change. Since McClain's killing, Wilson has dismissed multiple officers involved in excessive-force incidents: In September 2020, she fired Levi Huffine after he was caught on-camera ignoring the pleas of a Black woman he trapped, hobbled and upside down, in his back seat. Over the summer, she terminated an officer who allegedly pistol-whipped and beat an unarmed subject and fired his colleague for failing to intervene. She has committed to working with the attorney general's office to "implement necessary and sustainable changes," and the AG's report frames Wilson's escalated attempts at community engagement as steps in the right direction. But the most notable development came thanks to protesters. On August 26, a grand jury indicted Woodyard, Roedema, and Rosenblatt on criminal-manslaughter and criminally-negligent-homicide charges. Though the department has now suspended Woodyard and Roedema without pay, it's worth remembering that it took two years to get here — and who is responsible for that delay.