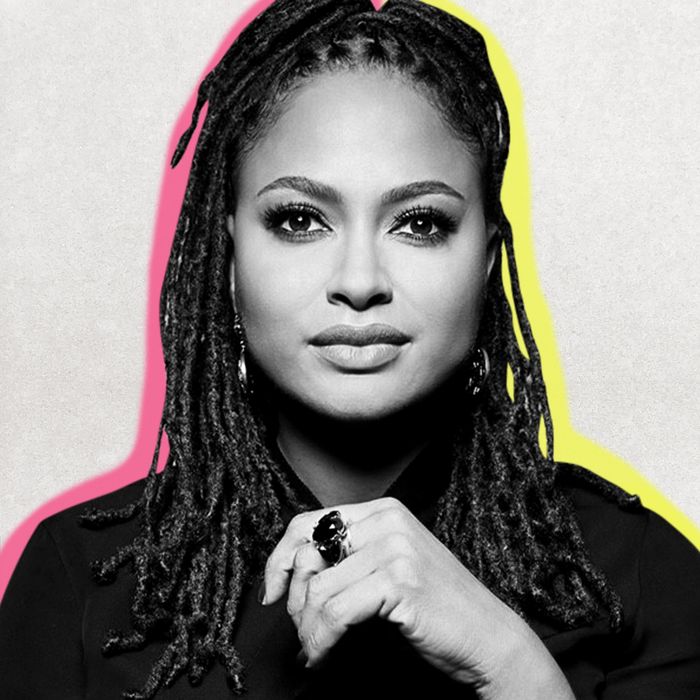 Photo-Illustration: Photo-Illustration: by The Cut; Photo: Courtesy of Ava DuVernay
Ava DuVernay, the celebrated and award-winning filmmaker, is currently at work promoting Colin in Black & White, a six-part series she produced and co-created with civil-rights activist and former professional quarterback Colin Kaepernick. The show, which portrays Kaepernick's teenage years, premieres on Netflix Friday, October 29. DuVernay's previous directorial work includes the films Selma, 13th, A Wrinkle in Time, and When They See Us, as well as a number of television shows, documentaries, and music videos. DuVernay is an Academy Award nominee and winner of Emmy, BAFTA, and Peabody Awards. Here, she tells the Cut how she gets it done.
On a typical work day:
I wake up at about six, and the first thing I do is meditate and pray. That takes me until about 6:30, when I go make a honey-lemon water. I have a lemon tree, so I go outside every few days and pick one. I try very hard to stay off my phone during that time. At seven I pick up the phone, and there's a good solid hour of work there just looking through things quietly before the day really starts. My day starts at eight with meetings with some of the top executives at my company: one from eight to 8:30, and one from 8:30 to 9:00. From nine to noon, I have a work block. That's all dedicated to production. That's when I'm reading scripts, watching cuts of shows, editing and reviewing edits.
My favorite part of my job is editing. We have six shows, and almost every day I'm editing one of them. I liken it to playing Barbies. I loved playing Barbies when I was little. My doll is the footage, and I can make whatever stories I want out of the footage, and that happens in the edit.
On her writing process: 
My least favorite part of my job — and I'm grateful to be able to do it — is writing. I have to write almost every day, and it's hard for me. There are a lot of writers who love to write: They wake up writing, the joy of writing, the written word … no, not for me. I can do it, but I'm mad that I have to sit and do it. I'm grateful that it flows when I sit down. My big thing when it comes to writing is procrastination. I will wait until the last minute, and I've convinced myself that procrastination is a beautiful part of the process. I spend about an hour a day, in different little one-minute increments, on Zillow. If someone tracked my phone, they would see: Wow, she's on Zillow. I'm not looking for anything. I'm just like, Hey, I want to see what people are doing in Nebraska. Let me find a Zip code and get in their house. That's literally my pastime. It's ridiculous.
On redefining "self-care":
I used to say that I was not good at self-care. But over the summer someone said something to me that really resonated: Self-care is inclusive of the people that you put around you. So when I say I'm not good at self-care, I'm thinking of massages and time by the pool. But that's not really self-care, that's relaxation. Self-care is: How do you care for yourself each day? And a big part of that is: Who do you allow to be around you, and who are you putting yourself around? When I think of it that way, I am great at self-care. I've been able to hand-pick everyone who works with me and everyone who I work with — what a fortunate position. So I've turned from being someone who said I was bad at self-care to saying I'm the queen of self-care.
On the lesson on criticism she got from Oprah:
I used to take criticism really, really hard. I think Oprah helped me with it best. I was taking a movie review really hard, and she said, "Do you know them? Do you know this person?" I said no, and she was like, "So why do you care so much?" And that really helped me understand that I was putting my sense of achievement, my sense of personhood, in someone else's hands. I had to do a lot of work to untangle that for myself. I had to figure out why I was looking outside myself to feel good. It takes time. It's an ongoing process. No one's 100 percent there — well, I won't say no one is. Oprah is. But it takes practice, and I've gotten a lot better at it. I don't even read [criticism]; I don't even listen to it. If I open up Twitter at any given moment, someone is calling me some awful thing. It gets to a point where I don't even see it anymore because it doesn't matter to me.
On what success looks like:
I think the most elusive thing when it comes to a filmmaker like me — a Black woman filmmaker — my biggest goal is to achieve longevity. That's what I want to achieve. I want to be calling "action" and "cut" at an older age. I want to be a senior citizen making films my way, with my vision, telling my stories. That's something that has never happened for a Black woman director. We have several white male counterparts — Mike Nichols, Sidney Lumet, Martin Scorsese — who've been able to grow older in their art. That's my goal. I hope that the stories and the way that I make things changes as I change. You can only do that if you have the privilege of being able to make work as you grow older. And for so many women filmmakers, that's not been an option.
On the joy of skating:
My favorite things to do for exercise are roller skate and be on the trampoline. During the pandemic I got a trampoline and signed up for these online trampoline classes, which are awesome. And I love to roller skate. There's a resurgence of roller skating that's happening, mostly in the South. I wish there was a roller rink near me. That's one of my guilty pleasures: watching roller-skating videos on IG, and very specifically Black roller-skating videos. There are Black people who roller skate to great music, like trap music, hip-hop, and they're roller skating and dancing and going around the rink. That's my favorite. One day I aspire to do that, and I'll post my video on IG, and I'll tag you.
On her favorite things to eat:
There's a spot in Mid-City, Los Angeles, called My 2 Cents. It's one of my favorite places to eat. They have this wonderful Black woman chef — and I say "chef," but everything's super affordable and super yummy. I'm also a big, big Pinkberry fan. I remember one time I was walking through an airport in Dubai after a long flight, and I was tired and maybe a little down. I saw a Pinkberry, and literally it must be what drugs feel like. I've never done drugs, but the feeling of euphoria that shoots into the veins — that's what it felt like. I ran over to them. I was very excited to see them. They weren't as excited to see me. It's my pleasure to share that my order is half pomegranate, half chocolate-hazelnut yogurt with Nutella and chocolate chips and almonds. It's loaded up.
On work-life balance:
I am living my dream and doing the thing that I always wanted to do. I'm not digging a ditch; I get to make film and TV. I get to tell stories all day, every day, any way I want, on any platform, with the best in the world. And I love it. As long as I love it, it doesn't feel like work to me. It doesn't feel like labor. When I'm on a work trip, I'll see one show, or I'll have dinner with friends, or I'll read at least one chapter of whatever book I'm reading — at least one thing that isn't work. I was just talking to one of my colleagues; we're here on a work trip, working so hard, but we stopped and we had an incredible dinner, and we spent three hours stuffing ourselves with great food and laughing and talking. And that was enough. I didn't need to do anything else. I was nourished by that time. Small increments of joy help.