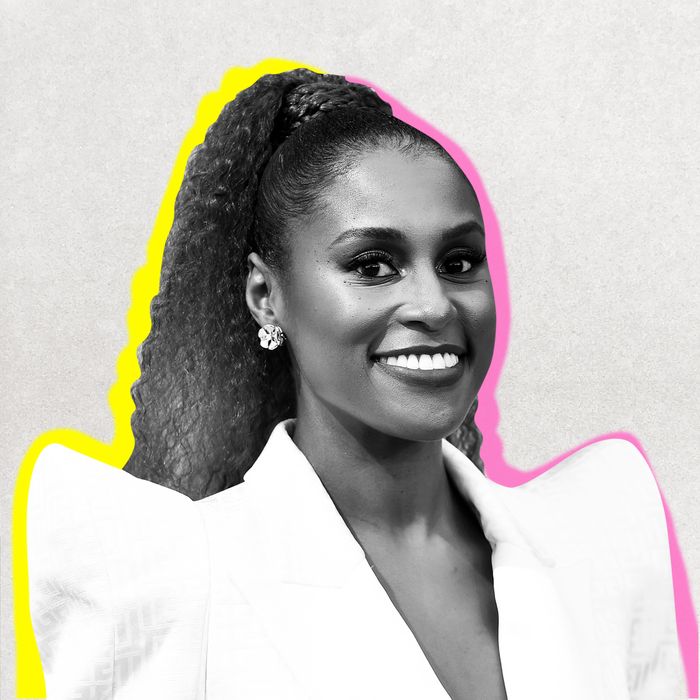 Photo-Illustration: by The Cut; Photo: Getty Images
Issa Rae, the co-creator, co-writer, and star of Insecure, is getting ready for the fifth and final season of her groundbreaking series, which premiered October 24. It's a show that has earned the 36-year-old multiple Golden Globes and Emmy Award nominations and landed her on the Time 100 list of the most influential people in the world in 2018. Rae has also starred in films including The Hate U Give (2018), Little (2019), The Photograph (2020), and The Lovebirds (2020). In 2022, she will be the voice of Spider-Woman in the Spider-Man: Into the Spider-Verse sequel. Rae spoke to the Cut about the joys of getting her hair blow-dried, her love for the editing process, and using her best friend for source material. She is currently based in Miami, where she is the executive producer on a new HBO Max series, Rap Sh*t. Here, how she gets it done.
On her morning routine:
I have a really chime-y alarm. I don't like the violent ones. I like to be pleasantly woken up. The first thing I do is scroll my phone to see what I missed the night before, and then I brush my teeth, shower, and wash my hair to prep it so the stylist, Felicia, can work her magic. One of my favorite things in the morning is getting my hair blow-dried. Sitting in the makeup chair, I'd put on my AirPods and listen to ocean sounds. She'd prep it so that I could lay back in my chair and go to sleep, catching up on any sleep that I didn't get on the night before. Then the day starts. Breakfast is my favorite meal of the day, and my staple order is scrambled eggs, bacon, avocado, and the hottest hot sauce. Sometimes if I'm feeling like a little Mexican spice, I'll add refried beans.
On life on the Insecure set:
I'm a routine-oriented person. When I'm not filming, I get to set the times that I wake up, go to bed, and what I accomplish each day. Filming Insecure, all of that goes out the window; I'm at the mercy of the production schedule. This season, we had a lot of early mornings — 4:30 or 5 a.m. for hair and makeup. That's always at least two hours earlier than the call time, which would be at six or seven. And then spending the rest of the 12, 13-hour day shooting.
Shooting this season was also very challenging. We didn't have as many scripts written beforehand, so in between takes or breaks I'm viewing scripts, sending notes, and then having meetings during lunch or sometimes after wrap to prep the upcoming episodes — those are endless meetings. Then answering emails about costumes and props and all those things throughout the day.
This time around, we were also shooting and prepping another show [Rap Sh*t], and so in the mornings, on the way to set, I would watch those episodes and send notes.
On filming during COVID: 
It was terrible. You don't get to socialize in the same way with people. We're pretty much a tight-knit crew. Some people I didn't even recognize. I was like, "Girl, that's you? What?" Because their masks will be on. And then, of course, you're shooting in a dangerous pandemic, so everybody's anxiety is high. We made the most of it all, but it was really dreadful to be shooting during that time. I have all the respect for the cast and crew who made it happen.
On handling stress:
I rely on the team. Some of the EPs that we have on the show have been with us since season one. And so one of the best resources and the best crutches for me was when we'd have meetings and I knew that if I couldn't attend, that Amy and Laura — who know the show like the back of their hand — would be able to answer in my place. Beyond that, I'm not really a high-stress person. I definitely was stressed, but I don't lash out at other people. I tend to just eat it and suffer in silence. When I do speak up, it means that I mean it. I'm just like, "Let's just handle it. Let's fix it and move on."
On her end-of-day routine:
My favorite part is stripping off that makeup, and I have a very specific regimen. If I feel lazy, I'd start with makeup wipes — that's terrible for the environment — then I go to my face cleanser, and then I have an exfoliation cleanser that I use after that. And then I use micellar water, that incredible water, with cotton pads, and then I use a toner and then top that off with this face-restoring oil that I really love, wrap my hair, and go to bed.
On showcasing her hometown neighborhood:
The block-party episode was a highlight. I live in Inglewood; I go to Market Street all the time; I have a coffee shop nearby; I see what it is. And to see it transformed in the way that it was. They have real businesses that I frequent and support on this fake set in this real way and in many cases actually serving food to crew. Those were personally curated by the writers on our team, the L.A. natives, from the costumes to every element, and it coming to life with artists from L.A. That was such a special moment where it was just, Man, we made this happen, and this is so aspirational. This is Issa Dee's vision and my own vision realized.
On her favorite parts of the job:
I love being behind the camera. I love writing, but I love when it's already written and you get to watch other people do what they do best and work their magic, and then just refine. I love the refining process. It's also why I love to edit. Postproduction is my second favorite part of the process. Being in a writers' room is my first-favorite part because the possibilities are endless, and then the editing room is about making magic out of that, and that's such a fun process.
On collaboration:
I come in with the vision, but I'm very open-minded — if I'm set on something, I can be convinced not to do it. I'm just like, "Prove me wrong." And if you do, then we'll change it. While there is pressure because there are timelines and things like that, I'd like to think that people feel heard and people get to showcase their strengths and their talents and know that they're being utilized. I am clear that I don't know everything. I've had instances where some of our closest partners have been like, "Well, Molly wouldn't wear that." And I'd be like, "You know what? You're actually right. What was I thinking?"
On being surprised by viewer reactions:
It's gratifying and horrifying at the same time to have people write think pieces on moments that we didn't think twice about. The Molly and Issa drama last year — we thought that we would be building to this breakup that would catch people off guard, and we thought it was a slow build. But from episode one people were keyed in and writing think pieces about why Molly was selfish or why the friendship was going to dissolve. I'm impressed by how smart our audiences are, how tuned-in and keyed into the characters they are is a surprise. But yes, people have arguments and discussions weekly about things that we may not have felt as passionate about.
On mining friends' lives for stories:
I definitely mine their lives a lot, my friends. Especially one of my best friends, who Molly is based on — she's been so gracious about her life and understanding that sometimes when she tells me something I'm going to think about Molly. I'm listening to this story, and I'm thinking about Molly, Sorry, girl, I'm empathizing, I'm sympathizing, but this is too good for me to sit on. There've been a couple moments where she's been like, "Girl, really?" And I'd be like, "I promise, we thought of this for Molly before it happened to you." It's been so scary that sometimes things that we think of for Molly were what actually happened to my friend, and she'll think that I stole an element of her life.
On the pressure of representing the Black experience:
I did feel some of that pressure earlier, and that went away, but then it returned this season because it's the final season and the way we're ending things and because of the weight that people have put on this show and the way that it's been so supported and loved. You don't want to let people down with how you tell the story. That has been a unique type of pressure this season. And I will feel it once it starts airing, honestly. Right now, I'm living in the celebrations of it and the positivity.