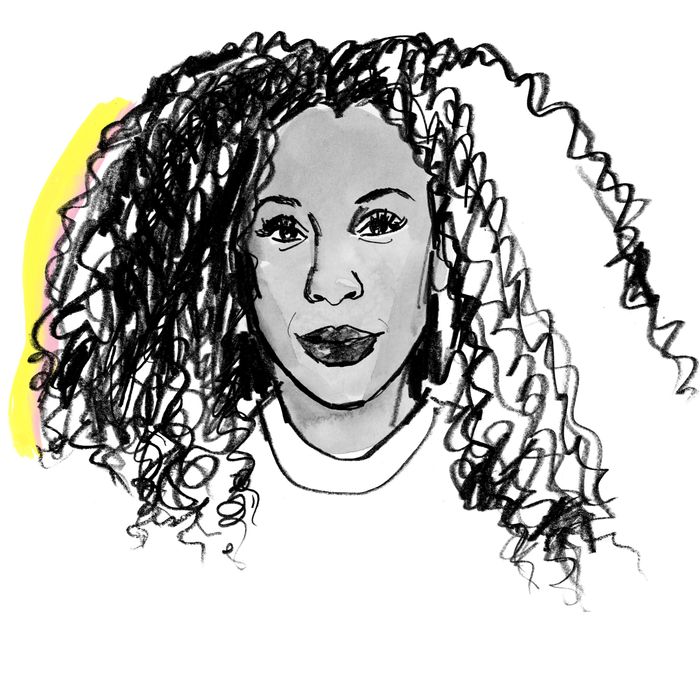 Illustration: Lauren Tamaki
If you ask Ifeoma Ojukwu to describe her career, she will call herself a community builder. That's what she's doing today at Raya, the hyperexclusive dating and networking app, which she joined as vice-president of global membership this past spring. There, Ojukwu is in charge of the platform's programming, content, and global expansion. Most importantly, she oversees the membership process — i.e., who gets in and who doesn't. (Though actually describing how it works is a secret she'll never tell.) Before Raya, she had a pretty eclectic career — her priors include the United Nations, MTV, the Toronto Film Festival, and Soho House. She spoke with the Cut about the challenges of working across time zones, the root of her ambition, and being a Black woman in tech. She lives in Amsterdam. Here, how she gets it done.
On her morning routine:
I'm based in Amsterdam, and our main office is in L.A., which means the core team is nine hours behind me. When I am waking up at 7 a.m., it's 10 p.m. for them. The first thing I'll do is scan my email and Slack while I'm laying in bed and see if there were any overnight emergencies. I have been struggling a bit with insomnia and trying to manage that, so if I get a good sleep, I'll start the day with meditation. I've really gotten into Headspace, and I also like Liberate, which is a meditation app for POCs. Then, I'll get up. Usually I'll listen to a sermon while I shower and then music as I'm getting ready for the day. Then I'll check in with my team of local city directors across Europe and see how things are going. I've found that having a pretty strict routine helps me be way more productive. I'm really grateful for having a slower start to the morning because of the time difference. Things don't usually kick off with my core team until a little bit later, when people start waking up in New York and L.A.
On her journey to Raya:
I was very much a curious kid when I was growing up. I was always into new things and always had a million questions for people. I studied political science and history with a focus in international development. I really thought that I would be some version of a diplomat or human-rights lawyer. I was supposed to move to South Africa. It didn't end up working out, so I moved to New York. That's when I started working in the storytelling space. I was most recently working at Soho House as the director of membership and communications for Europe. I had been there for a long time and was lucky to be in a space where I could meet so many people and build spaces and communities for them. Then everything got shut down. I was thinking a lot about how our industry was changing and how my job had changed. Raya reached out to me and we started talking about what community building looks like in the tech space. I was super excited about being able to take that on and to think about it globally.
On the best and hardest parts of her job:
My favorite parts about the role are being able to think strategically about how we want to grow globally in a meaningful way. In my previous role, I was focused on regions: North America, then Europe. It was quite insular. To be able to think globally is really exciting for me. And I love talking to people. I love understanding what our members are looking for in the app. I love thinking about what our long-term vision is and how we implement that on a step-by-step basis, day-to-day. Working in a start-up environment has taught me a lot. The hardest part of the job is probably moving into the tech industry. It just was something that I wasn't familiar with at all. I had never worked in the digital space. It was quite a big leap for me.
On being one of few Black women who are tech executives:
It's so scary. I try not to think about it too much because it is really overwhelming, and I do feel an intense sense of responsibility around that. But also with that responsibility, I feel a great sense of pride, too. There's this quote that I have written on a Post-it note on my mirror and it says, "Trust what I gave you." It's almost twofold. I think about "Trust what I gave you" in terms of trusting God and the universe that I have everything that I need to handle this particular situation that I happen to be in at any given moment. It's also trusting the opportunity. That this opportunity was put in my path for a particular reason. When I find I get overwhelmed, I try to still myself and remember that I have everything that I need right in this moment to get through what's in front of me. There aren't a lot of visible Black women in senior positions in tech companies, but I hope that I can make a difference and that my work begins to create more spaces and representation for women of color, not just in this industry.
On what shaped her ambitions:
I consider myself an ambitious person, but I don't know if I would have been able to call that out until recently. Prior to that, it just felt natural. I'm a child of immigrants — from Nigeria and Saint Kitts — who came to Canada in the late '70s, early '80s. As a child of immigrants, your mindset is different, right? You are thinking about community and about ancestors your whole life. You're thinking about what you create to make the people before you that sacrificed so much proud. When I was younger, that mindset was almost damaging. It was this idea that I had to be perfect. I'm currently in the process of realizing that perfectionism will ultimately destroy my creativity and my soul. It's more important to be authentic, be genuine, really just do my best and know that my best is good enough.
On the importance of rest: 
Busyness is something that I really felt prior to March 2020. I worked out of cities all the time. I was probably away from home 15 to 20 days out of the month. When all of that stopped, it was such a complete reset for me personally and professionally. I had to think about what my identity is, if it's not this person who's constantly busy, on the road, on the first flight out at 6 a.m. and back home at midnight on a Saturday. I discovered Tricia Hersey from Nap Ministry — she talks about how rest is imperative for generational healing. It's also a form of social justice and resistance. I am so inspired by that because it's completely different from how I've ever thought about success and being able to slow down. I sometimes can feel my body resisting against that, but I think it's so important for women, and especially women of color, to really be thinking about how you reset and ground yourself.
On ending her day:
I am very much a Virgo about this. My day doesn't really end at any particular time, but I would say at probably 8 p.m. I will do last check-ins with our team in L.A. and my local teams to see if they need anything. Because of my sleep issues, I've realized that getting even a little bit of movement at the end of my day makes quite a big difference. There's a spin studio near my house, and they do a 9 p.m. class. If I'm lucky, one or two days a week, I'll be able to go. Making dinner also makes a huge difference. It's not a daily thing, but it is something that I love to do a few times a week. I'll usually bring the iPad into the kitchen, put on some music, and make myself something that I probably saw on Instagram, to be honest. I haven't had a TV in my apartment in quite a few years, and I find that it actually is really nice to be able to limit my screen time. Sometimes I go for a little bit of a walk or step outside to grab food. I do find that I often work quite late — from my phone, checking emails, and talking to my team over Slack — because of the time differences. But that makes up for itself in the way that I have a really nice, relaxing, slower early morning.
This interview has been edited and condensed.