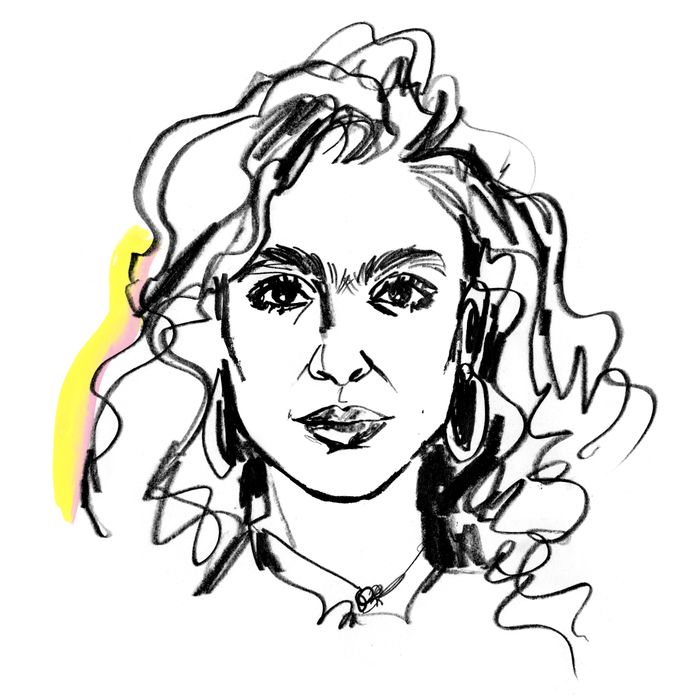 Illustration: Lauren Tamaki
Shari Siadat is very much a multi-hyphenate. The single mom of three is a children's book author, a dancer, co-chair of the American Ballet Theatre's diversity and inclusion task force, a surfer, a model, president of the Siadat Family Foundation, a unibrow and body-hair advocate, and, on the side, a landscape architect. In January, Siadat added beauty brand founder to her collection of credentials with the launch of TooD Beauty. The planet-friendly, gender-fluid brand makes makeup for every body that's designed to be worn everywhere, be it eyebrows, armpits, or anything in between. With its blissed-out colors and high-shine shades, TooD's M.O. is encouraging individuals to decorate their differences instead of covering them up, like Siadat often felt she had to do as a first-generation Iranian-American growing up in Massachusetts. This summer, the brand debuted BioGlitter, the first one-swipe biodegradable glitter made of plant cellulose that degrades in 28 days, so you can wash your shimmer off in the sink and shower with peace of mind. Siadat currently lives in Amagansett, New York, with her three girls (aged 12, 10, and 7), and 14-year-old Lulu the dog. Here's how she gets it done. 
On her morning routine:
I wake up naturally between 4:30 in the morning and six-ish. 6:30 a.m. is me sleeping in. There's just something about the early dawn and watching the sunrise — I like to see what color the sky is in the morning, what song the bird is chirping, how the wind is blowing. And I do need coffee. I drink an entire liter of water when I first wake up, and then I follow it with coffee; sometimes black, sometimes with half and half, but never with sugar. Then I put on whatever I want, whether it's shorts, a bathing suit, or sweatpants and a hoodie. Whatever I wear, I'm barefoot, and I go and walk. If I can start my day before 7 a.m., being grounded and connected to the earth with a meditation immersed in nature, that really helps me get through the day. I take an emotional inventory of how I feel, and what is coming up for me. I liken it to having a boardroom meeting with all my parts. Meditation comes in all forms, and just paying attention, just looking at what I am receiving is a beautiful meditative practice. When I get back home, I usually drink another liter of water, and then I'm typically on a phone call with Team TooD as early as 7 a.m.
On prioritizing:
My dad's a very successful businessman, and he once told me that he wakes up and thinks, What fire do I have to put out that day? and that's the top priority. Sometimes that's the way I prioritize. Other times I'm just trying to get it all done as I can, and in that case, I am old school: pen and paper, making lists and crossing them off; it feels really satisfying to me. I will go and buy every single color pen. I love the ones by Le Pen, and the Gelly Rolls as well. Every day, I use a new color based on different meanings, so every page in the notebook is a different color. I don't treat my notebooks preciously. One will have everything from my notes on my therapy to poetry to journal entries to myself, typically tied to either a new moon or a full moon. It has meetings with my team, it might have other projects that I'm working on, it might have things about my kids. Sometimes I prioritize what I have to do that way, and then sometimes it's just based on who's harassing me the most at the moment.
On unexpectedly starting a beauty brand:
I love to ask people, "What's your unibrow story?" I grew up in this country, born and raised, but I have a unibrow, darker skin, I'm mad hairy — just hair, everywhere. I grew up in a very homogenous town in Massachusetts, so I had this narrative of "otherness" growing up in the '80s and '90s. The type of inclusion that we see right now was not reflected in the world then. I never saw representation in the media; I never felt comfortable with how I looked, because I always thought that I was less than. I grew up trying to shape-shift and erase any aspect of my ethnicity to conform to Eurocentric forms of beauty.
Now I have three kids. My first two are super-fair, blonde-haired, blue-eyed, and then I had my youngest daughter, who is my clone. I grew back my unibrow because my youngest daughter, Selene, resembled me, and I saw an opportunity for my children to witness their mother re-wilding herself, to say, How am I taking back personal agency? How am I writing my own beauty standard? How am I facing a face in a society that doesn't accept this face? Having them witness me going through that evolution, not knowing the outcome, was important to me. I can throw colors and crystals on parts of myself that I once held in shame. Something that I was so eager to erase, I'm now going to throw color on it so you can't look away. That's how you get your own power. I wanted to bundle a complementary product, and my book agent eventually encouraged me to start TooD. I had no interest in getting into beauty, but that goes to show: Experiment 'til it works.
On what you don't see on Instagram:
I think there's this sexy image of what it is to be a founder of a brand, but let's get real: You have to be the plumber and unclog all this shit. Your creative team can do all the fun, sexy stuff, and work on photo shoots, and casting and all the glamorous things, and you're just too busy just making sure the pipes work. The legal bills are my least favorite part. The amount of legal calls I have to protect my business, to protect my innovation, to protect my property. But the fun side is this brand allowed me to find my voice.
On doing what you want:
I'm interested in everything; I'm so full of life, I want to explore. I want to be a dancer, and I'm going to model, and I'm going to be a businesswoman, and I'm going to jump off a 20-foot cliff skiing, and I want to have three kids, and I want to be a doula. All of these things are facets of us, and I think through my Persian upbringing I was conditioned to feel like I needed to fit a certain role. This brand has saved my life because it has reminded me that I can do anything I want to do, and I'm not gonna let anyone tell me otherwise. I don't need to fit a binary construct to make me digestible.
On movement:
I'm an exercise queen. When I was a little kid, movement and fitness were mechanisms for self-discovery. I'm a professionally trained ballerina, but I was also a big-time basketball jock. I love to go through a stretching flow that I do. I really believe in functional training, and I think as we keep getting older, and especially as I'm sitting down on Zoom all day, I'm constantly moving to make sure that there are no movement patterns that are becoming irregular. I'm a surfer, I'm an equestrian, I like extreme adrenaline sports, I love biking. My most favorite thing is very heavy weight training four to five days a week, because I feel like when I'm physically strong, I'm mentally strong. I can feel this aspect of rewiring my brain pathways as I'm rewiring my body; I really feel that mind-body connection. I also love skateboarding with my kids; we'll just skateboard down the street together. I'm also a kid, if you can't tell.
On (not) winding down: 
I go to sleep working. My youngest daughter loves holding my hand at night. We clasp hands and sometimes I'm holding her hand with one hand, and I'm writing emails with the other. She's like, "Mom, turn the light off!" and I'm like, "I gotta get this email out!" I have a brand new start-up, and we're doing very well, knock on wood, but there's been so much coming at us. There is a sense that I have to capitalize on the interest, because when it's your time, you don't know if it's going to turn into a drought. I really think I work too much, and I'm actually trying to figure out how not to, and have more me time.
On the advice she'd give to her younger self.
Invest in getting to know yourself. When you get to know yourself, you understand your needs. When you understand your needs, you understand how to fulfill those needs for yourself, and you no longer need to be codependent. For me, the environmental practices of the beauty industry are so important, because as a surfer, I understood how the Earth and the ocean are both being polluted by microplastics. It allowed me to understand how I can help solve this problem, but I didn't know that until I really understood what I valued.